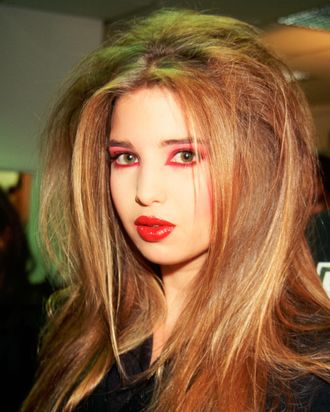 Ivanka Trump models for Marc Bouwer's fall fashion show in 1997.
Photo: Mitchell Gerber/Corbis/VCG via Getty Images
In Ivana Trump's new memoir, Raising Trump, which Gallery Books published October 10, the president's ex-wife gives her daughter Ivanka some valuable print real estate, too.
In one chapter, Ivanka chimes in about what she describes as her "punk phase," detailing her love of Nirvana, wardrobe of flannel shirts, and rebellious decision to dye her hair blue.
During my punk phase in the nineties, I was really into Nirvana. My wardrobe consisted of ripped corduroy jeans and flannel shirts. One day after school, I dyed my hair blue. Mom wasn't a fan of this decision. She took one look at me and immediately went out to the nearest drugstore to buy a $10 box of Nice'n Easy. That night, she forced me to dye my hair back to blond. The color she picked out was actually three shades lighter than my natural color… and I have never looked back!
Is it really possible to get out hair dye with drugstore products? We have a hunch there's a part missing in this story about an expensive salon dye job. But that would sound so very un-relatable.
Ivanka then goes on to share her deep, very punk feelings about Kurt Cobain, whom her mother (and apparently the readers of her mother's book), have never heard of.
It wasn't too long after this that Kurt Cobain, the singer, songwriter, and guitarist for Nirvana, committed suicide. It was a shock and I was distraught. Mom had no idea who Kurt Cobain was, and she sympathized only so much. After twenty-four hours of my crying inconsolably in my room, alone—major melodrama—Mom had to pull me out of there to go down to dinner.
Okay, so many questions. What was Ivanka Trump's favorite Nirvana song? What does she listen to now for a good cry? And why didn't she start her own perfume line called "Smells Like Teen Spirit"? Huge missed opportunity. 'UGE.