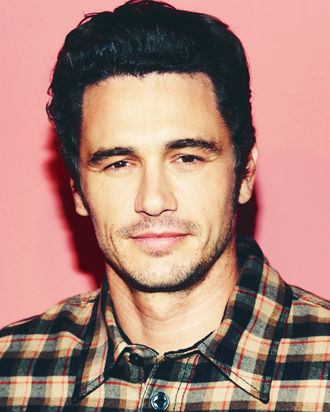 Photo: Lars Niki/Getty Images for Coach
James Franco is an actor, poet, conceptual artist, and a professional student who has attended UCLA, Columbia, NYU, and Yale. So it's easy to forget that he's also a two-time men's fragrance star. Franco is currently the face of Coach's Cologne for Men, a cardamom-and-geranium-based cologne. Steven Meisel shot the ad campaign, which features Franco wearing leather and shearling while leaning against vintage cars.
In town to promote the fragrance a few months ago, Franco, clad in a Coach rocket-ship sweater, gamely tried to answer questions about his sense of smell. The Cut talked to him about his past as a cologne-stealing teen, how ads relate to art, and what he thinks makes a person cool.
I read you used to — well, perhaps steal isn't the right word. But you used to sell cologne as a teenager. And now you're the face of a new scent.
No, I stole and sold cologne. I was caught for it. We had our cologne-stealing gang. There was a great mall called the Stanford Shopping Center in Palo Alto. We were about 12 or 15 or so. We had our Drakkar Noir, Eternity, Obsession, and our Davidoff Cool Water. We collected them in our lockers in junior high and used to sell them at dances. There was a great need for them there. Then somebody told on us.
I wasn't actually there when the principal came out and busted open the locker, which was stuffed full of cologne, with a crowbar. I had actually left early that week to go on vacation with my family to Hawaii. But my friends ended up protecting me. There was more cologne in my house. They cleared it all in case the cops came. We ended up having to do community service. But maybe some kids will be stealing this cologne.
What was your first scent memory?
I don't know. I think that's a big technique in the Strasberg world of acting. But I came from Meisner, so I'm not too in depth at remembering all my smells from childhood.
I guess I remember all the holidays. I remember Halloween time, going to pumpkin patches and carving those. Fireworks for Fourth of July, that gunpowder kind of smell.
The thing about cologne is that it's hard for me to talk about. Scent is really ethereal. I'm not going to do a good job describing scent. I don't know if I have the words for it. But I like the idea of a scent that isn't too aggressive. You want something that another person can feel comfortable feeling close to.
[A beat]
You don't look very satisfied with that answer. It's the best that I can do. [Laughs.]
No, that's good. Stuart Vevers mentioned he was drawn to you because of your "harmonious dualities." What do you think of being described that way?
I guess I'm known for a lot of different things. I'm an actor. One of the beauties of my life is that I get to embody all these different types of people and all these different worlds. The idea of dualities is just part of my job. Being an actor is about having a particular sensitivity, empathy, ability to feel what other people feel, or be interested in exploring them.
I go into all these different worlds. I can't pin down, like, Oh, my life is this one thing. I've been pulled in all these different ways by my profession.
[A beat]

I feel like I'm failing you [Laughs]. I don't know what you want.
You're an actor and an artist. You don't do many advertisements, although you occasionally direct them. How do you think ads relate to art?
Long time ago, when I was in film school, I did a movie about this poet named Hart Crane. To make a living, he worked at an ad agency writing copy. He hated it. He felt like it was the polar opposite of what he was trying to do with poetry. But over time, companies and ads and ad campaigns have gotten really good at what they do. I feel like there's less and less of a divide between advertising and art. Commercials and ads are just as good as a lot of art that we see.
It's a world I feel more and more comfortable in. It's exciting. It's a weird thing. I did The Deuce, a show about porn in the '70s. Porn was one of the things that always pushed technology. Video, was largely built on the back of porn, streaming too. In a similar way, advertising is the area where a lot of new techniques and technology are explored. I think that's really exciting.
People often describe you as a "cool guy." What does that mean to you?
What I think is cool is people who are just present and are able to sort of engage with the world. They are not wrapped up in defensive mechanisms. They are present and not hiding. That's what I think is cool.
This interview has been condensed and edited.