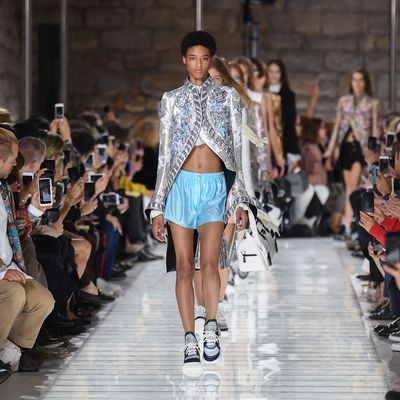 Janaye Furman opens Louis Vuitton spring 2018.
Photo: Stephane Cardinale/Corbis via Getty Images
On Wednesday, the last day of Paris Fashion Week, history was made as the model Janaye Furman became the first black woman to open a Louis Vuitton show in the brand's 163-year history.
"What a blessing!!" Furman posted on Instagram afterwards. "Thank you God and everyone for all of the amazing support! I'm so glad more women of color are rocking the runways. It's so important that we stand up for ourselves and make a difference in this world. I'm so happy I was able to tell this beautiful story."
Furman is a a Southern California drama student who started modeling last year after being scouted during a class performance. This is not Furman's first time walking for Louis Vuitton: she was cast in the fall 2017 show, and has modeled for a handful of the brand's editorials and campaigns. However, this was her first time opening for the brand — a big deal for any model, as it's great exposure and sets them on the top of the pile for next season.
This moment closed a season allegedly focused on the better treatment of models, as well as an increase in diversity on the runways. While there's still a lot of work to be done, progress is happening slowly, but it's clearly happening.
After 163 years, it better be.