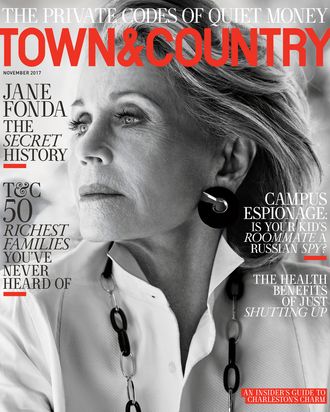 Jane Fonda.
Photo: Max Vadukul
On Thursday morning, Town & Country magazine revealed its November cover featuring 79-year-old Hollywood icon Jane Fonda. The cover stands out because, well, Jane Fonda, but also because unlike most, the actress agreed to go unretouched.
In a spread inside the magazine, Fonda poses, hand on hip, in Dior's Georgia O'Keeffe–inspired cruise collection. Meanwhile, the accompanying profile by Brooks Barnes opens with a description of Fonda wearing "fancy sweats." She stands in her kitchen, trying to shove a copy of the Times featuring Donald Trump on the cover into her trash can.
"Who gives a rat's ass?" says Fonda in response to a question about her career. "It's just that, with everything going on in the world, our country, it's really hard to talk about myself or entertainment right now."
If you're still feeling like you need a little Jane Fonda, though, you're in luck, because the actress is still working nonstop. In addition to her Netflix series, Grace and Frankie, she's also got a romantic drama with Robert Redford out this fall called Our Souls at Night, as well as a film in the works with Diane Keaton, Mary Steenburgen, and Candice Bergen about women who are shook after reading Fifty Shades of Grey.
"It feels like [Fonda's] having a moment right now," Stellene Volandes, the editor-in-chief of Town & Country magazine told the Cut. "Until you realize she's always having a moment, because she's Jane Fonda."