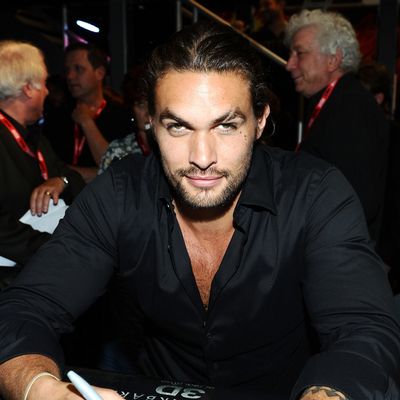 Jason Momoa in 2011.
Photo: Michael Buckner/Getty Images
This week has been full of celebrity men being outed for their previous inappropriate behavior and, with that, we regret to inform you that it's time to add another name to the list: Jason Momoa. A clip of the Game of Thrones and Aquaman star making a rape joke at San Diego Comic-Con 2011 is currently making the rounds on Twitter.
"But as far as sci-fi and fantasy, I love that there's so many things you can do, like rip someone's tongue out of their throat and get away with it … and rape beautiful women." he says, while speaking on a panel with Game of Thrones stars. At that point, several of his fellow panelists face palm, while the audience breaks out in laughter.
On Thursday night, Momoa issued an apology on Instagram, saying he is "sincerely disappointed" in himself for his insensitivity:
This post has been updated to include Momoa's statement.