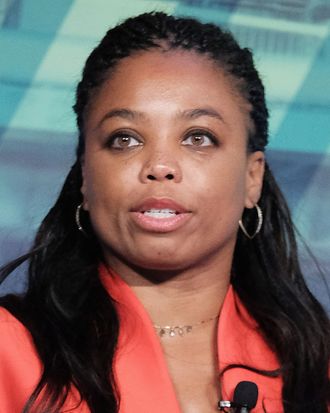 Jemele Hill.
Photo: D Dipasupil/Getty Images for Advertising Wee
SportsCenter anchor Jemele Hill has been suspended by ESPN following a tweet that suggested that, for those who have a problem with Jerry Jones' announcement that Cowboy players who kneel during the anthem would be suspended, "the key is their advertisers." ESPN said in a statement that this "violated social-media guidelines." Her suspension lasts two weeks.
The suspension comes almost a month after Hill called President Trump a white supremacist and the White House said that Hill should be fired over those remarks. In an essay, Hill wrote that the hardest part of the backlash was "watching ESPN become a punching bag."
The statement from ESPN announcing her suspension reads: "She previously acknowledged letting her colleagues and company down with an impulsive tweet. In the aftermath, all employees were reminded of how individual tweets may reflect negatively on ESPN and that such actions would have consequences. Hence this decision."
This post has been updated to reflect that Hill was tweeting about Jerry Jones.