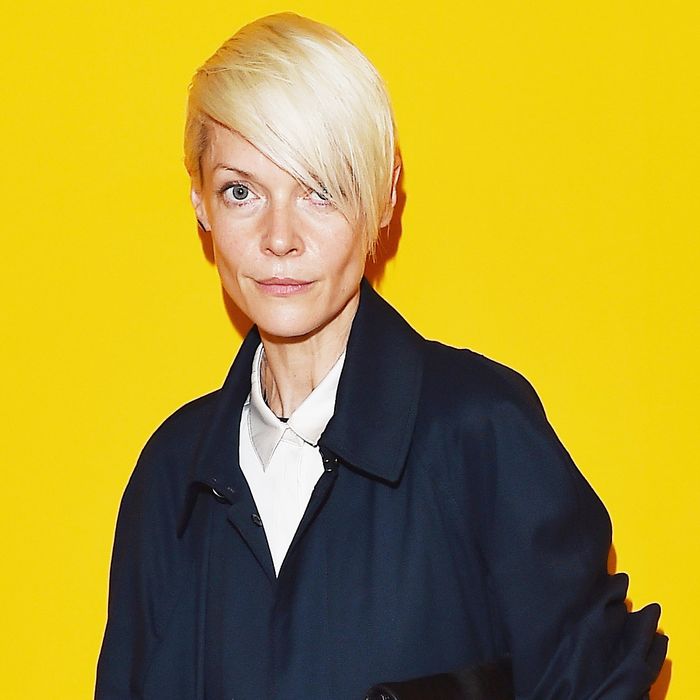 Photo: Stefania D'Alessandro/Getty Images for BALLY
During New York Fashion Week this September, it was announced that Robbie Myers was leaving Elle after 17 years, and that Nina Garcia, formerly of Marie Claire, would be the magazine's new editor-in-chief. Today, Marie Claire shared during the magazine's second annual Power Trip in San Francisco that Kate Lanphear will fill Garcia's role as creative director.
"I loved working with Nina Garcia for five years," Marie Claire's editor-in-chief, Anne Fulenwider, told the Cut exclusively. "I'm really happy for her in her new job and I really can't wait to see what she does at Elle." But when it came time to filling Garcia's shoes, Lanphear was someone whom Fulenwider thought of "immediately" for her unique experience and taste, and who comes "highly recommended" from a number of people in the industry.
Lanphear's résumé is long and varied. She got her start at Vogue and Harper's Bazaar in Australia, later moving to New York to become the style director at Elle and T magazine. In 2014, she was named the first female editor-in-chief at Maxim, where she was tasked with a full redesign of the men's magazine, but left after only one year. Lanphear has since moved on to consult for Google, helping them develop a fashion portal in the Arts and Culture division.
As creative director, Lanphear will be responsible for expanding Marie Claire's fashion footprint across multiple platforms and continuing to define the brand's style. She will also oversee the magazine's fashion shoots and creative design of the fashion pages. Ultimately, it was Lanphear's experience in fashion and technology that really stood out to Fulenwider, and Lanphear herself is excited to return to magazines with this new and valuable insight.
"Sometimes, we focus so much on creating content, but it gets lost because no one's quite created the secret sauce on how to amplify it, and break through," Lanphear said on what she's gleaned about publishing after stepping outside it. "We're armed with so much data that it's about distilling it down. When it comes to trying to decipher it, I don't have all the answers — no one does — but I've just gotten a lot better at understanding what all the signs point to."
It's been a turbulent time for magazines, especially women's titles, but Lanphear is clearly recharged, digitally savvy, and ready for a challenge. Meanwhile, Fulenwider is unshaken. "The only constant in the five years that I've been editor-in-chief of Marie Claire has been change," Fulenwider said on the subject. "Rapid, sudden, continuing change. But I think it's exciting, and can present a ton of opportunities."