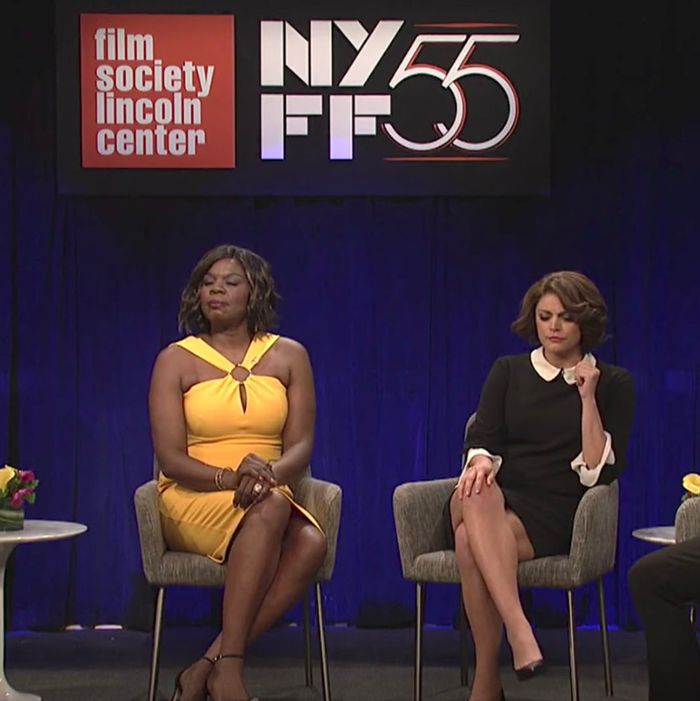 Photo: Saturday Night Live/NBC
After being criticized for going easy on Harvey Weinstein, SNL didn't hold back last night. Early in the show, a sketch parodying a New York Film Festival panel dove into sexual harassment in Hollywood. (Weekend Update also laid into the producer.)
In the sketch, Aidy Bryant plays a Glamour.com editor running a panel discussion into sexual harassment and assault in Hollywood. The panel features Viola Davis (Leslie Jones), Marion Cotillard (Cecily Strong), and fictional Hollywood veteran Debette Goldry (Kate McKinnon).
The panelists tick off the popular explanations for sexual harassment in Hollywood — the culture, men covering for each other, lack of male advocates, etc.
As the characters tease out the hairball of sexism, McKinnon's character describes a meeting with Weinstein in his hotel room, and doesn't miss a chance to take a shot at the producer.
"When I arrived he was naked hanging upside down from a monkey bar, he tried to trick me into thinking his genitals were actually his face. It almost worked, the resemblance is uncanny."