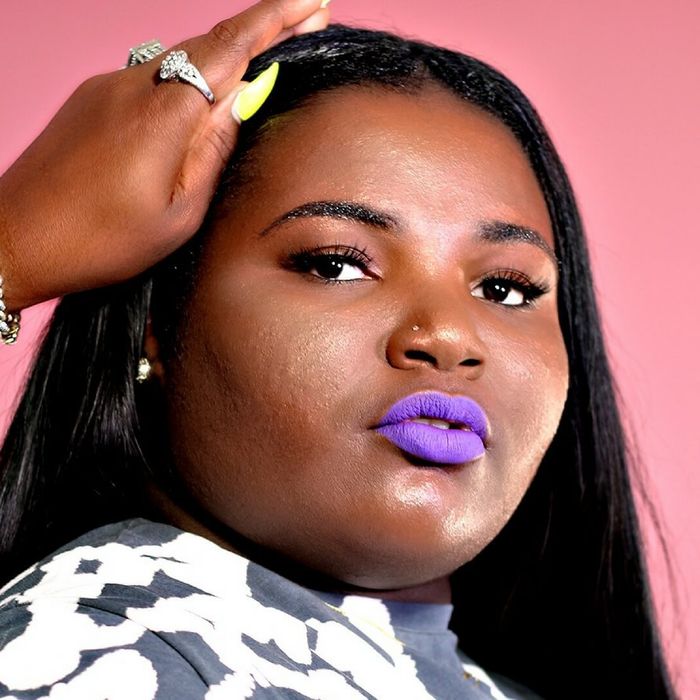 Kayla Newman/Peaches Monroee.
Photo: Courtesy of Peaches on Fleek
In the summer of 2014, Kayla Newman, also known as "Peaches Monroee," uploaded a video to Vine to show off her freshly groomed eyebrows. "We in this bitch fittin to get crunk," she said. "Eyebrows on fleek. Da fuck." And a new slang term was born.
"On fleek," a phrase Newman concocted out of thin air, articulated the spirit of everything good in life. An outfit could be on fleek and so could a house. Newman's video eventually amassed over 53 million Vine loops. Everyone from Nicki Minaj to IHOP embraced the term. And now Newman, a 19-year-old nursing student, is finally capitalizing on her ingenuity with a hair company, On Fleek Extensions, and an upcoming cosmetics line tentatively scheduled for 2018.
The Cut talked to the Vine superstar about why she entered the business, how she believes she's exactly like Beyoncé, and what exactly makes someone's eyebrows "on fleek."
Why did you decide to launch a business in the beauty space?
I've always loved makeup and hair — the glitz and the glamour of it. Once I found out that hair can be used so many different ways and it's so versatile, it just tripped me out. Last year, I decided I really wanted to get into the beauty business. I got my mom into wearing weaves and she just loves it — she walks around swinging her hair and I'm like "Girl, calm down! I get it!" She just loves the human hair [extensions], and that you can do so many things to them and still come out beautiful. That's what I want to do with my line.
You held a fundraiser to help start your company. How helpful was that?
I didn't raise the whole $100,000; I ended up getting around $16,000, but I made it work. I shut the page down after a while because I feel like GoFundMe is for people really in need and I was kind of embarrassed by it. But at the same time, I knew everybody was rooting for me. It's a lot to start your own business at a young age, especially when you can't spend all of your money. It took a long time because I wanted to make sure everything was perfect. I was just proud of the $16,000 that people gave.
How are you going about making all of the connections you need to get your line up and running?
I did a lot of research; it was all on me and I didn't have any real guidance. I asked my beautician a few questions and she told me the hair industry is very competitive and that a lot of it is trial and error. You have to ask questions. I asked so many questions that I probably got on people's nerves. My mom was right there with me and she's more professional. She was the one breaking it down for other people. I learned, too, that a lot of people hide information, and I don't blame them. Basically you have to figure it out yourself.
What are you envisioning for your future makeup line?
That's a project in itself. The only reason I started with the hair first was because it was so much easier to get my head around that than the cosmetics. I'm just doing my research and still trying to manage school, so it's tough.
How does it feel to see and hear other people use "on fleek"?
I love hearing people use my word. It also helps too, if I want to do a collaboration with a big company or cosmetics line. It gives me a feeling of, "Okay, I'm still [relevant]." Even though it's like three or four years later, the word is still out there being used — I don't think it will ever die. You get your eyebrows done. What do you think of? On fleek.
Were you able to copyright "on fleek"?
We are in the process of doing that. We have a legal team.
"On fleek" is often used as an example of how black people rarely reap monetary benefits from the trends and conversations they introduce. How did you feel about that?
All you have to do is Google 'who created on fleek' and my name pops up. Someone who is really interested in getting me on their show or trying to contact me will search for me. The entertainment business is tricky. I guess I wasn't out there enough for [the media], even though I don't know how I couldn't be. I didn't get mad at it. I let my friends and followers know that I am grateful for their support. They were fighting for me. And a lot of that got me publicity. Everything happens for a reason. It'll come, but some things take time.
How does one have eyebrows on fleek?
You have to have to have an arch that's cleaned up. They just have to look nice, you know? My eyebrows are full, have an arch to them, are shiny, brown … like just fleeky eyebrows!
Is there a celebrity or brand that you'd love to collaborate with?
Beyoncé. I watched a clip of her working and she reminds me of me. I would really like to collab with her or do something with her team. She puts in hard work and that's just like how I am. If I want something done correctly, I will be up until 3 o'clock in the morning doing it. Beyoncé doesn't play and I do not play.
I'm trying to figure out school as well. I love the spotlight, the glitz and glam, but school is my Plan A. I want to have my degree. I know with school, me getting my bachelors in nursing or criminal justice, that I'll have a guaranteed job from that. This is just something, an activity for me to do.
This interview has been edited and condensed.