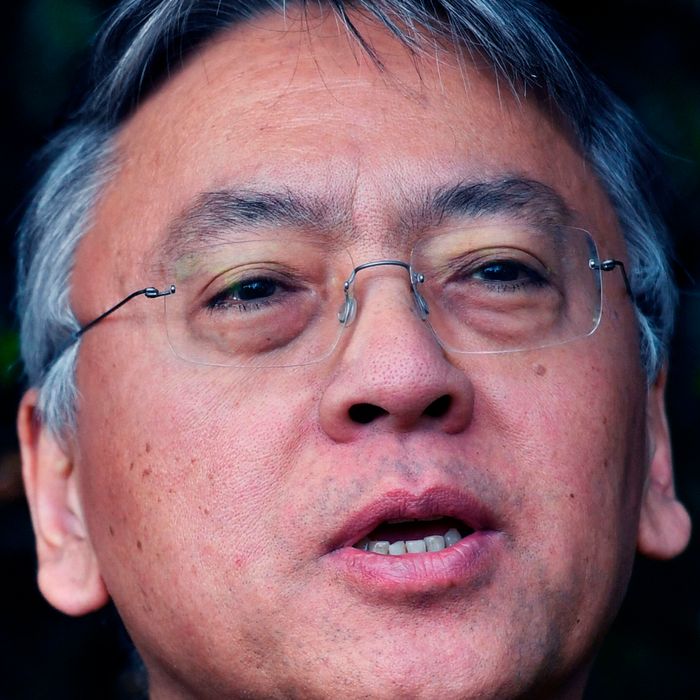 Kazuo Ishiguro.
Photo: BEN STANSALL/AFP/Getty Images
On Thursday, Kazuro Ishiguro was awarded the Nobel Prize for literature, and he's sorry about that. The British novelist did not expect to win the prize; he reportedly didn't even know when the winner would be announced. Instead, Ishiguro expected (and hoped) Canadian author Margaret Atwood would win. He told the Globe and Mail:
I apologize to Margaret Atwood that it's not her getting this prize. I genuinely thought she would win it very soon. I never for a moment thought I would. I always thought it would be Margaret Atwood very soon; and I still think that, I still hope that.
He wasn't alone. According to NPR, as of Thursday morning, the betting service Ladbrokes had Atwood winning the price with 7/2 odds. But the six-person Nobel Literature Committee chose Ishiguro over 194 other candidates.
"If you mix Jane Austen and Franz Kafka, then you have Kazuo Ishiguro in a nutshell — but you have to add a little bit of Marcel Proust into the mix," said the Swedish Academy's Sarah Danius. "And then you stir, but not too much, and then you have his writings. At the same time, he's a writer of great integrity; doesn't look to the side. He's developed an aesthetic universe of his own."
As for Atwood, she doesn't seem to be taking the loss too hard. Based on her tweets, she's been having a great time in London.