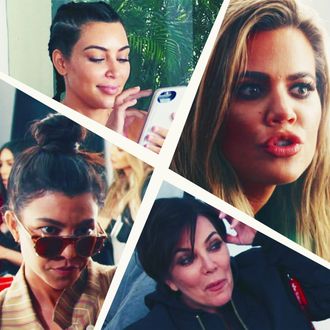 Photo: Courtesy of E! Entertainment
On this week's episode of Keeping Up With the Kardashians, we followed our beloved dolls from California to Mexico and back again! Our A plot was Kourtney's birthday extravaganza in Mexico, our B plot was Kim's unflattering bikini pics, and our C plot was Kris and Scott camping! I've got some Christopher Columbus bashing to do, so #LEGGO!
Scene 3:
Kourtney and Kim Kardashian bring professional Kardashian shadow and former Real Housewife of Miami Larsa Pippen to Khloé's Good American photo shoot. While Khloé gets glam, she asks the girls if they can puh-lease talk about the night prior (which we weren't shown), when Scott asked Kourtney to go on a family vacation with their kids. Kourtney's been planning a Mexican getaway with her 17 closest girlfriends for her birthday, but Scott thinks she needs another vacation immediately after that one. Unlike her sisters, Kourtney doesn't think the request is outlandish, since she and Scott are successful co-parents. Khloé thinks she's sending mixed messages, and Kim thinks that something miraculously happen and the two of them will end up sharing a king-size bed. Khloé's shoot was filmed on March 30, 2017.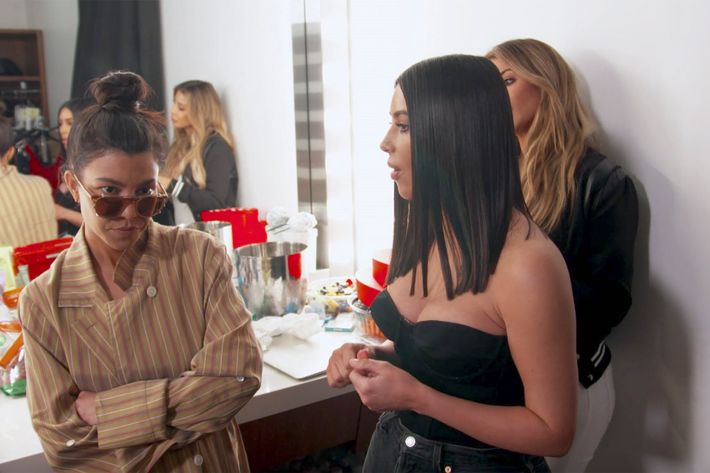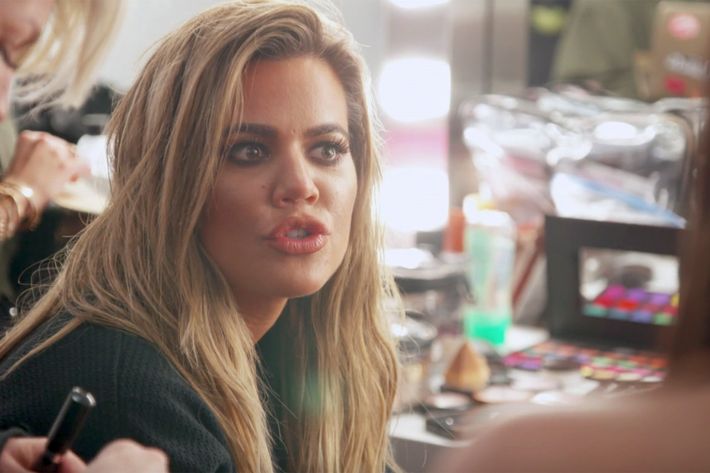 Scene 4:
Kris Jenner treats Scott Disick and a handful of her grandchildren to lunch at Nobu. In preparation of Kourtney's getaway and Scott's upcoming "daddy duties," Kris asks Scott and the kids if they want to camp in Kourtney's backyard while she's gone, and she even tosses in the prospect of an "outdoor movie experience." The kids giddily agree, and so does Scott. Kris is looking for a luxe moment, including s'mores (or as she calls them "sa-mores"), Penelope thinks they all need big backpacks, and Mason demands music. When asked his favorite music, the young boy, who's worn Yeezy gear long before being able to form opinions, says "rap." This prompts Kris to turn to North, the only child at the table whose dad has a discernible job, and ask the name of her favorite rapper. North thinks for a second before saying, "My dad is Kanye West." So he is child, so he is. This scene was filmed on March 16, 2017.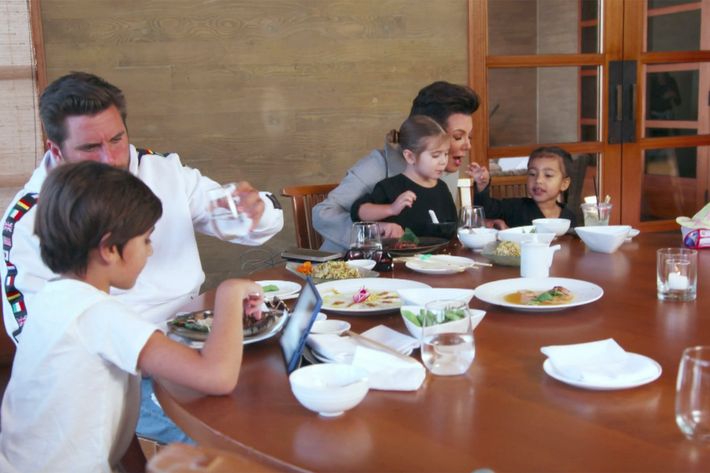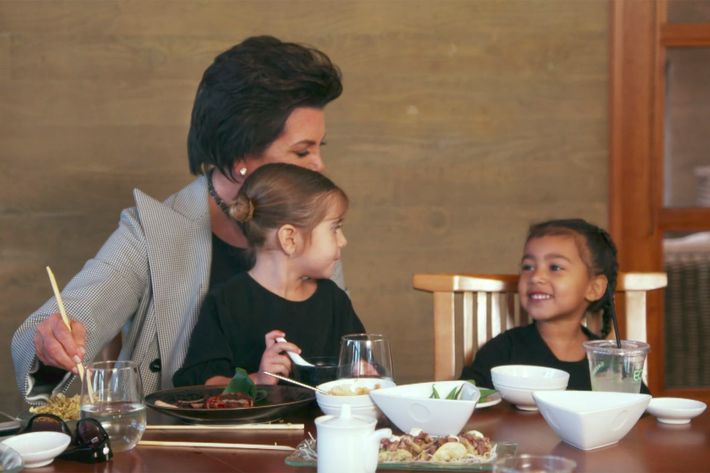 Scene 5:
Khloé attends a workout class at Kourtney Kardashian's Calabasas Fitness Center to the Stars of Calabasas, and sadly has to wait 30 minutes for her workout partner and founder of the establishment, Kourtney Kardashian, to arrive. When she does, she walks slowly and listens intently someone on the other end of her telephone. That someone is Scott. He's literally screaming at her, but she smiles and tells Khloé "a phone call was a bad idea."
Kourtney had given Scott a courtesy call about potential photos of her and a man at dinner the previous night, photos could be posted that day. Unluckily for Kourtney, the photos were never posted, which means she's enduring his rage for nothing. Scott doesn't like the idea of Kourtney going on a date, and especially doesn't like the idea that this could happen again. Khloé listens to Scott's screaming for a bit before she and Kourtney determine that he's belligerently drunk. This scene was filmed on April 21, 2017, just one day before Kourtney's trip to Mexico.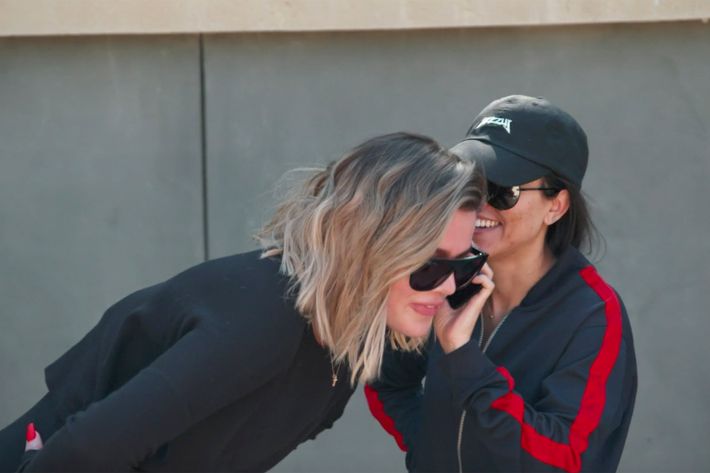 Scene 8:
The following day, Kourtney and her group of 17 girlfriends land in Mexico, ready to start the fun. But while everyone else is getting settled in, Kim is having a panic attack in her room. In tears, she calls the villa's owner (and family friend) Joe Francis. She sobs, asking if the house is really safe, and wonders if people at the airport already fingered her and the other women as targets after seeing them so excited with their "Chanel" and "Louis Vuitton" bags. Joe tries to calm Kim down, reminding her that she's walked this same beach and laid in the same bed with her daughter — plus, he's been through the same thing (he was once kidnapped) and he finds safety and solace on the villa. Kim takes in what he's saying, but still decides to fly in four extra security guards to stand outside of her room while she's sleeping. Since we know Kourtney left for Mexico one day after Scene 5, this scene was filmed on April 22, 2017.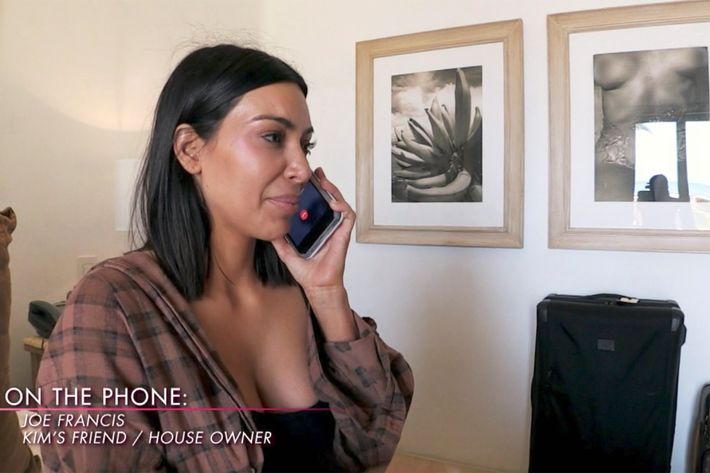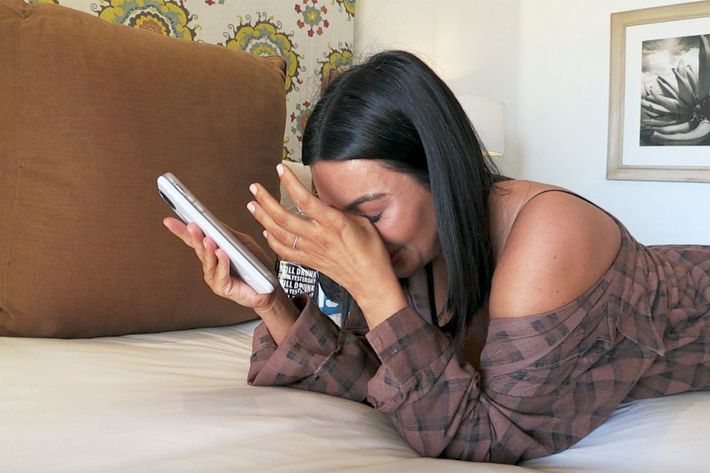 Scene 10:
At one of the many birthday dinners Kourtney has on her vacation, Kim is a lot calmer than she was when she arrived and is committed to having a good time. She also makes an announcement that she's finally thought of a hashtag for the trip. After looking at notes on her phone, she says that the official hashtag will be "Moms Gone Wild," but then quickly upgrades it to "MILFs Gone Wild," as the women of both the MILF and non-MILF variety cry out in excitement. What follows is cake, shots, and a piñata filled with fake dicks. This dinner was filmed on April 24, 2017.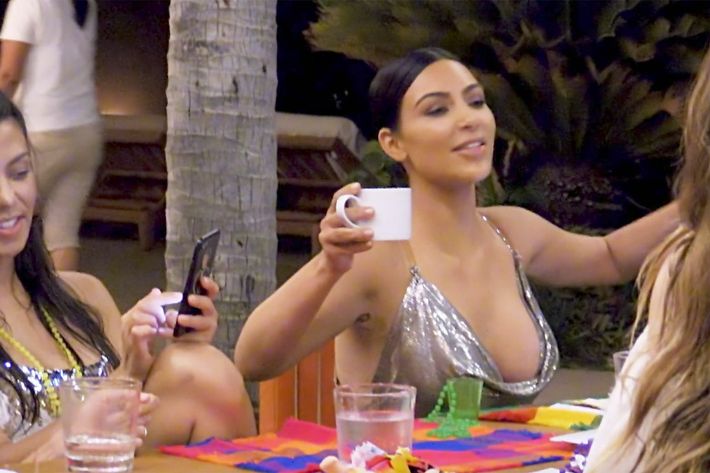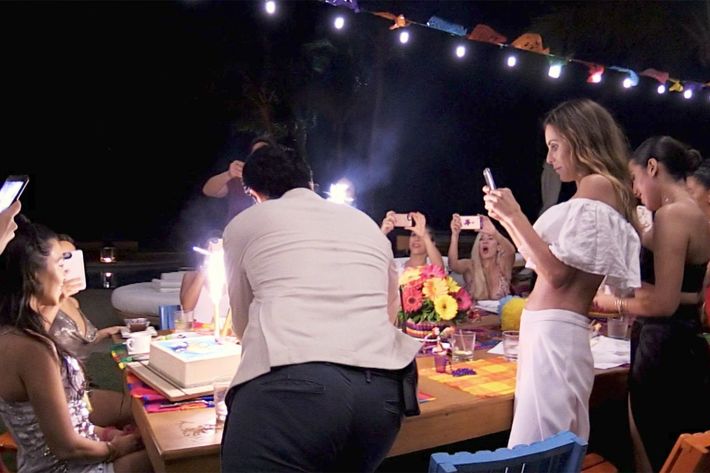 Scene 11/Scene 12:
While chilling on the beach, Kim's current COO and former Greatest Assistant of All Time Steph Shep has to be the bearer of bad news. She's gotten an alert on her phone that the group, and specifically Kim, were photographed walking along the beach and the photos of Kim are not flattering. Kim is mortified. Not only did she not see the paparazzi, but she was just getting over her anxiety — this just reversed all the progress she's made. Kim gets up from the beach and heads inside, telling everyone that she's got to start "untagging" now. Oh, blessed Kim, I can untag an unflattering photo, but unless you have the power to erase the entire internet, I don't think you'll get very far with that task.
After heading inside (and getting some braids in her hair), Kim continues to try to understand why these photos were taken and attempts to avoid them on her phone. She tells her friends it's giving her body dysmorphia, but she does take the advice from former GOAT Steph Shep to just comment on the photos with an "LOL" and keep it moving. It may be a blow to her ego now, but she knows she doesn't look like she does in the photos. Kim agrees and tries to laugh it off. These scenes were also filmed on April 24, 2017.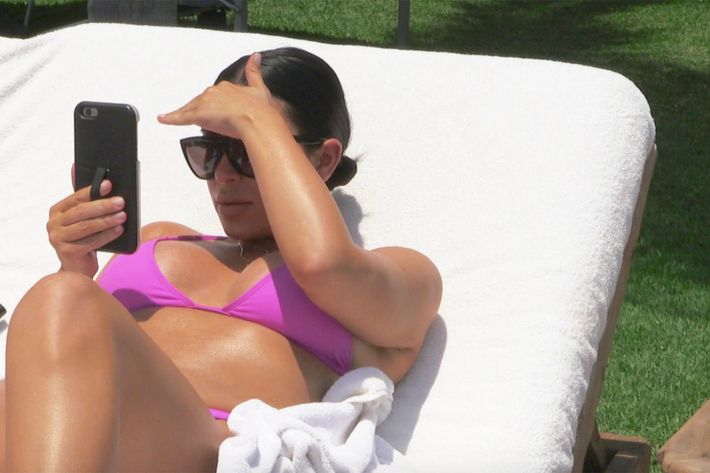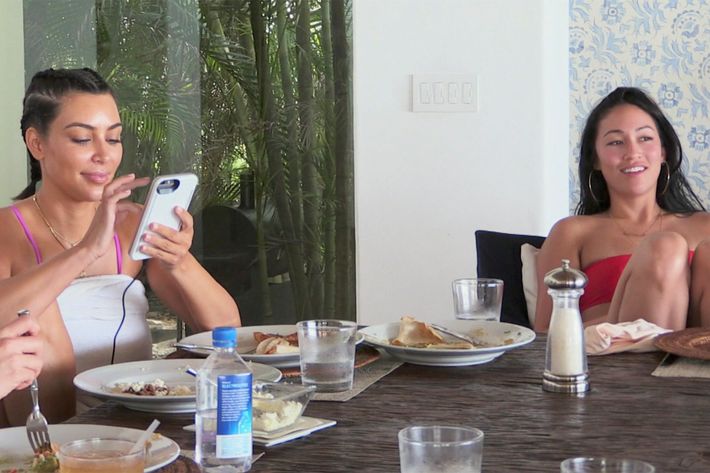 Scene 13/Scene 14:
Back in Calabasas, Kris and her Tent Assembly Team build tents for Kris, Scott, and the Disick children in Kourtney's backyard. Scott's upset that Kris is out here asking for fur throws and has a chef making hamburgers, when he just wanted a rugged "manly" camping experience. With a cocktail in hand, Kris lounges in her tent, alone, while Scott screams at his kids to "calm down!" in his. After some "sa-mores" and wiener dogs, Kris FaceTimes Kourtney down in Mexico. She asks Kourtney how the trip is going, and Kourtney tells her that the previous night she fell asleep in her own vomit, so it's lit. Kris finds it humorous, and Scott finds it disgusting since when he does that it's a problem, but when she does it, it's cute. This scene was filmed on April 23, 2017.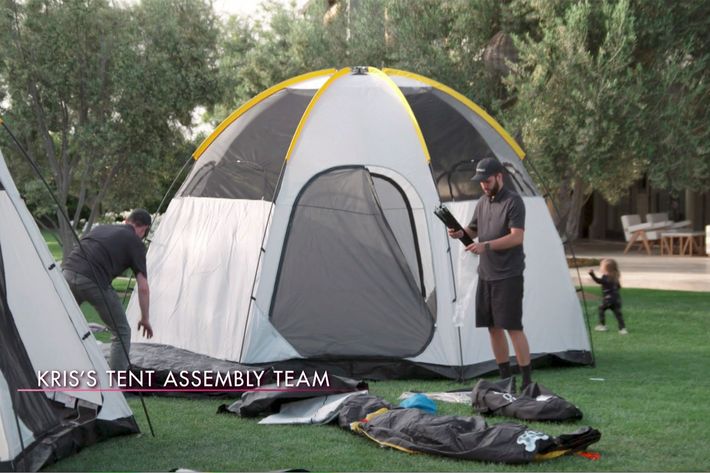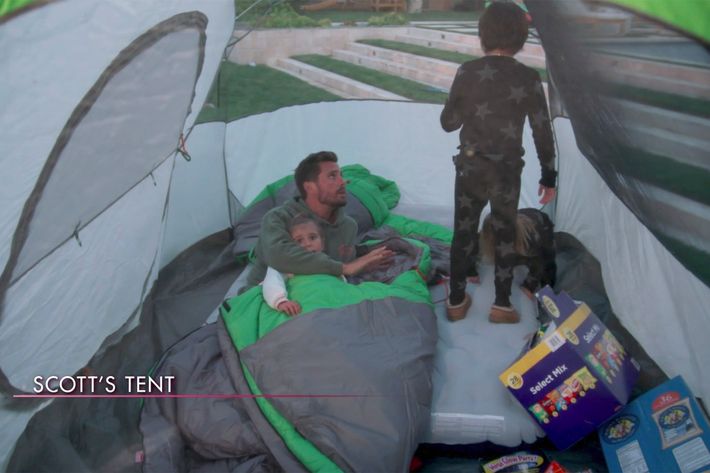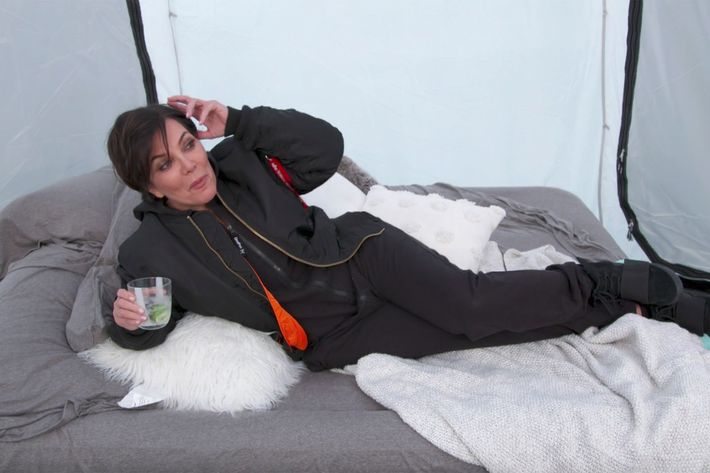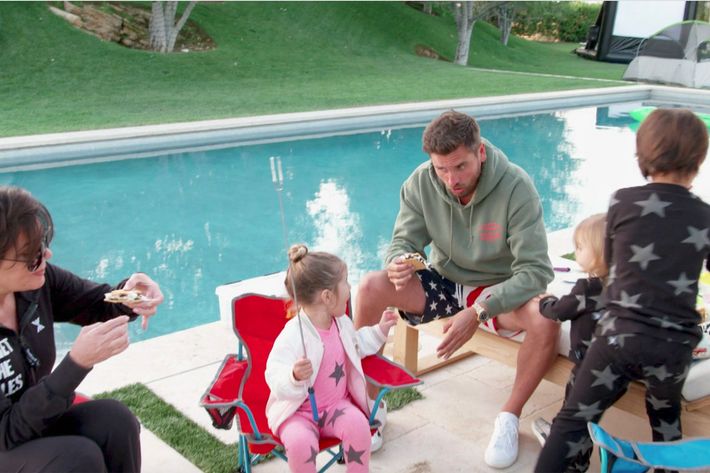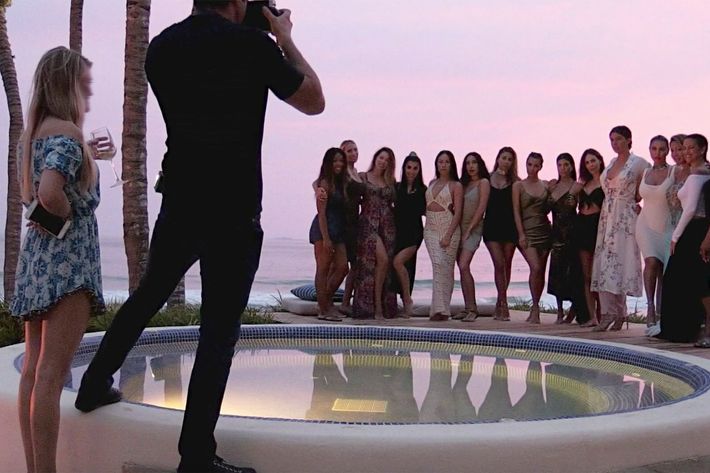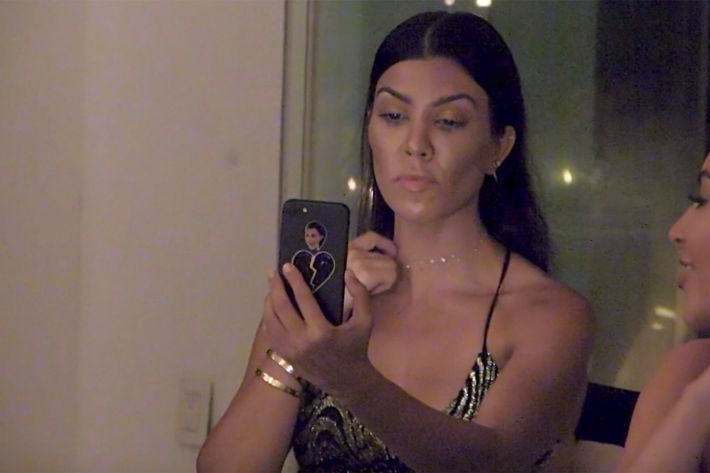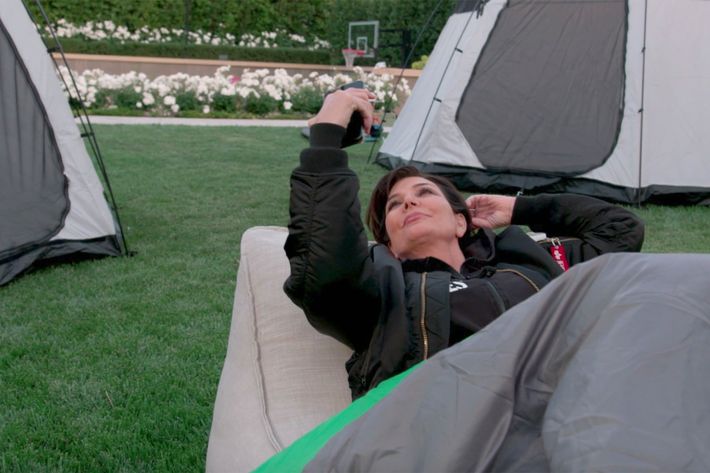 Scene 16:
Like she had planned all along, Kim leaves the Mexico trip early with former GOAT Steph Shep and her hair and makeup team/BFFs Jen Atkin and Joyce Bonelli. On the flight, Kim tells them that she's got to get out of this new shell she's in. She's not eager to visit every popular restaurant each night like she did in her early days, but she doesn't want to be afraid to go out in public. She doesn't like to be "in the mix," but something's got to change. The ladies she's with agree, because at this point she's building up social anxiety and that's not healthy. This scene was filmed on April 25, 2017.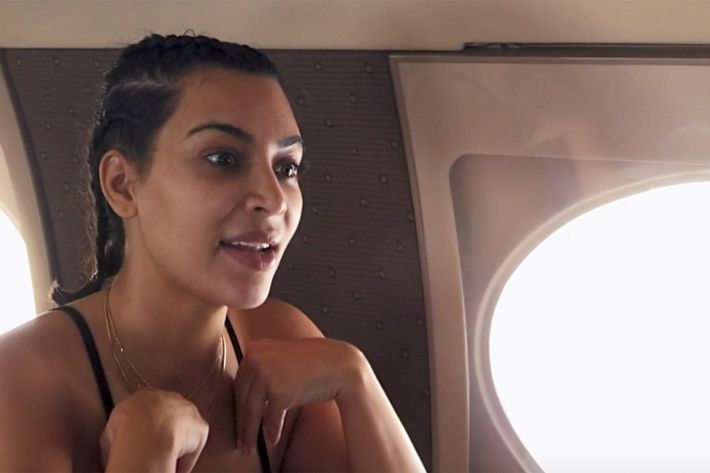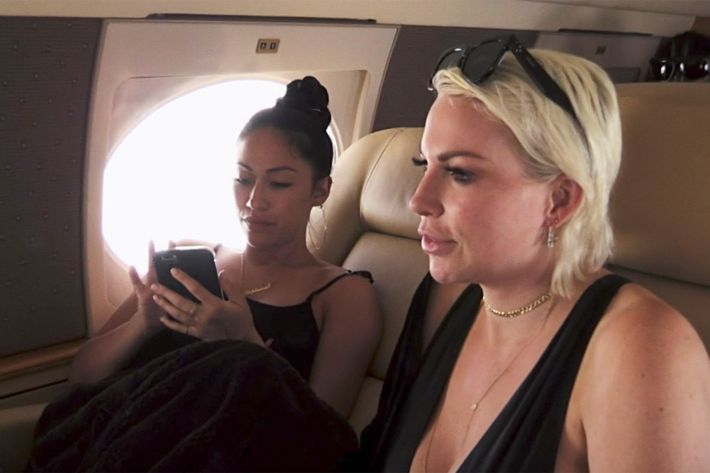 Scene 17:
In her private home, Kim Kardashian entertains the emerging food blogger Jonathan Cheban. Jonathan has a lot to say about Kourtney's Mexican vacation, mainly that he didn't like it and thought the ladies' antics looked like kids in a sorority. Kim does agree that the girls had some fun, but that it was all overshadowed by those unflattering photos of her behind. Jonathan calls what was posted online fake and the complete opposite of the very few spots of cellulite that she has on just one of her thighs. He calls the pics "Rocky Mountain High," and says that he could see the outline of "Abe Lincoln" on her bum. Kim laughs, but tells him that all of this attention has made her want to skip the upcoming Met Ball. Jonathan tells Kim to stop worrying and calls her "crazy" for saying such a thing. That is crazy since this scene was filmed on May 4, 2017, three days after the Met Ball on May 1.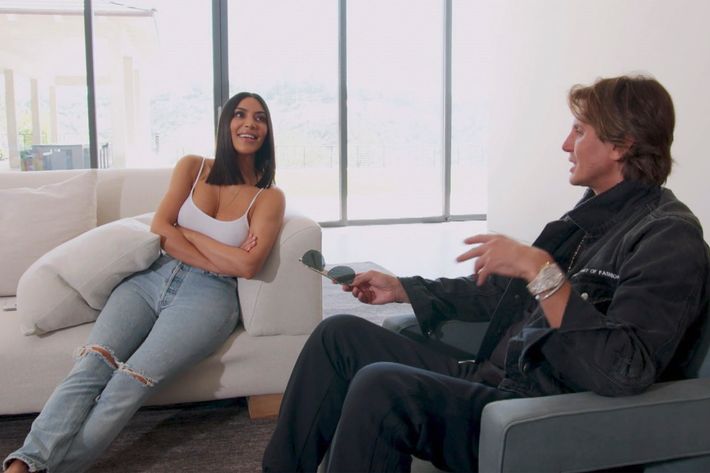 Ah, it's always fun, Dolls! See you next week for another #KUWTKE recap of Keeping Up With Kris Jenner's Tent Assembly Team. #SAMORES