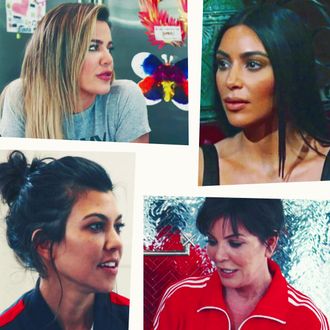 Photo: Courtesy of E! Entertainment
On this week's episode of Keeping Up With the Kardashians, our A-plot was Kim Kardashian's Met Ball of Anxiety, our B-plot was Kourtney Kardashian's new BF, and our C-plot was Kris Jenner and Khloé Kardashian's mother-daughter bonding. We don't want to be late for the ball, so #LEGGO!
Scene 2:
It's the day of the Met Gala, and an anxious Kylie Jenner is en route to the event, which we see in recycled footage from Life of Kylie. To quell her nerves, Kylie FaceTimes Kim Kardashian as she finishes up hair and makeup. Kylie's worried that she'll arrive too early, know no one, and be alone in a corner waiting for her sisters' arrivals. Kim assures Kylie that she'll be fine (unlike Kim, who is stressing over being late).
After her chat with Kylie, Kim chastises her career-long makeup artist Mario Dedivanovic, asking him why he didn't come earlier. Mario tells Kim that her team purposely gave him a late call time, and that he was even there early, waiting for Kim. The tension is thick, and the scene ends with Kim reluctantly allowing Mario to bestow setting spray on her powdery face. This scene was filmed on on May 1, 2017.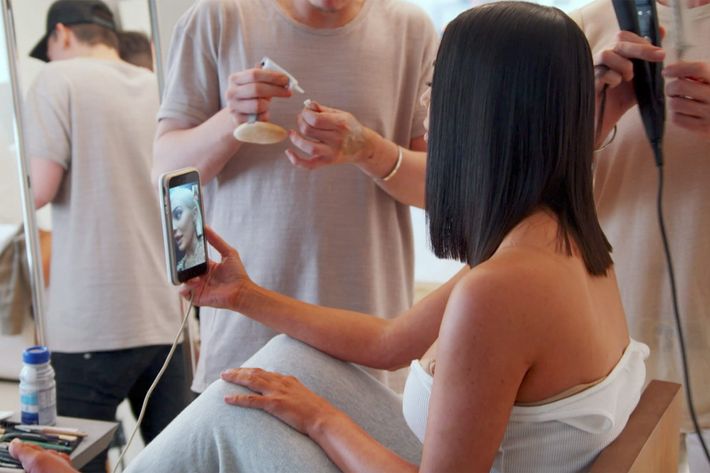 Scene 3:
In Calabasas, one former Met Ball attendee and one Met Ball hopeful ride through the hilly valleys of their hometown. In the backseat, Kourtney's kids Mason and Penelope chat about the good old days in Aspen, and ask their mother if they can go back. Kourtney joins her kids in reminiscing about a certain candy in Aspen that turns into fake vomit after you chew it up a bit. Kris isn't impressed, so she finds some personal joy in looking at the incoming photos of her other daughters at the Met Ball. She also FaceTimes Khloé, who seems to be at a basketball game in Cleveland, Ohio. Kris misses Khloé and thinks she was bamboozled into accepting her daughter's move to Cleveland. Like Scene 2, this scene was also filmed on May 1.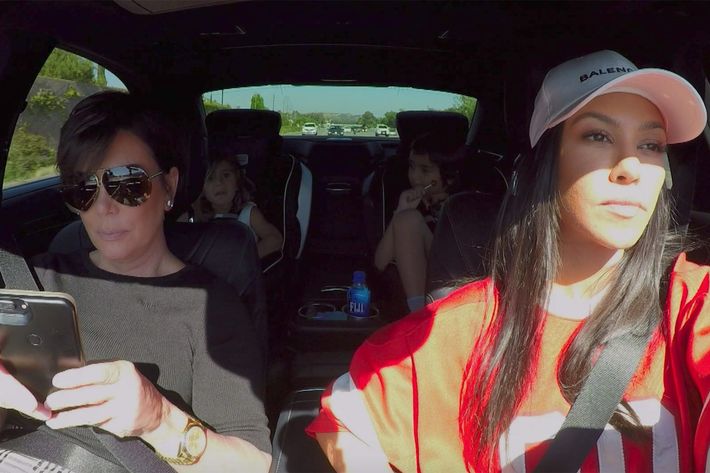 Scene 4:
Kim is finally ready for the ball, so she loads up her van with her glam team and overwhelming anxiety. On top of being super nervous (this is just days after unflattering photos of her in Mexico were released), Kim's concerned about her dress wrinkling or ruffling if she sits down in a traditional manner. So, to maintain the form of her dress, Kim spends the ride basically lying down. This isn't her only physical worry: She's sweating so much she places Kleenex under her armpits, but her skin is so cold she requests that the air be turned down (so she doesn't show up to the function with hardened nipples).
As they near the event, Kim notices ripples in her dress and wants to blow dry them out. Her team tells her to ask the driver beforehand — since blow drying could blow a fuse in the vehicle. In response, Kim stands up and says, "Who cares if it blows up?" Of course, the fuse blows. But luckily not all is lost: They reset it and continue to blow dry her dress. This scene was also filmed on May 1.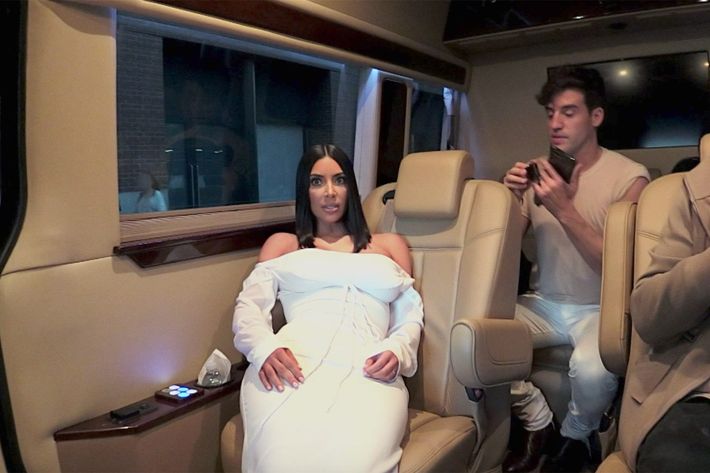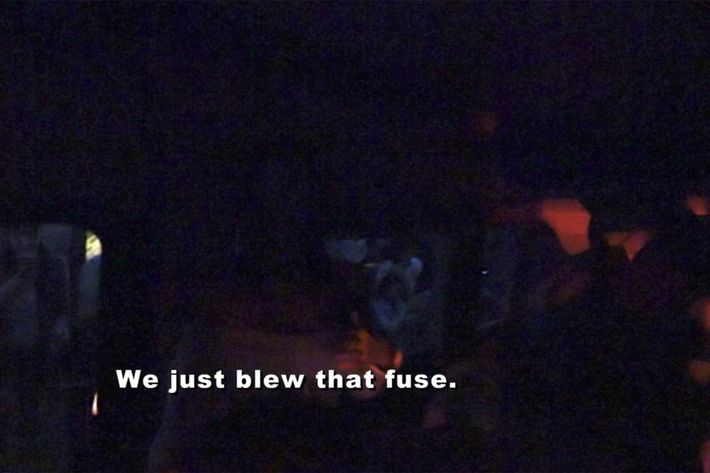 Scene 5:
Back in California, Kourtney and Khloé Kardashian are joined by the Kardashian family's pet leech, Jonathan Cheban. Kourtney's coordinating with her assistant to send her boyfriend — the model, ex-BFF of Sofia Richie, and 24-year-old, Younes Bendjima — to a hotel that evening for a birthday surprise. Kourtney, like a high schooler finding a secret location to get frisky on prom night, gives her assistant a wallet with a hotel key inside of it. Her assistant is to pass this off to Younes, who will then use the key to find Kourtney waiting for him in a hotel room. Khloé's excited to see Kourtney so giddy over a boy, but knows not to ask any questions. Khloé calls Kourtney "socially awkward," noting that any acknowledgment of her boyfriend will make Kourtney clam up.
Once Kourtney is done, she, Khloé, and Jonathan head into a Mexican restaurant, Casa Vega, to celebrate Cinco de Mayo with Kim and Kris. Almost as soon as they sit down, Kim gets a text from Former Greatest Assistant of All Time Steph Shep, asking if she's seen new photos from Mexico that have once again surfaced. This makes Kim even more paranoid than she's been in recent days. After talking more about how Kim needs to try and shake her insecurities because she's "fucking Kim K.," the table's attention is diverted to Kourtney who is busy typing away on her phone under the table and asking Khloé cryptic questions about babysitting her kids that night. Everyone's confused, but doesn't press her. This scene was actually filmed on May 5, 2017, Cinco de Mayo and Younes's birthday.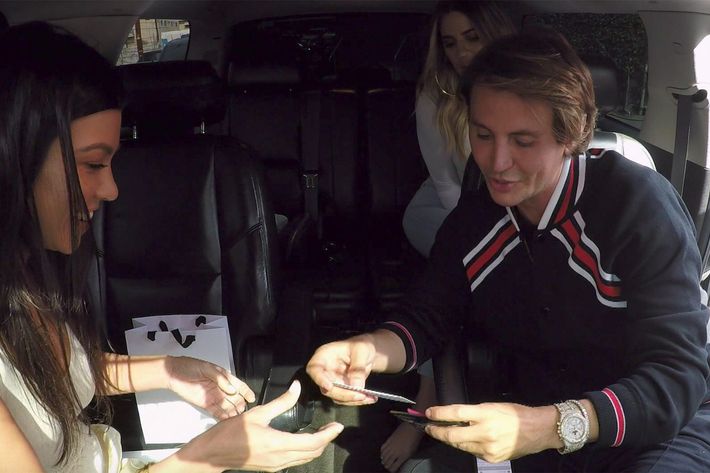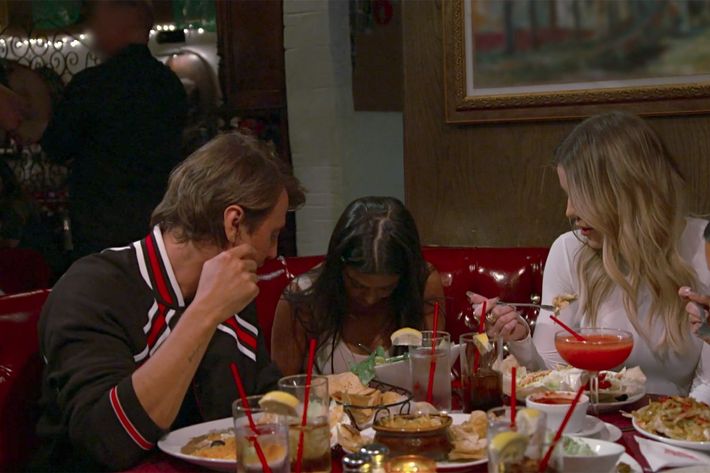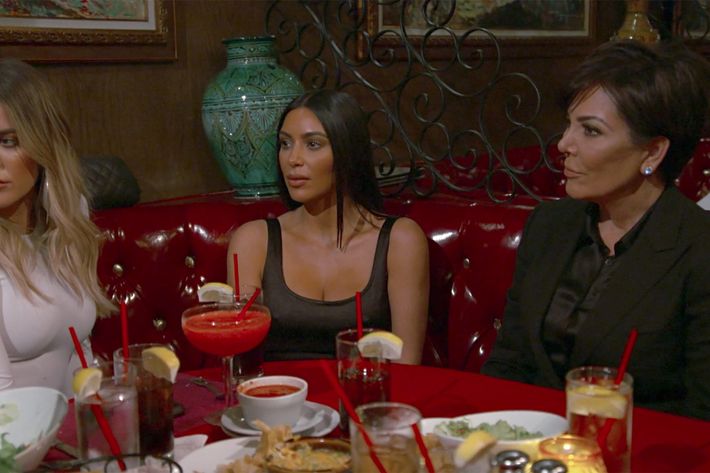 Scene 7:
The morning following, Kim brings North over to use the remnants of the Disick children's cupcake-decorating session from the previous evening. North cobbles together her own treat, while mother Kim Kardashian and Auntie Koko retreat to the garage for their daily calisthenics. Kourtney is meant to join the sisters, but it seems like her overnight date is running long, so she's running late. When she finally shows, her face, not fully rid of makeup, tells tales of the night before that she doesn't need to express on her own.
Finally, Khloé has to ask Kourtney just where she was and what she was doing. Unwilling to divulge the location, she puts on her "I'm about to sneakily tell you something face," and tells her sisters that she went to see "the swans." Khloé immediately knows what Kourtney is talking about because she went to see "the swans" on her first blind date with Tristan Thompson. If my poor little fingers and their Google-ing is correct, I'm pretty sure that's code for The Bel Air Hotel, which hosts swans in its front pond. Kourtney's workout post-swans was filmed on May 6, 2017.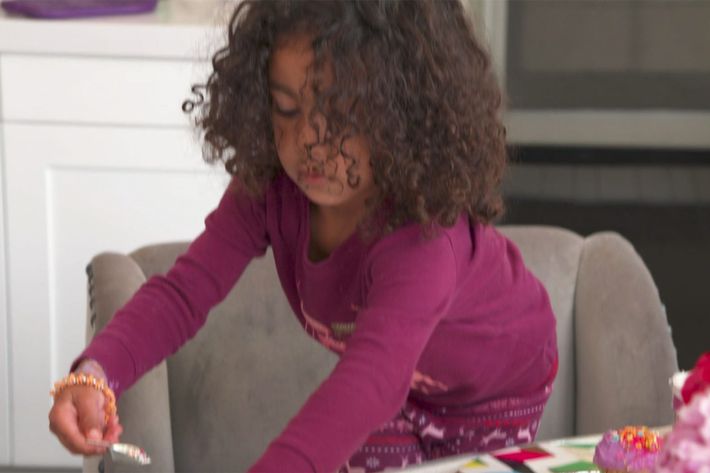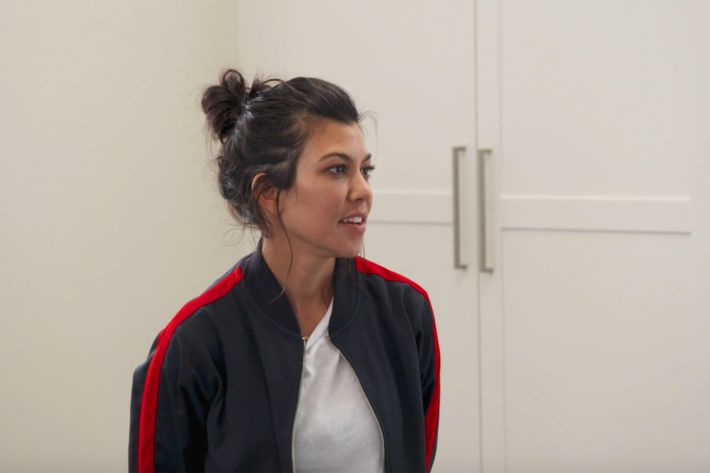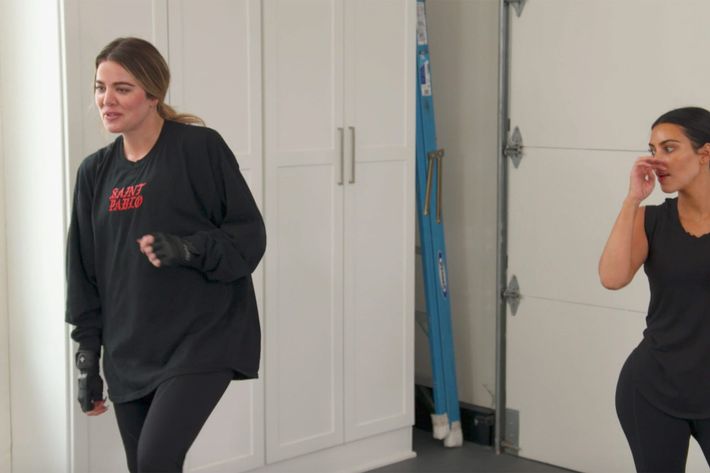 Scene 8:
Since Kris is so desperate to have Khloé back in the loving arms of Los Angeles, Khloé has committed to staying in town for one solid week for some good ol' mother and daughter bonding. On their first scheduled day of bonding, Khloé heads over to Kris's house to help her bake some brownies. Kris is in a rush, though, because she only has ten minutes before she needs to leave for a meeting. Khloé helps to quickly whip up a brownie batter, hoping that Kris will stay for at least the 22 minutes it takes for the brownies to bake. But she's not so lucky: Kris jets out almost as soon as the brownies are popped into the oven, leaving Khloé to look after them. This scene was filmed on May 18, 2017.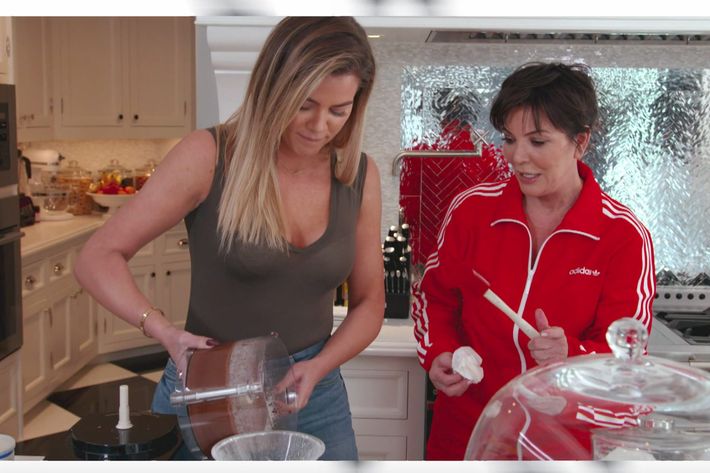 Scene 10:
After the brownie incident, Khloé, who is purging her closet, calls up her mom. Khloé knows how much Kris enjoys "Closet Time," so she's inviting her over for some fun. But yet again, Kris is too busy — she has both another meeting and a phone call to take. Khloé's upset, so she asks if Kris would like to come over and work out to get their summer 2017 bodies together. Kris declines once again, claiming that Khloé's 6:30 a.m. workouts are far too late in the day (you see, Kristen Jenner hops on her treadmill at 5 a.m. on the dot). Kris rushes Khloé off of the phone without finalizing any plans. As evidenced by Khloé's self-done glam of straightened hair and less-than-professional makeup, we know that this scene was also filmed on May 18, like Scene 8. That's a lot of rejections from your own mama in one day, right Khloé?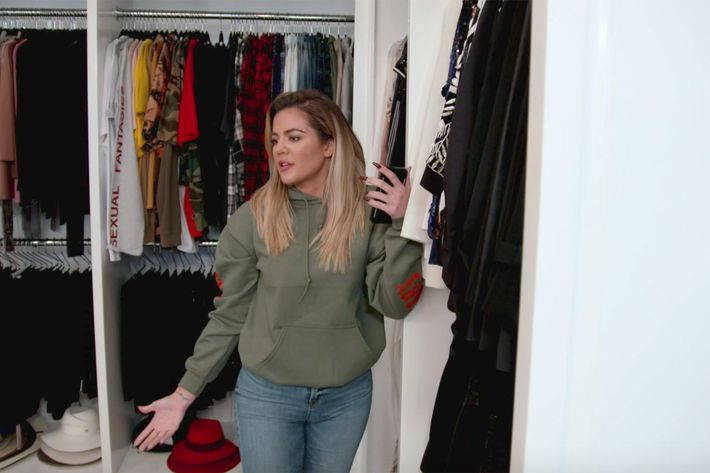 Scene 11:
Over at Kourtney Kardashian's Wellness Center, she gets blood drawn in her dining room for various "tests" as Freak-a-Leech Jonathan Cheban looks on. After her medical procedure, Kourtney and Jonathan meet Kim Kardashian in Kourt's kitchen. Kim is in distress — a new set of photos is haunting her. She went to visit "Chrissy" (Teigen, I assume), and was snapped just as she realized that the paparazzi were following her. To Kim, this photo makes Kim look like "500 years old" and all of the blogs are now calling her "old."
Kourtney thinks Kim should find the humor, while Kim doesn't think Kourtney really understands the trauma of being called "old." Kim also says that this is, yet again, exacerbating all of her existing anxieties about her safety and looks. Kourtney thinks that Kim needs to stop looking at TMZ, Us Weekly, and the Daily Mail, and maybe she'll find some peace. Thanks to Jonathan's inability to work with production and change his attire for different scenes, we know that like Scene 5, this scene was filmed on May 5.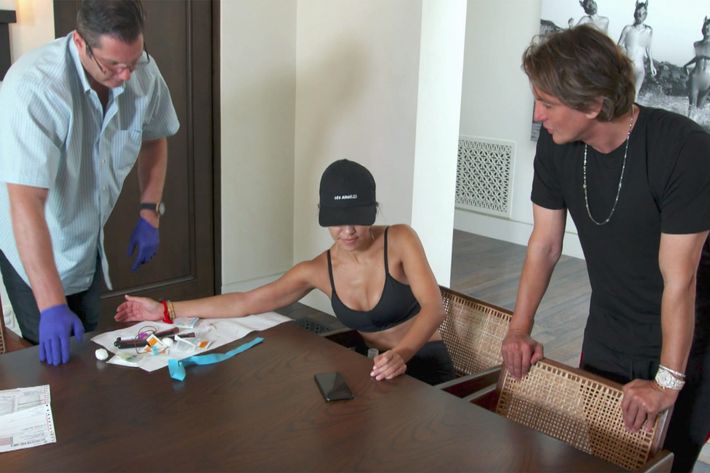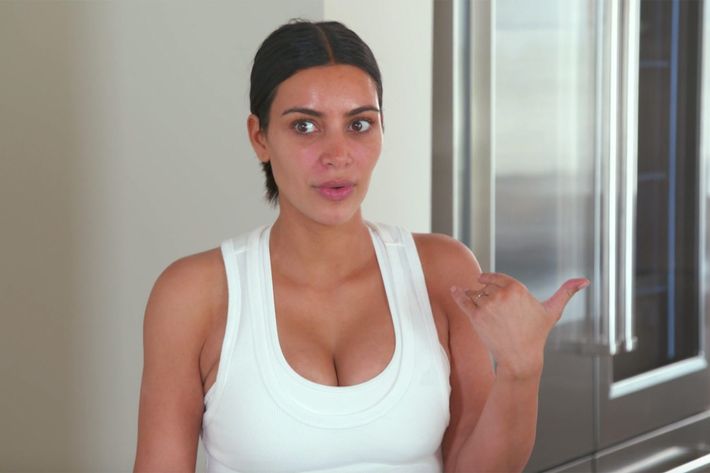 Scene 14:
Since they think they've found the cure for Kim's anxiety, Kourtney and Khloé hatch a plan to steal Kim's phone and delete every "news" app on it. Their idea is for Khloé to distract Kim with closet purging, while Kourtney remains downstairs blocking apps, websites, and "Kim Kardashian" from Kim's phone. Kim doesn't last long in Khloé's closet — partially because she feels like Khloé is throwing out all of the wrong items, and partially because she misses her phone.
Downstairs, Kim asks why Kourtney is still using her phone, and immediately realizes what Kourtney is up to. Kim understands what her sisters are trying to do, but reminds them that she doesn't just look up herself on the Daily Mail — that's where she actually gets all of her world news. Kourtney thinks that all Kim needs to see are her "tagged photos on Instagram," adding in all earnestness,"I don't read any news. I'm totally fine and I'm happy!" You know, congrats on that, Kourtney. Good for you! Maybe being uninformed is truly the key to being "fine" and "happy."
After learning how her sister keeps herself in the dark about gossip and current events, Kim decides to back off social media for two days, but when that time is up, Kourtney has to return her phone back to normal. Kourtney and Khloé agree. This was an Inside Day for Khloé, who made multiple outfit changes and inserted herself to many scenes, which means that this scene was also filmed on May 18, like Scene 8 and Scene 10.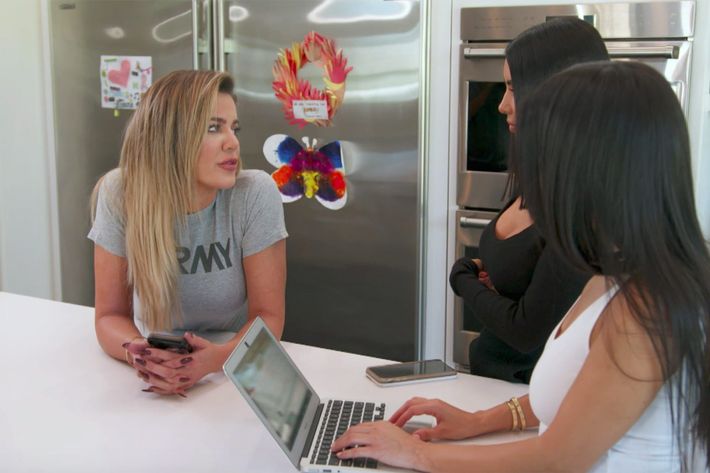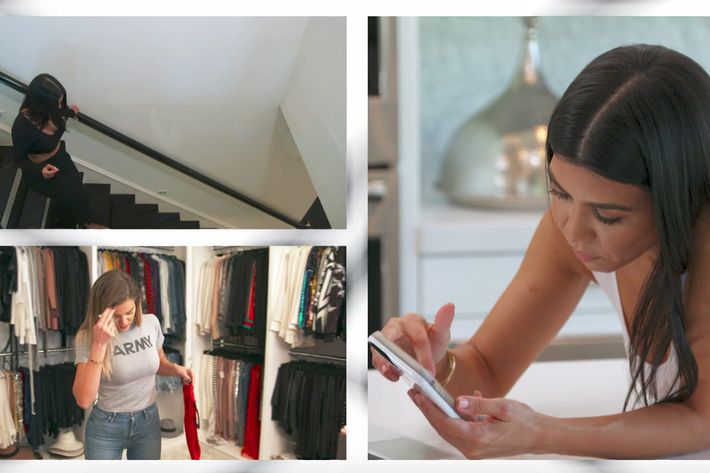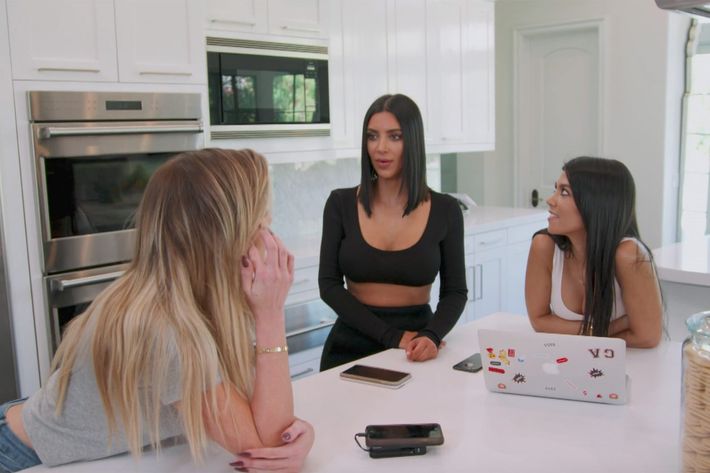 Scene 15:
After finally finding time for her child, Kris treats Khloé to an afternoon at a vineyard where they guzzle down tiny sips of wine from various glasses, pretend they're drunk, and prank-call civilians. First, Kris calls a hotel using a "British" accent, asking for "Khloé Kardashian" who may be staying under the names "Funny Bunny or Fred Flintstone." Then, Kris calls a bakery in Cleveland where she makes a poor man answer her nonsense questions about pumpkin and rhubarb pie. After giggling themselves silly, Kris and Khloé share a cheers. Kris, at a loss for words after harassing private citizens who are just trying to make it through the workday, says, "cheers to that!" For some reason Khloé finds this funny and jokes that "Cheers to That" will be "this episode's title," which it is. Clever nod to the production, E!, but I still urge you to do better. You see, this scene was filmed on April 25, 2017, almost a month before Khloé kept trying and failing to hang out with her mother all episode. Good luck next time.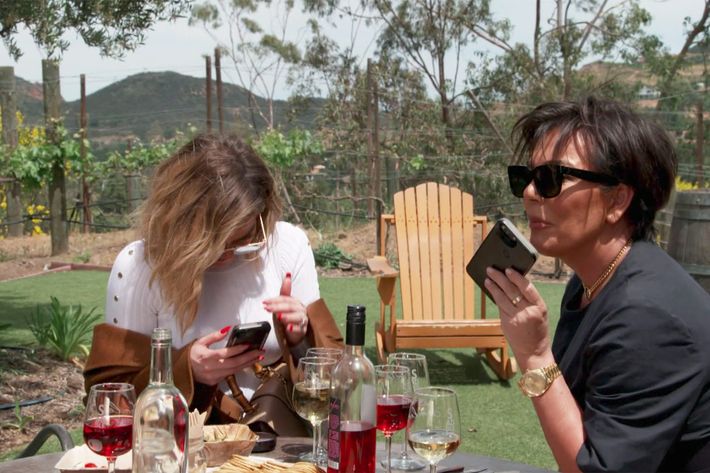 Congrats, you made it to the end of this week's recap, Dolls. You know the drill: Meet me back here next week for another #KUWTKE recap of Keeping Up With the Food God and His Friends. #NONEWNEWS