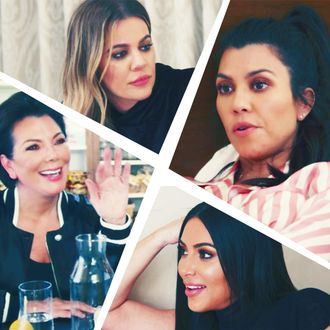 Photo: Courtesy of E! Entertainment
This week's episode of Keeping Up With the Kardashians is a lesson on keeping your family close, but your style closer. Our A-plot is Kourtney's desperate attempt to forge a friendship with her sister Kendall, our B-plot is Kim trying to re-vamp Khloé's wardrobe via a prank, and our C-plot is Scott Disick's continued struggle with addiction. I'd hate to blame you for ruining my vibe, so #LEGGO.
Scene 1:
Kim Kardashian and her larger-than-life Tagalong Jonathan Cheban make a stop at Chrissy Teigen and John Legend's home. Of course, baby Luna is there looking cute as can be! She's joined by Chrissy's mom, who serves Kim pork soup, and Chrissy's dad who is an avid watcher and lover of Keeping Up! After all these years, his favorite character on the show is — I kid you NOT — Jonathan "I'll never be actually famous" Cheban!!! Chrissy's dad does redeem himself, sort of, by saying that Kim is his favorite Kardashian. It used to be Khloé, but he think she's lost her way. My mans, Mr. Teigen is a G. Kim and Chrissy, on the other hand, talk about how anxiety-inducing the Met Ball is, especially when it comes to talking to the "big" celebs. This visit was filmed on May 4, 2017.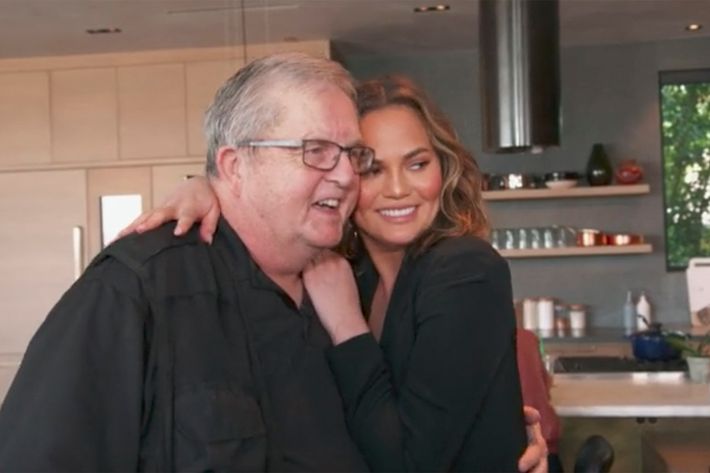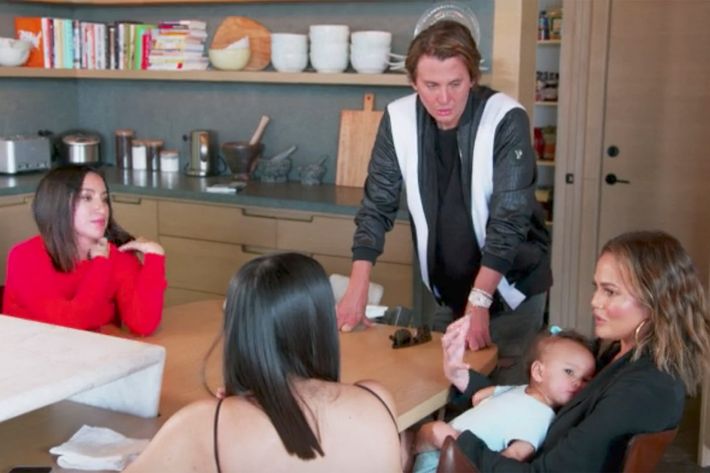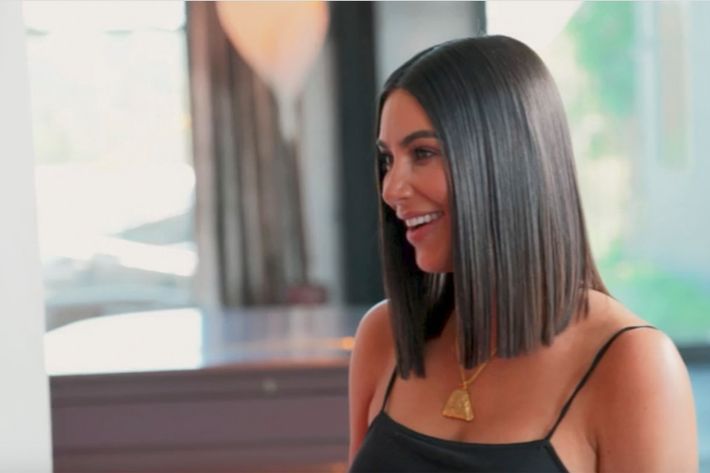 Scene 5:
Kris Jenner, Kourtney Kardashian, and Kendall Jenner lunch with one another on a beautiful California day. Kourtney's crashed the Jenner duo's meal because she's looking to reconnect with Kendall; specifically, by forcing the rekindling of a relationship that may have never existed, given Kendall's just as close in age to Kourtney as she is to Mason. However, Kourtney persists — by sitting in silence with Kendall before Kris arrives, and finally mustering courage to invite Kendall on a Santa Barbara vacay where they can relax, drink wine, and maybe start a friendship. Kendall agrees to the plan. Kris Jenner remains silent for the most part, except for when she sees someone she knows outside the window and waves awkwardly. This scene was filmed on March 15, 2017.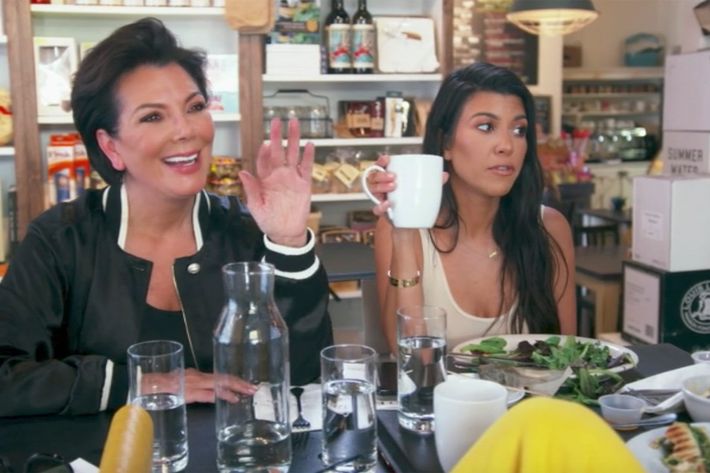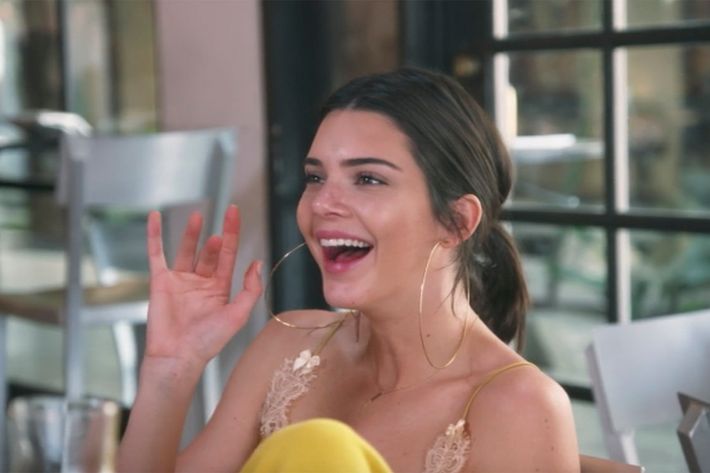 Scene 6:
Kim Kardashian West makes the trek from Bel Air to Calabasas in order to make Khloé a proposition. Kim's been doing some online stalking, and isn't happy about the clothes she's been seeing on her sister. According to Kim, Khloé dresses too on trend, using far too many prints, colors, and textures. The proposition: She wants to start styling her sister.
Kim explains she thinks it wouldn't hurt to "archive" this version of Khloé and upgrade to Kim's level. Khloé tells Kim that tons of people compliment her style, to which Kim responds "what people," as she rolls her eyes so far into the back of her head I'm surprised they reset properly. Khloé doesn't agree, but it's clear Kim will still move forward with her plan. This scene was filmed on an Inside Day for both Khloé and Kim, but since Khloé's red-and-tan nails and Kim's Inside Day could have only overlapped just this once, we know that this scene was filmed on April 21, 2017.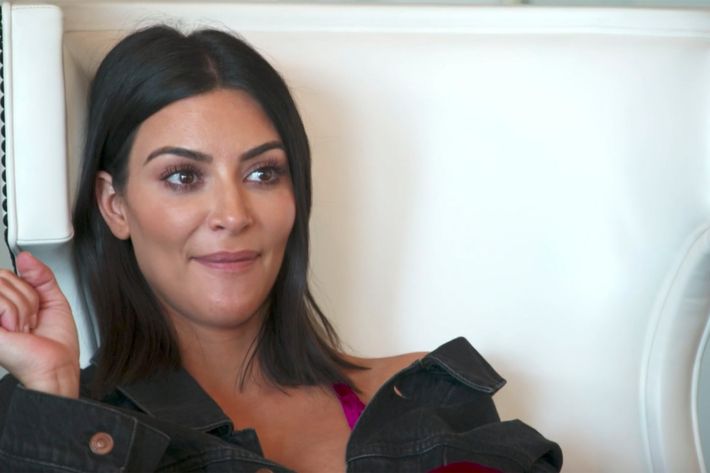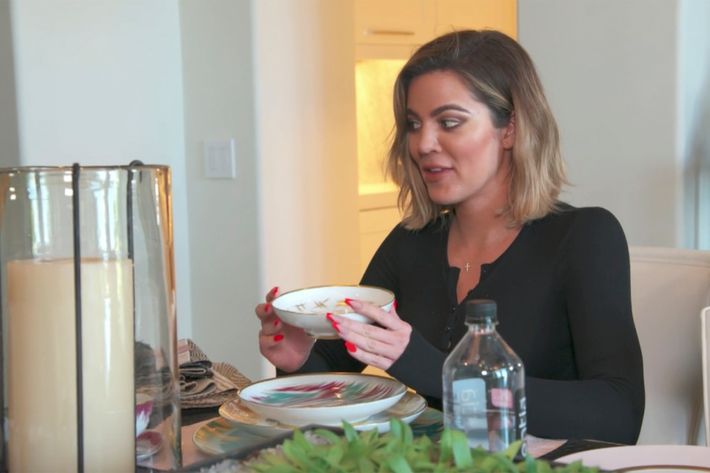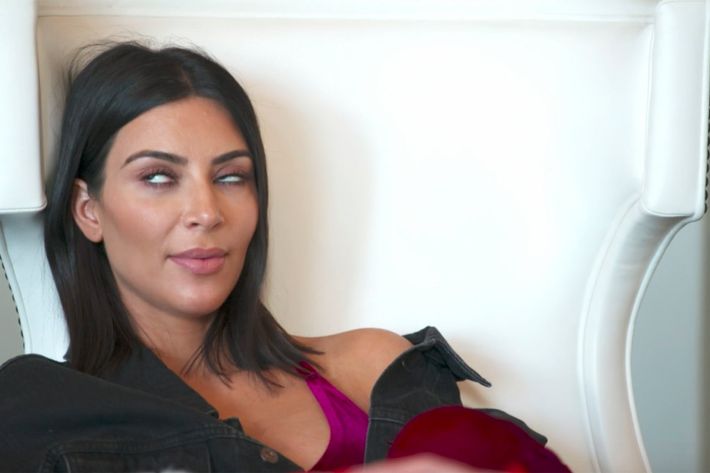 Scene 9:
Despite Khloé not being fond of Kim's suggestion, Kim has one trick to help her sister out: Since Kourtney's anxious about spending alone time with Kendall, she's invited Khloé on their Santa Barbara trip. Kim's taking this opportunity to sneak into Khloé's house and pack an alternate bag full of her own curated looks for Khloé to take to Santa Barbara. It appears Jonathan Cheban's head will fall off if he's not trying to snake it up a Kardashian's behind, because he's joined Kim for the mission. The duo decide to make protein shakes at Khloé's home and eat food they brought before heading upstairs to get any work done. While Kim blends up the liquid portion of her lunch, Jonathan makes a joke about them being the first robbers to eat a meal before getting to work. Without missing a beat, Kim asks him to not say the word "robbers" in front of her and reminds him that they're not stealing anything, just packing a bag.
After they eat, Kim and Jonathan head to Khloé's closet, which Jonathan compares to "My Super Sweet 16." They pull Khloé some very Kim K. monochromatic weekend looks, take pictures of each outfit with a Polaroid, and call it a day! Thankfully, Jonathan couldn't find any personal business on this day because his outfit is the only reason that we know that this scene was filmed on May 9, 2017.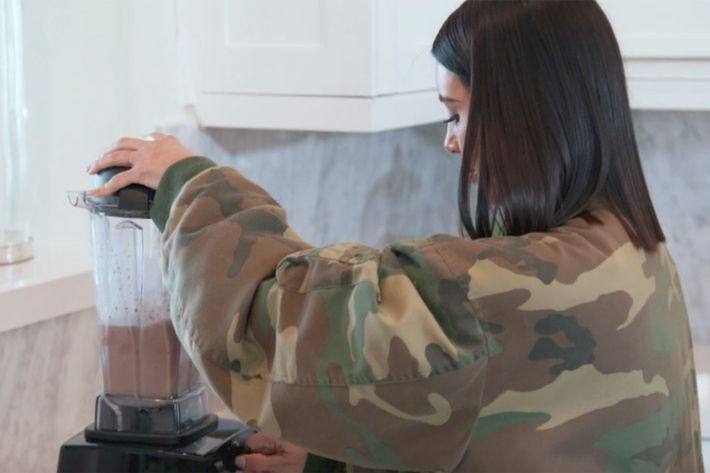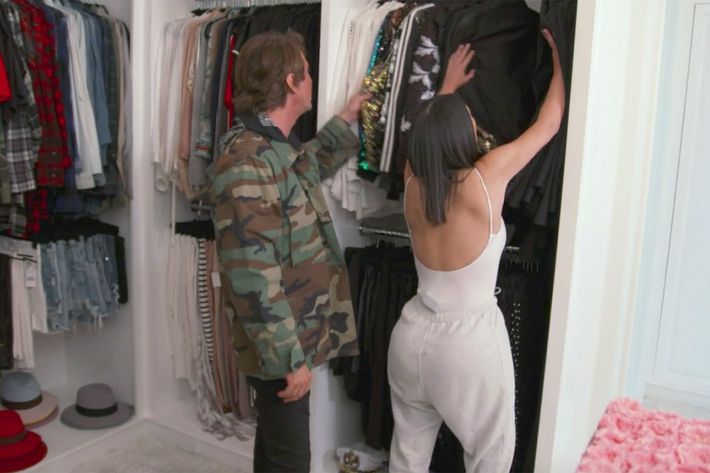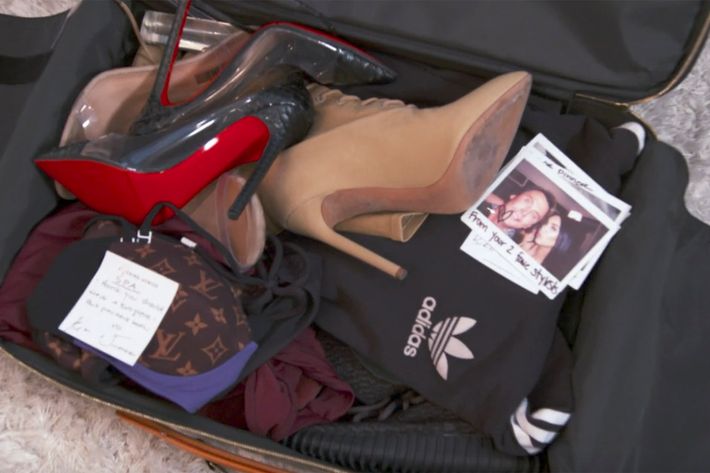 Scene 11/Scene 12:
Kourtney, Khloé, and Kendall arrive in Santa Barbara, and while the sisters figure out who is staying in which room, Khloé frantically searches for her luggage. She sees that there's a bag placed in the room that's supposed to be for her, but it looks nothing like the one she packed. Thinking her assistants loaded and transported the wrong bag, Khloé reluctantly opens the bag and finds a photo of Jonathan and Kim, along with the clothes they packed. Khloé calls for Kourtney and Kendall, who, like Khloé, find this so amusing. Khloé calls Kim, and while the sisters laugh over the prank while FaceTiming, they take a look at the Polaroids and try to stay in the moment even as they're very obviously getting production notes from producers.
Later that night, Khloé puts on her first look picked out by Kim and the sisters go to dinner. Even though Kourtney planned this trip to bond, she spends the entire evening on her phone. Like always, she's dealing with Scott drama. Friends of Scott's have been hounding her about his bad behavior, and some people close to him think he won't even live to see his birthday because of how excessively he's been partying. Khloé and Kendall are obviously bored, and Kendall even dozes off at the table. These scenes were filmed on May 12, 2017.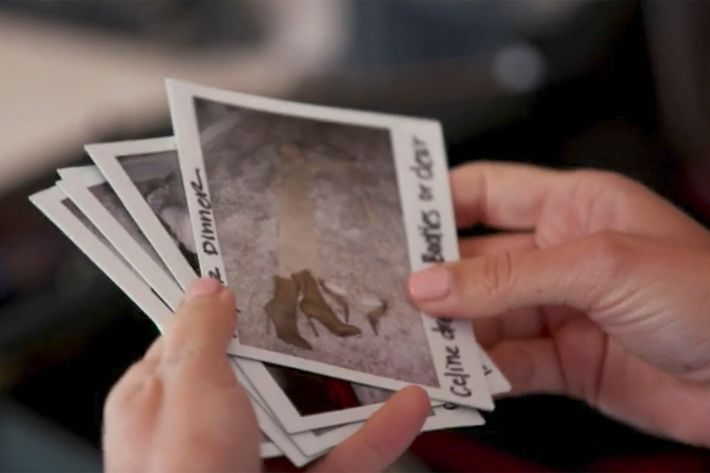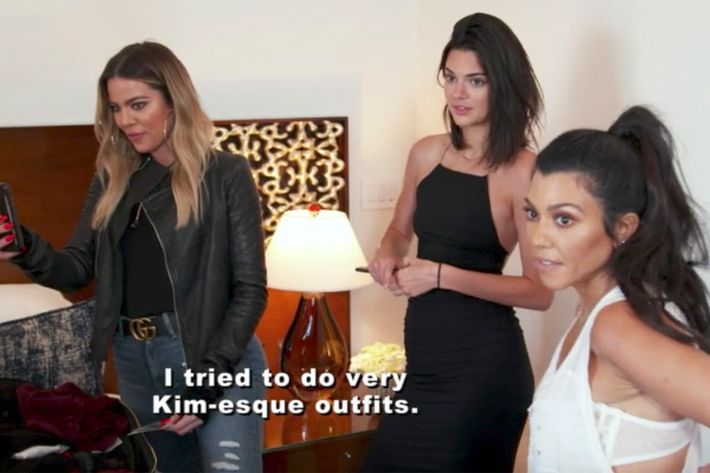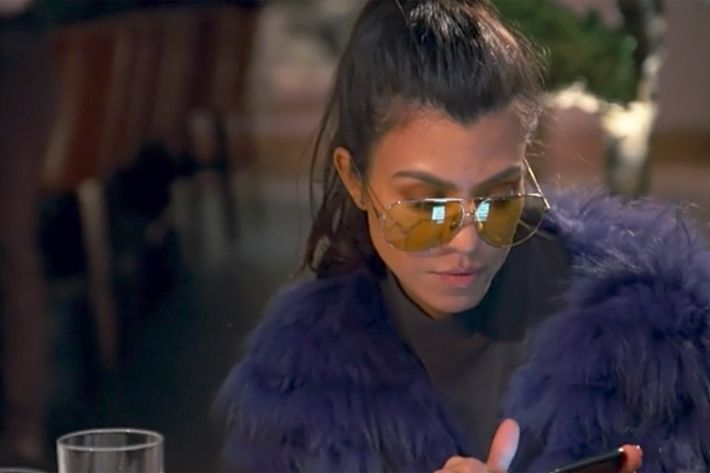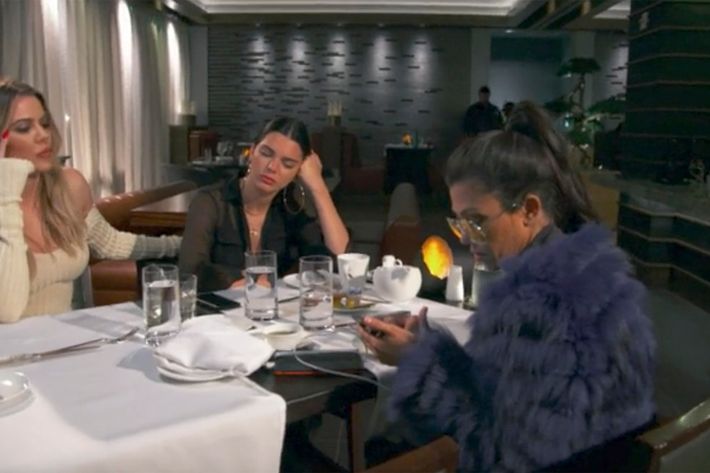 Scene 13:
Back at the hotel, Kourtney and Khloé chat about Scott. Kourtney's still stressed out over Scott, because she and Scott aren't talking at the moment, she's conflicted about reaching out. In the past, Scott has gone on very public benders to get her attention. When he's got it, she'll call him, they'll make up — and then the pattern continues. Kourtney is clear that she won't allow Scott around her kids in his current state. Khloé agrees. This scene was also filmed on May 12, 2017.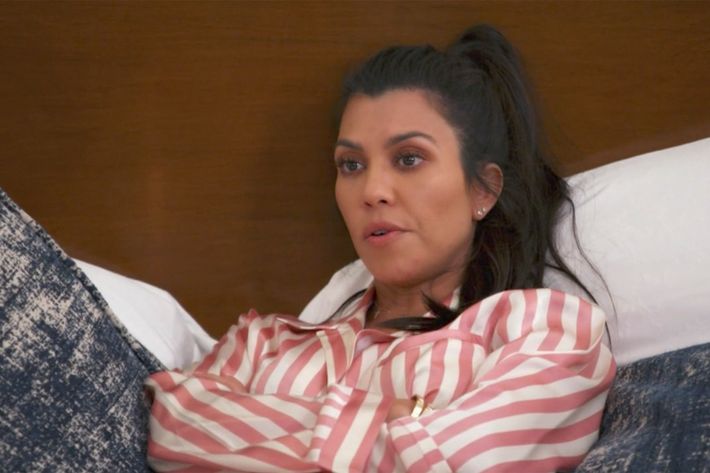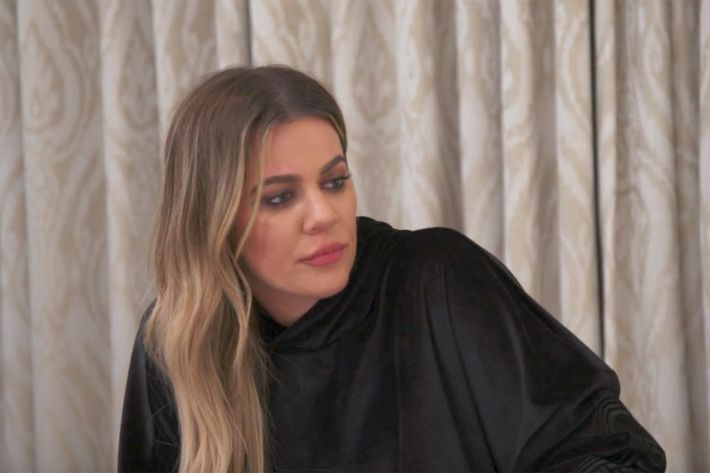 Scene 16:
It's still nighttime in Santa Barbara, and while model Kendall Jenner gets her beauty rest amid the soft glare of a television screen, her sisters wait up to hatch a plan against her. Khloé films on her phone as Kourtney asks her Twitter followers the best way to prank a sleeping person. They want something more epic than sticking a blueberry up her butt, so after receiving that particular suggestion from a citizen of Twitter, they decide to put chocolate up there instead. The trick is that the chocolate will melt, causing Kendall to think she shat herself in the night. The goal of this "prank" is to see if Kendall would tell them the next morning or keep her "accident" private. I'm sure if Kourtney and Khloé weren't busy hatching plans to assault their younger sister, they might have a better relationship. They'll never find out, though, because Kendall wakes up as they try to turn her over to insert the chocolate. Like all Santa Barbara scenes prior, the scene was filmed on May 12, 2017.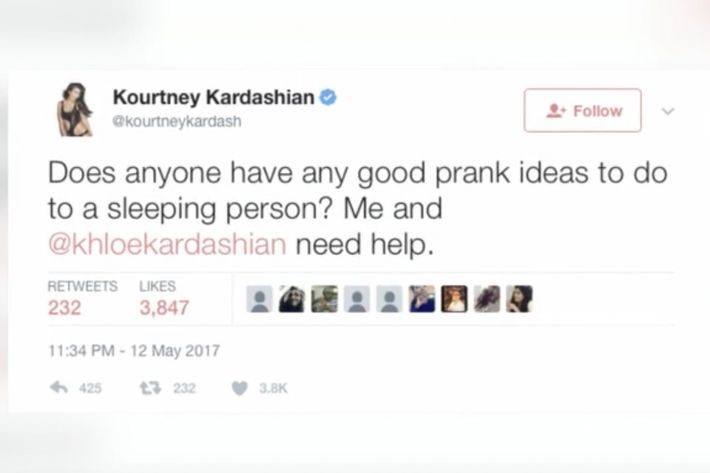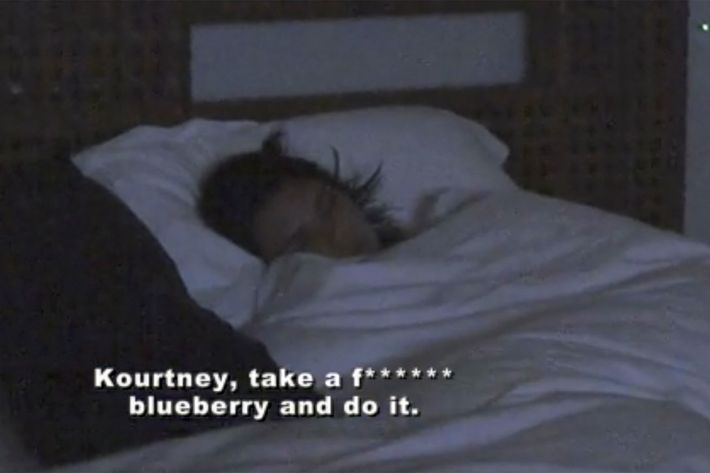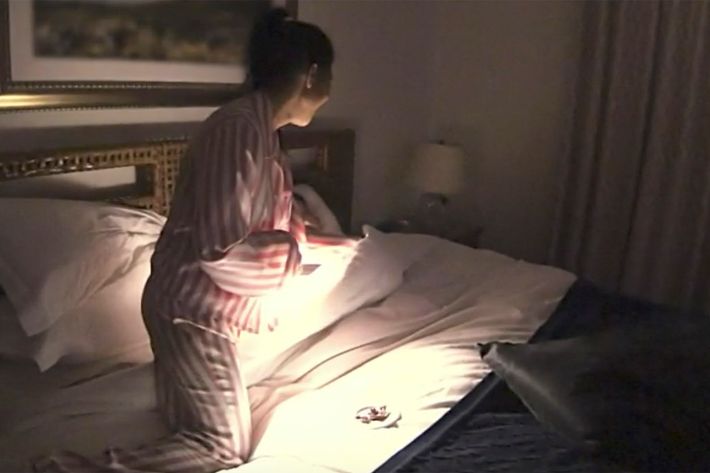 Scene 17:
The following day, our Santa Barbies head to a local vineyard. After a few small sips of wine, the sisters hop on electrical bikes and pedal toward a full tasting. Sadly, on the way there, Kendall falls face forward off her bike. She's fine, but has to change out of her beautiful faux-fur into a simple velveteen cropped hoodie.
During the wine tasting, Kendall giggles more than she has in the entire decade of the series — because this bish is drunk and so is Kourtney. Kourtney and Kendall try to determine how much they've had to drink, but they can't quite do the math on how many tasting glasses equal one full glass of wine. Nothing bonds sisters like wine, trust me, I know. This scene is meant to look like the day following their previous Santa Barbara scenes, but this, too, was filmed on May 12, 2017. It was a work trip, after all.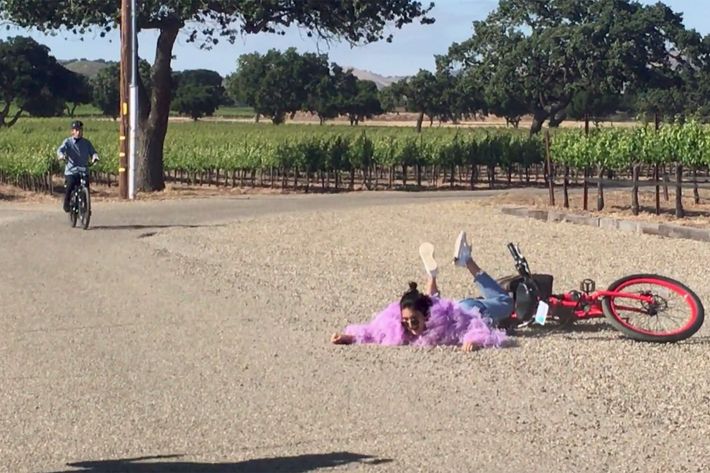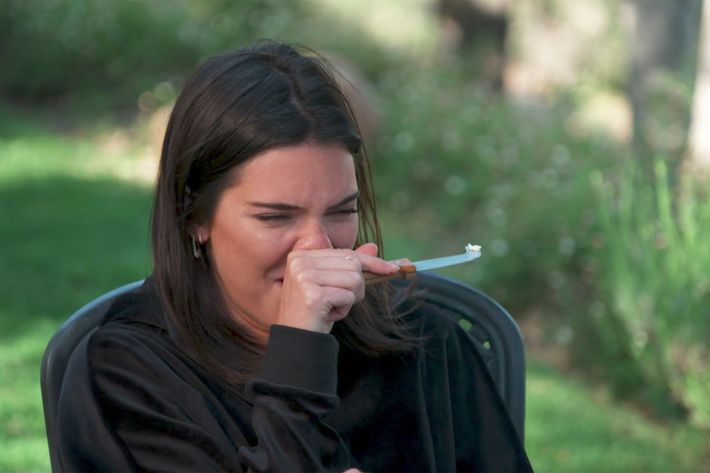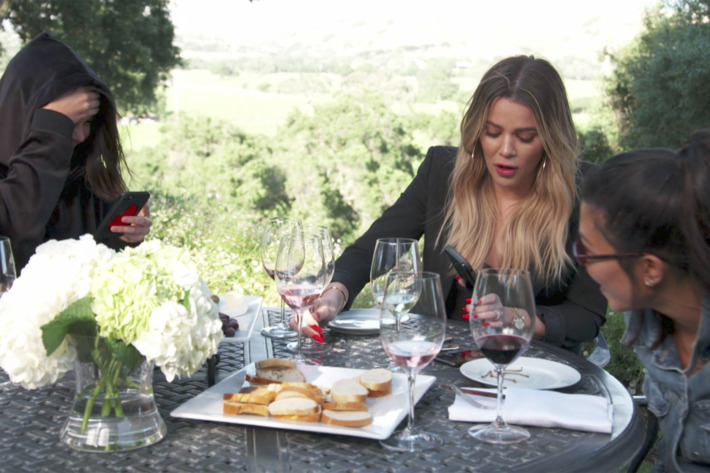 Scene 19:
After the wine tasting, Khloé tricks Kendall and Kourtney into getting full-body masks together. She knows that they have to stay put for at least 20 minutes, which makes it the perfect opportunity for them to figure out why they're not connecting. Kourtney thinks that Kendall doesn't make an effort to call her when she's traveling for work, and Kendall thinks that Kourtney never reaches out when she visits the city of Los Angeles for her nights on the town. They both make a pact to do better and be more inclusive — and that's that. Hooray for one night fixing a lifetime of issues! This scene is meant to look like the day following their previous Santa Barbara scenes, but this, too, was filmed on May 13, 2017.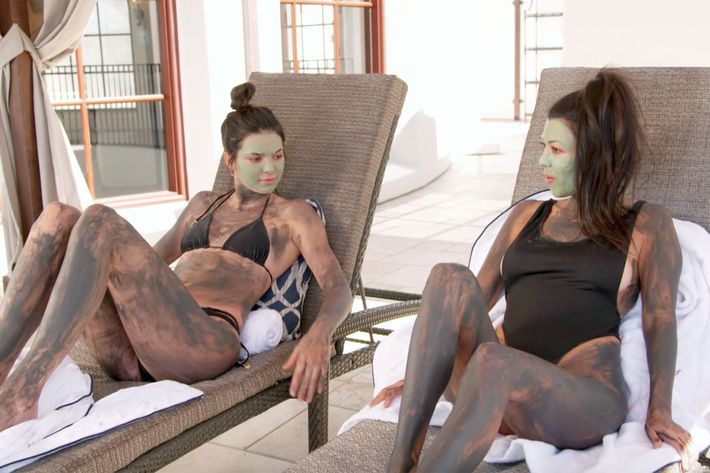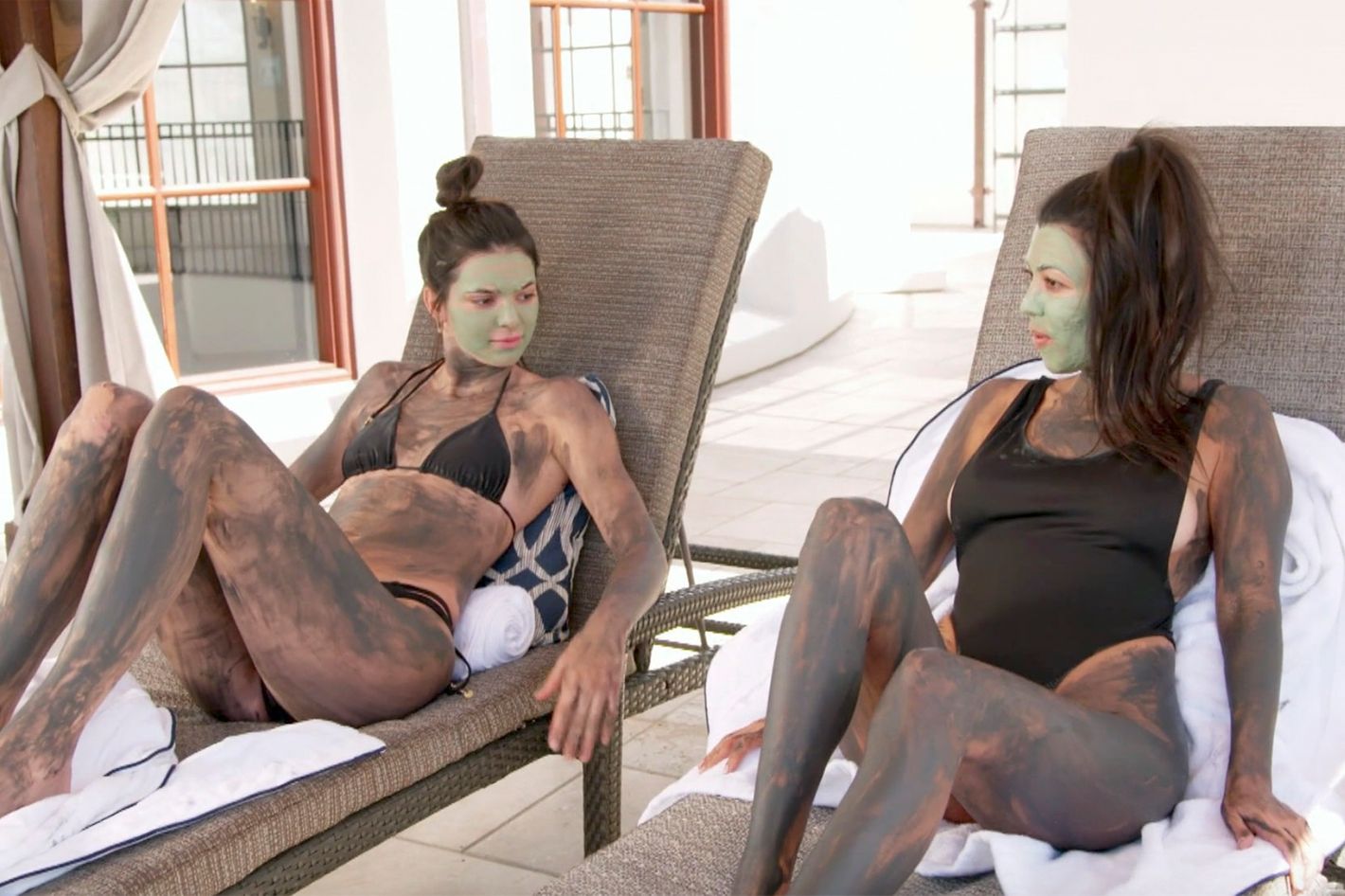 Scene 20:
Back in Los Angeles, Khloé visits Kimberly to thank her for the luggage switcheroo. Kim listens in awe as Khloé recalls the moments where she thought her luggage was lost, only to find it re-packed by Kim. Kim loves hearing about her shenanigans, and listens like she isn't the focal point of the story. Khloé really thinks that Kim has opened her eyes — and she actually wants to start changing her wardrobe. She's so thankful that she invites Kim to join her team full-time as a stylist.
I mean, someone does have to replace the disgraced stylist Monica Rose, but it won't be Kim. Kim declines the offer on on the spot because she's "busy." Khloé's shocked — Kim went through all of this trouble to switch up her vibe, and now won't take the job she created and applied for herself. What's more upsetting than this is the fact that this scene wasn't even filmed in Bel Air, but in New York. The two sisters were doing press in the city, and had to step away to tie up the loose ends of this storyline on May 15, 2017.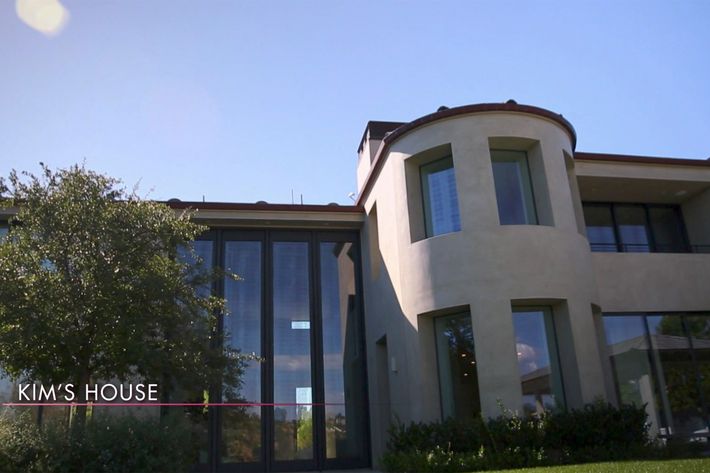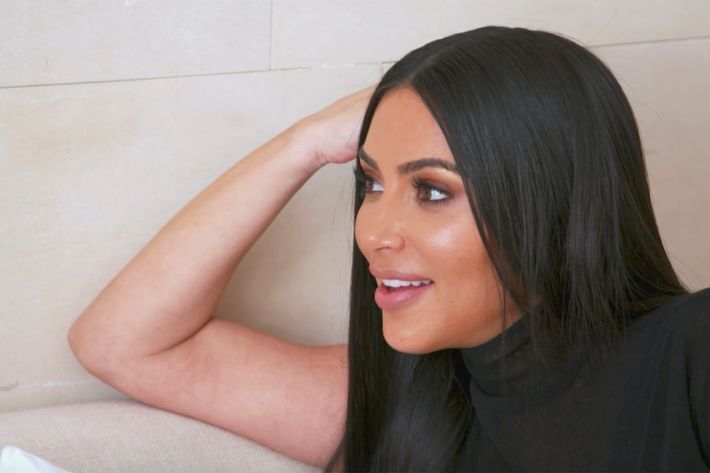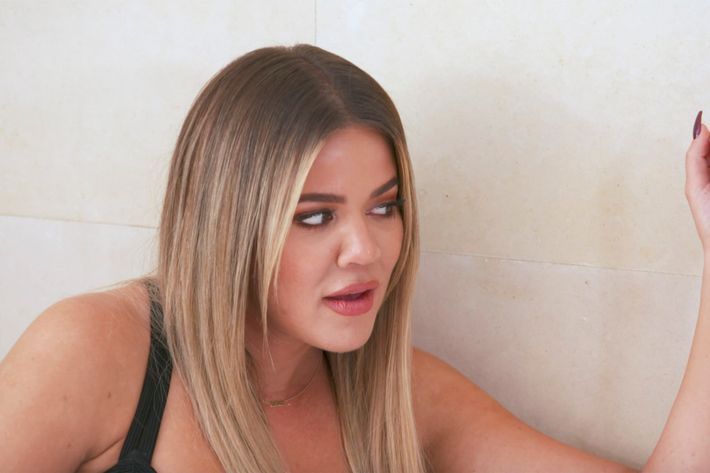 Thanks for journeying with me this week, Dolls. Please tell your friends and distant loved ones to meet you back here next week for another #KUWTKE recap of Keeping Up With Kendall's One Episode Per Season. #ARCHIVEIT