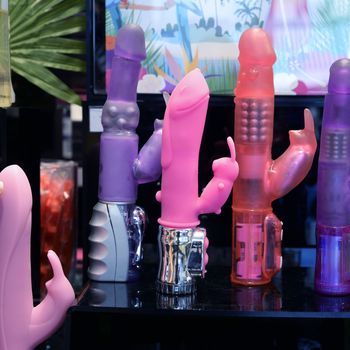 Have you seen these toys?
Photo: BERTRAND GUAY/AFP/Getty Images
In what is being called the biggest sex-toy heist in history, hundreds of dildos and butt plugs are missing after thieves stole $60,000 worth of merchandise from the company Fun Toys London, which was exhibiting its products at the Venus Berlin, a three-day event that presents the "annual trends and innovations from the erotic and lifestyle sectors."
In a lengthy Facebook post last week, the company shared pictures of the devastating scene, and begged customers to "HELP US AND SHARE THIS POST!!" They explained:
We have just celebrated the successful end of the Venus exhibition in Berlin to find out a DEVASTATING ACCIDENT at the fairground on Monday. When we arrived to load the stand and products into the truck, we saw THIS (on the pictures below). It turned out that ALL the FT products worth over 50.000 euros had been stolen! Only the brochures, bags and two boxes with testers were left. Also, our award Erotix Awards 2017 was on the scene which is consoling.
Since the thieves will likely try to resell the products on the black market, Fun Toys London is encouraging customers to inform them if they are offered any FT products from an unauthorized seller. (While I'm sure you're already familiar, the list of FT-approved sellers can be found here.)
Ted Cruz, noted sex-toy enthusiast, has yet to account for his whereabouts at the time of the theft.