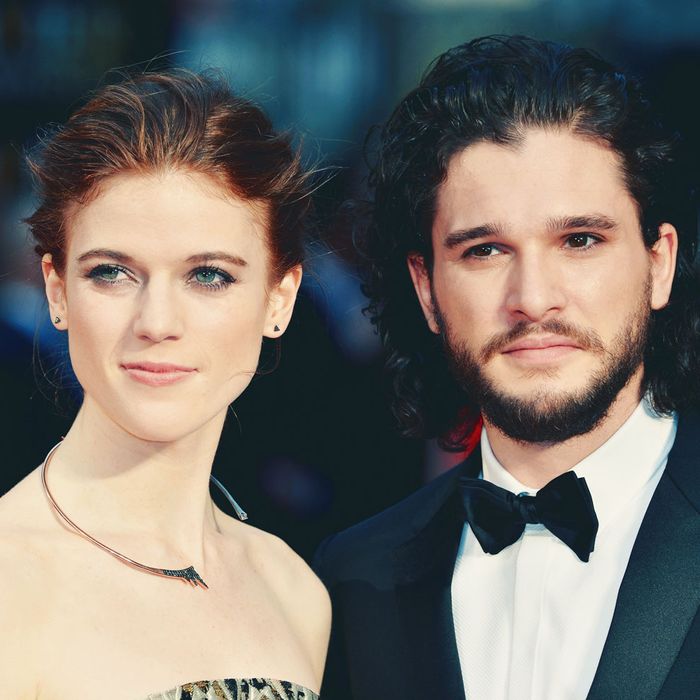 Kit Harington and Rose Leslie.
Photo: Anthony Harvey/Getty Images
After some of the worst onscreen nuptials ever, there's finally going to be a real-life Game of Thrones wedding. In an interview with Jonathan Ross, Kit Harington opened up about his recent engagement to former co-star Rose Leslie — and revealed that the proposal did not, unfortunately, take place in a sexy cave littered with animal pelts.
"I did have some plans to do it; I was going to string up some lights in some trees and do all the romantic stuff," explains Harington. "But we were in the country, and we were under this beautiful night sky and had a log fire burning and red wine, and I blew my load early." He quickly clarified that "blew my load early" is not exactly how he wanted to phrase things: "What I meant to say was, I popped my question a bit early."
Harington adds that much like the proposal, the wedding will definitely not be Game of Thrones–themed (sorry, superfans). "There is absolutely no chance of me convincing [Leslie] of that," he explained.
Still, while the happy couple won't be sipping jugs of mead or walking down the aisle to a lute version of 'The Rains of Castamere,' there will at least be plenty of Game of Thrones cast members in attendance. "I rang [the producer] up and I said, 'I'm getting married and it's your fault actually.' I was like, 'You need to factor in a Game of Thrones wedding by the way.' They [The cast] have all got to be there so the whole thing has got to shut down."
Game of Thrones season eight — coming to you at some point after the speeches and dessert course.