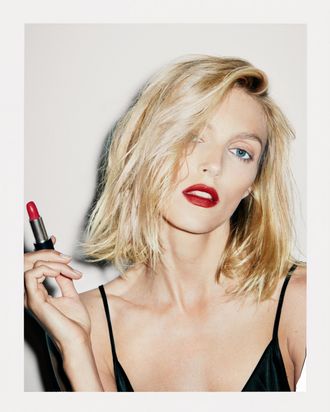 Anja Rubik for La Bouche Rouge.
Photo: Ezra Petronio/Ezra Petronio
Would you be surprised to hear that many cosmetics, no matter how tiny or massive the price tag, are made in the same factory? It's true, and Nicolas Gerlier, a French beauty veteran, has set forth to break the mold with his new company La Bouche Rouge. The lipstick brand fuses Parisian luxury and environmental accountability, and is the first start-up aided by LVMH's cosmetology research division. It launches today.
La Bouche Rouge has built sustainability into its design in an effort to address the alarming volume of disposable packaging (an estimated 1 billion lipsticks are thrown away annually). The lipsticks are conceived as a sophisticated and lasting possession: the formula (free of endocrine disrupters and allergens) is refillable, and each tube is sheathed in double-tanned calf's leather to promote durability. A rotating lineup of Bouche Rouge ambassadors will create new shades, starting with makeup artist Wendy Rowe and model Anja Rubik. To boot, for each lipstick sold, La Bouche Rouge will donate 100 liters of drinking water to Eau Vive Internationale, an agricultural and water-resource charity.
Ahead of La Bouche Rouge's debut, the Cut spoke to founder Nicolas Gerlier in Paris about luxury, smart consumption, and that exhausting "French girl" obsession.
What makes La Bouche Rouge so different?
I spent ten years working at L'Oréal, Armani, and Lancôme. The products are all made in the same factories and manufacturers, with the same formulas; the logo was really the only difference. I was impressed when Frédéric Malle launched — reinventing niche perfume, modernizing something traditional from a century ago. And I said to myself: I'm going to do the same thing but for makeup, with a maison de maquillage.
The modern angle here is being environment-friendly: limiting plastic to an absolute minimum. There is plastic in the refill — you can't get around that — but there's no micro-plastic. It's a mini-revolution in the industry; it's hard to do without. Polypropylene and polyoxymethylene provide suppleness, enabling fast production, so it was a real challenge to remove. We sat down with chemists. We're demanding, and we're sounding the alarm: Stop making things any which way. We want to do things differently. We only have one planet. In France, with Macron, we have the Make the Planet Great Again … versus Make America Great Again with Trump [Laughs].
The other driving factor was the artisanal dimension — to make not a product but an objet. Enough with mass-market items made in China and sold globally at a bottom-rate price. I wanted to make something crafted. It's a return to what they used to call le nécessaire de beauté: when women would buy their engraved rouge à lèvres at Place Vendôme. I've interpreted this through the leather casing. The vegetable-tanned leather is done by a family-run patrimonial tannery. The leather smells like wood because it was treated in barrels. You keep the case, and refill with a magnetized lipstick. Ezra Petronio from Self Service, who was a partner in his project, did our graphic design. He's obsessed with red lips and uses the same red in all his Polaroids. We created a signature lipstick called the Rouge 9.16, for the day we met.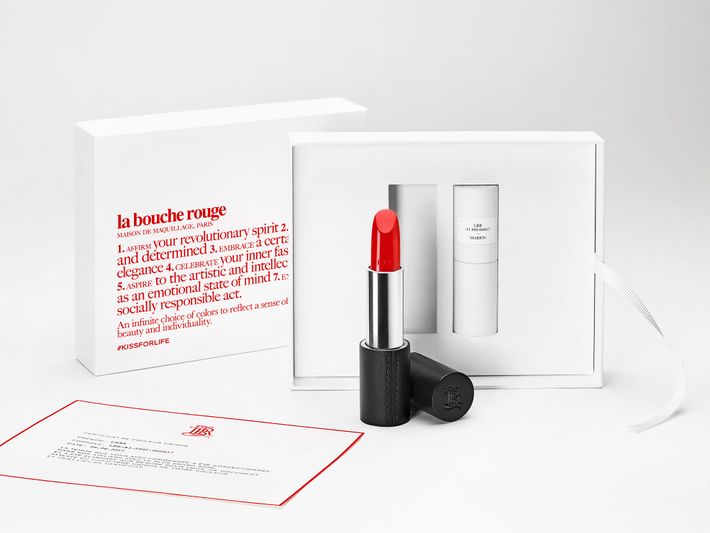 Why the name La Bouche Rouge?
For me, la bouche — the mouth — it's a voice, it's speech, it's intelligence. Rouge — red — is the color of revolution, and also seduction.
We're making a lipstick — okay — but we're also vocalizing a social and humanist cause, which for me is sustainability and clean water. We're not going to talk about it all the time, though we will in March, for World Water Day; we'll celebrate the amount of water we were able to provide to charity through the sales of our lipstick. I started a charity called Acqua for Life at Armani, and it was a real success. Through a perfume product, we changed the lives of several villages. It didn't change anything for us, but it changed things elsewhere. We can shift things little by little — and the luxury market should be a driving force behind this. This is part of my ambition: to create a label with values. A brand is opportunistic, whereas a maison, for me, has a vision of its era: How is this going to change something at large, something bigger? So I am choosing Bouche Rouge ambassadors to communicate this. I'm starting with Wendy Rowe, a makeup artist with a lot of expertise — she worked on the texture with us and developed the first collection of six reds in-house. Anja Rubik, who is creating two colors, is the face of the maison; she embodies a certain modernity and elegance. She herself has spoken before about clean water as a cause, with Parley for Oceans.
You write on the side of the box "Embrace a Certain Parisian Elegance." Although neither ambassador is in fact Parisian, there's an obsessive mythology around the "French girl" beauty routine. How are you going to play with that, or reinvent it?
Wendy and Anja — like all the Bouches Rouges I plan to recruit — have being smart, creative, and commitment to a cause in common. For me, elegance à la française means being sensitive to creativity, to sensations, to aesthetics, to fashion, to beauty, to literature — plenty of things. In the end, it's a state of mind, an état d'esprit. It's a way of life; not the location of birth. You can't teach it. I'm Breton [from Brittany], but I love Paris for what it represents. There's a lot of Paris-bashing, and there are plenty of flaws, but it's an extraordinary city.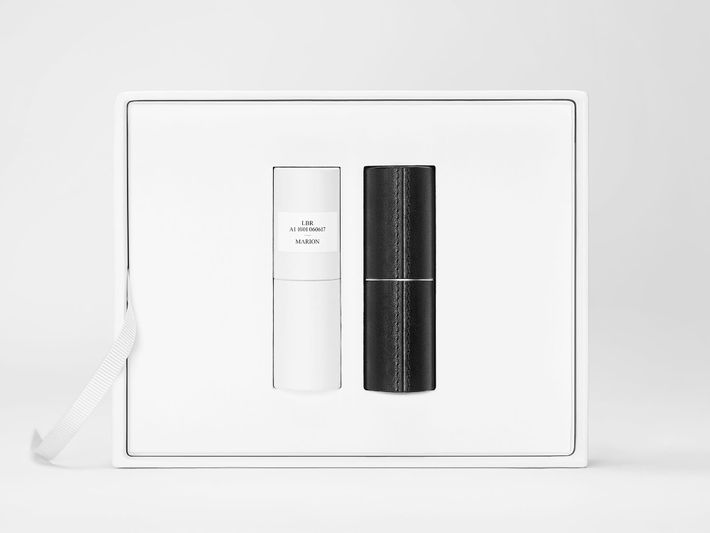 You're based at Station F, which is sort of the Silicon Valley of France. How does this context inform your work?
You have to apply and then be selected; I'm the first beauty start-up there. I work in an open space: on my left is someone who brings yoga to businesses, on my right is someone who develops a geolocalization app. No link with a lipstick! Even though we work on different projects, we exchange ideas, we have brainstorming sessions. We're on Slack, we're chatting all the time — it's very dynamic. We're all client-oriented, we want to do big things, and we advise each other. And we're straightforward too — we give constructive criticism.
What constructive criticism have you received?
I've been asked about the leather, why I'm not vegan.
So how do you address potential anti-leather clientele?
The leather sold at Zara or H&M or other mass-market places is kind of a sacrilege. Whereas leather that's part of patrimony, a tradition … I don't think leather is inherently bad — some people work it beautifully. That's why I selected the best leather, the most refined, from a centuries-old company run from father to son since 1842. This isn't manufactured in Bangladesh by child laborers from badly treated animals.
What's your long-term plan for La Bouche Rouge?
Lipstick is the pillar, but I will develop pencils, nail polish, maybe skin care. We want to do everything very well. I'm not L'Oréal launching products every six months. I want to focus and be the best. It's hard to do — one is quickly tempted to follow the market. We are cultivating our difference. It's no longer a "luxury" to be able to be environmentally conscientious. What's going to happen in 50 years?! I don't want to do a sermon about environmental responsibility — I want to create the desire to buy differently. It's a small investment. I want people to say: It's so nice to buy a beautiful product, and to keep it.
La Bouche Rouge is available at Colette and on La Bouche Rouge's website.