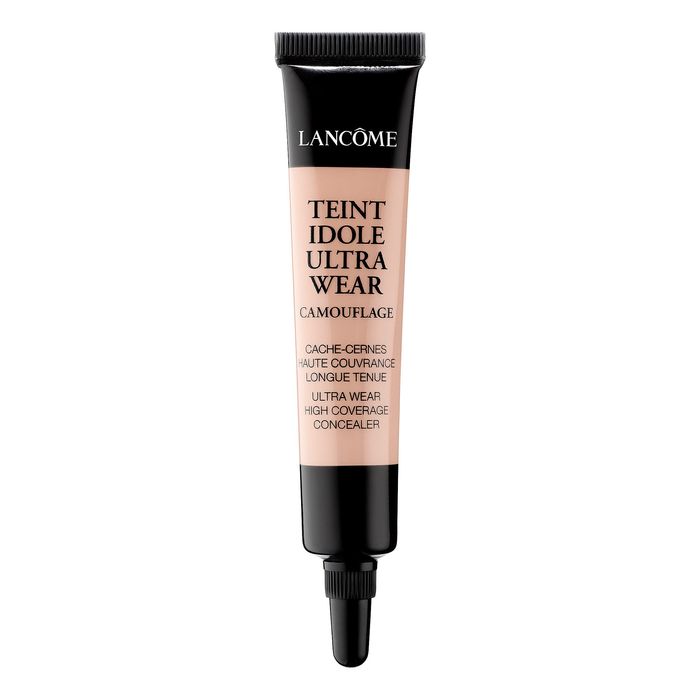 Lancôme Teint Idole Ultra Wear Camouflage Concealer.
Undereye concealers are tricky. The ones that provide good coverage tend to crease, and the ones that don't crease hardly cover dark circles at all. Usually, you'll need to compromise coverage for longevity or vice versa.
Lancôme's Teint Idole Ultra Wear Camouflage Concealer, which was released earlier this year, is one notable exception. It is incredibly pigmented — so much that if you apply more than a pinprick, you will be applying too much. That's actually the worst bit about Teint Idole: it takes practice to teach yourself precisely the right amount to use.
Dark-circle veterans know that adequate coverage normally requires two steps. Typically, you must tap on an orange or yellow color corrector to neutralize the purples and blues under your eyes, and then follow up with a concealer in a shade just a notch lighter than the rest of your face. However, you won't need a color corrector with Teint Idole (even the one that Lancôme sells). The 16 shades are formulated with yellow and orange undertones that mask discoloration.
What else? Teint Idole doesn't crease, even after a full day's use. Its slightly tacky texture blends easily with a brush or sponge, though I usually use my ring finger. The concealer dries to a natural — not quite matte or radiant — finish, so while it's perfect for eyes, there are better, more matte-like concealers to cover pimples. But for undereye circles, Teint Idole is a dream. Perhaps its greatest trick is that it doesn't look like makeup at all — just great skin.
If you buy something through our links, New York may earn an affiliate commission.