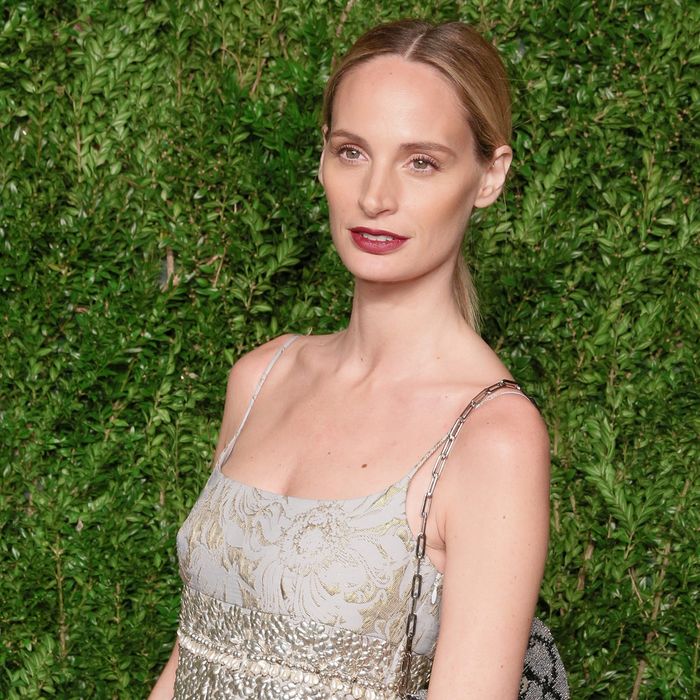 Photo: Matteo Prandoni/BFA.com/Matteo Prandoni/BFA.com
"I guess you could say I had a great first-hand education in marketing and branding," says Moda Operandi founder Lauren Santo Domingo. Raised in Old Greenwich, CT, the fashion impresario grew up watching her father build a bottled-water empire for the Perrier Group in the U.S. "For years, the Perrier Group was the corporate sponsor of many marathons. I would often volunteer to open the bottles of water to be passed out to the runners at the finish line," she remembers. "On those days, everywhere I looked I saw 'Perrier' — on the bottles, T-shirts, race bibs, mileposts. I knew from then on that, while I had no interest in ever running a marathon, I had aspirations to build an empire of my own."
You could say she's almost there. Moda Operandi sells a curated selection of "buy now" products, hosts trunk shows, and, crucially, makes the season's latest runway styles available for immediate pre-order — all online. The company also operates two showrooms, one in New York and one in London, with more to come.
But long before she was a mogul, Santo Domingo was a model. After her parents insisted she get a summer job, she secured a contract with Elite through a family friend who was modeling for the likes of Seventeen magazine. "I figured it was better than babysitting or lifeguarding," she says.
That led her to work on a few stories with editor Andrea Linnet, known for — among other things — discovering Chloë Sevigny. Soon, Santo Domingo realized she wanted to become an editor herself. She found a job at Vogue, and in time, desired to make good on the aspirations of her youth and start a company of her own.
Moda, as insiders call it, launched at a critical moment, when bloggers were becoming stars and more and more non-industry women were being seduced by the world of high fashion. Her timing was impeccable. "Department stores were recovering from the financial crash and being conservative in their buys. While the runways had exciting pieces, there was nowhere to buy them," Santo Domingo says. "However, as an editor I had great access to the runway and saw an opportunity to connect women who didn't work in the industry but wanted the fashion fix." Thus Moda Operandi was born. And unlike the department store (or even traditional boutique) model, "Moda Operandi is providing access to next season's fashion, completely unedited," she explains.
Below, Santo Domingo discusses everything from the perfect gold hoops to the joy of unfollowing people on Instagram. Read on for the full Q&A.
How do you thank people for a gift?
I'd rather write a check than a thank-you note.
Color or no color on your nails?
I can't put my phone down long enough for a manicure. Pedicure, no problem, but no color.
Mood lighting or natural light?
Candle light.
What are some coffee-table books you'd be proud to display?
I'm looking forward to Renzo Mongiardino by Martina Mondadori; Haute Bohemiana by Miguel Fiorres; Altered States, the collection of Julio Mario Santo Domingo (my husband's wildly eccentric and beloved late brother); and A Dance with Fred Astaire by Jonas Mekas, a visual scrapbook of his life.
Heels or flats?
Depends on the occasion.
What would you never wear? 
A red 'Make America Great Again' hat.
What trend do you like right now?
I like a structured tote. My cousin Carolina Santo Domingo designed a dream bag. I also am really into big gold hoops. Like, really really big. Jennifer Fisher does the best one.
Favorite song on your playlist right now?
As a concerned citizen, these days I listen mainly to the news, plus the occasional podcast like Pod Save America.
If you were a car, what kind of car would you be?
My dream car is a 1952 Nash-Healy. The origin story speaks to me. Two men — Nash, an American, and Healy, a Brit — met on the Queen Elizabeth and conspired to build America's first sports car somewhere over the Atlantic. Luckily, they had the good sense to let an Italian design it.
Go-to salon/stylist/colorist?
I have my hair colored by Lena Ott at Suite Caroline in New York, and I get it cut in London by George Northwood.
What's the secret to throwing a good party?
Derek Blasberg.
What's one way your taste has changed since you were a teen and one way it's stayed the same?
Today, I have more references. What did we even do before the internet? I have learned to be very discerning. Good taste is the one area in which being highly judgmental and extremely critical are one's greatest strengths.
What's your guilty pleasure?
Hardcover books. It's the one way that I refuse to modernize. In this age of being inundated with new texts and communication, finishing a real book is a victory against the bombardment.
What are your favorite accounts to follow on Instagram?
Moda Operandi, of course. I also like to follow a mix of some of my favorite brands, as well as interesting artist and interior designers who give me inspiration. I follow and unfollow people as my interests change. One month I'm following a dozen Indian block printers, then the next it's Japanese basalt tea pot makers, or Scandinavian textile weavers. Some current favorites are @Johnyunis, @didier.benichou, and Bureau Mad Ceramics.
What's the least chic thing in the world?
Q&A's.
Last show you binge-watched?
Dallas Cowboys Cheerleaders's Making the Team on CMT. Watching these dedicated young women pursue their dream, supporting one another through the audition process, with a polite stream of 'Yes Ma'am's' in a Texan drawl, was oddly mesmerizing.
What's your favorite pair of jeans? 
Brock
T-shirt? 
Isabel Marant
Pajama?
Fleur du Mal silk pajamas are my go-to 'entertaining at home' look for when I have friends over. I think it goes best with a ridiculous fluffy slipper.
Flower? 
I like strange specimens with names I can't pronounce, but really prefer a potted plant to a bouquet.
Chocolate? 
Kit Kat
Perfume?
Alaïa
Sheets/bedding? 
Julia B.
If you buy something through our links, New York may earn an affiliate commission.