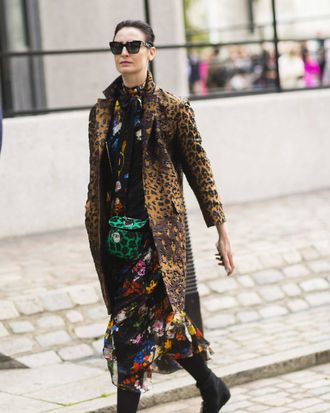 Cheap and Cheerful is a weekly column that highlights the chicest inexpensive finds. Because nothing's more satisfying than looking good while spending less.
Back in September, eternal Golden Peacock and fashion editor Giovanna Engelbert broke out a head-to-toe leopard-print ensemble for the first day of New York Fashion Week. She paired a leopard-print DVF wrap dress with matching leopard-print platform sandals and a mini bag, setting the tone for the rest of the month's street style. In London and Paris we saw patchwork leopard and color-blocked leopard, leopard coats, and leopard vests. Dressing like a big cat was back in a big way.
You don't have to be a fashion editor to wear this look in your day-to-day life. Just choose one statement piece to work with the rest of your fall clothes, like a leopard coat. Don't worry about it clashing with other prints like plaid and tartan — right now, contrasting patterns and textures feel especially chic. Scroll below for the best leopard coats and jackets under $250.
For That Funky In-Between Weather
Still too warm for a coat where you are? Try this cool denim jacket.
The loose-fitting shape will look great with a pair of jeans.
If You're Over Brown Leopard
Last year was the season of the puffer coat, and this winter will likely be the same. This one from Asos is a fun choice if you're over the typical brown leopard palette.
Everyone looks good in a pea coat; here's a fun spin on the silhouette.
Heavy-duty winter coats tend to be bland. This one will keep you warm but still says you know your trends.
The One You Can Wear to Work
Contrary to what you may think, you can wear leopard to work. The trick is to stick with structural silhouettes like a mandarin collar and thicker fabrics to make it feel professional.
Get in on the trend without blowing out your monthly budget.
The Wallflower Version of Leopard
If you prefer to blend in, try leopard in a gray shade for a more subtle look.
The Fashion-Editor Version
Fashion editors love lapel details: just look at the influx of colored fur lapels on leather jackets. In case the burgundy faux-fur begins to feel excessive, they're reversible.
If you're in the market for a simple coat that can take you from the office to weekend brunch or errands, Topshop's is your best bet. The black collar and minimal embellishment will work with any kind of jewelry or outfit.
The oversize shape is less fitted at the waist, with a hi-low hem. Wear it on the weekends with sweats and a pair of sneakers.
If you buy something through our links, New York may earn an affiliate commission.