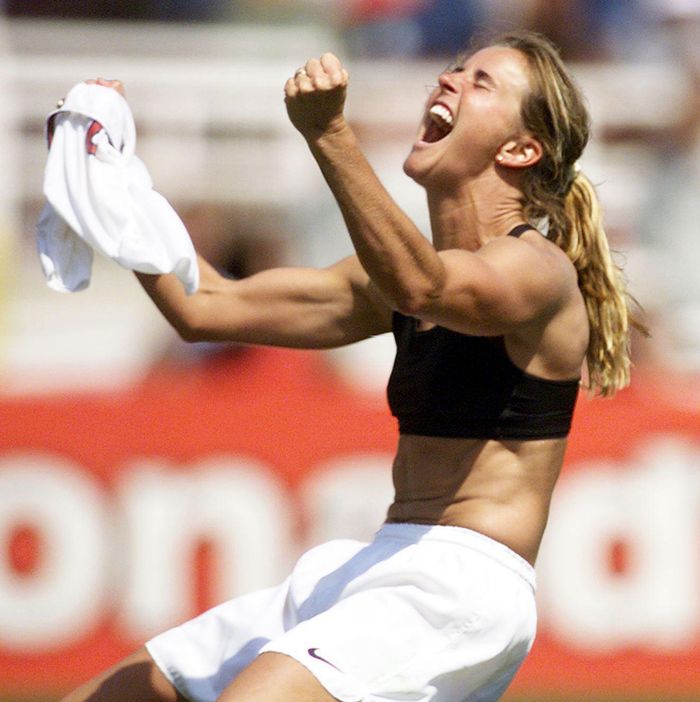 Brandi Chastain during the 1999 Women's World Cup.
Photo: ROBERTO SCHMIDT/AFP/Getty Images
On Tuesday night, the U.S. men's national soccer team was eliminated from the 2018 World Cup — making it the first time in 32 years that the team won't be appearing in soccer's grand tournament. Meanwhile, the U.S. women's national soccer team is the reigning world champion. Hmmm … maybe it's high time we let the women take over the sport?
The World Cup, of course, happens every four years and the U.S. men's team has qualified for the tournament each time since 1986. But on Tuesday, the Americans had a devastating loss to last-place Trinidad and Tobago, which made them fall to fifth place out of a six-team regional competition. All the U.S. men's team had to do to qualify was to beat the worst team in the competition — a team which, the Washington Post points out, had only won one of its nine previous games. Instead, the U.S. men's team choked.
But as news of the men's loss emerged, many people on Twitter made an incredibly valid point: The U.S. women's national team is doing juuuust fine. The women's national team won the most recent FIFA Women's World Cup in 2015 (the next one will be held in 2019). That win made the U.S. the first country to win three Women's World Cup titles — as well as the country to score the most goals in a final. In contrast, the U.S. men's national team has … never won a World Cup.
But as it goes, despite the women's team's accolades, they continue to be paid less than their male counterparts. A 2015 budget report from the U.S. Soccer Federation, as reported by PBS Newshour, found that the women's team was projected to bring in over $17 million in revenue and a $5 million surplus for the fiscal year 2017, whereas the men's team was expected to bring in a deficit. And yet, in 2018, male soccer players who make the World Cup were promised $76,000 in bonuses, and women were offered only $15,000.
As the women's team continues to thrive, and the men's team seems to be, well, not thriving, perhaps it's time to let women take over U.S. soccer — because clearly, the ladies are doing something right. Or at the very least, as Natalie Weiner points out on Twitter, let the women have the @ussoccer social-media handle since they are the highest ranked U.S. national soccer team.