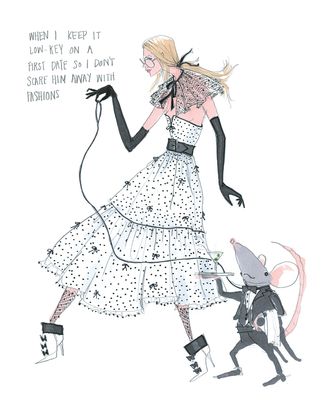 Photo: © 2017 by Julie Houts. Reprinted with permission from Touchstone, a Division of Simon & Schuster, Inc.
When illustrator Julie Houts first joined Instagram in 2011, she approached her account like a group text, posting sketches of lizards wearing bow-ties to a small following of friends for fun. Now she has 209,000 followers, a new book, and avid fans of her tongue-in-cheek illustrations, which she posts nearly every day. Last spring, Houts left her job at J.Crew, where she worked as a women's designer for seven years, to work on her illustrations full time. In the book Literally Me, out today from Touchstone, she translated her Instagram humor into subtler but no-less-satirical drawings and essays.
The "insider" humor of Hout's sketches appeal to the kind of fashionable woman she makes fun of — the book's title assumes readers will think, "Oh my God, that's literally me." Houts often riffs on her own habits and insecurities, asking questions in her illustrations like: Do these ugly heels make me a social visionary? Why do I always assume someone's compliment about me isn't true? "I'm always surprised how willing people are to make fun of themselves," Houts told the Cut. "But a lot of the behaviors I'm dissecting are mine. They're my own."
Literally Me satirizes the fashion world's social mores, the trials and tribulations of dating, and ridiculous ways some brands market to women. Houts's accompanying essays echo the sharp, absurdist tones in her artwork, critiquing everything from Coachella to an imaginary Amazon page for a fake book titled How to Be a Perfect Feminist.
Click ahead for a peek inside the book.
If you buy something through our links, New York may earn an affiliate commission.