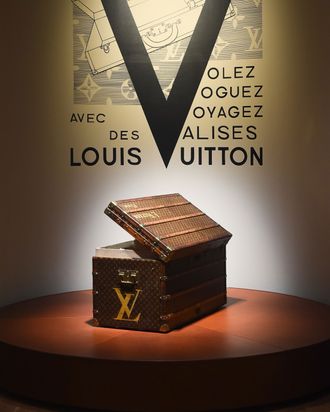 "Volez, Vougez, Voyagez — Louis Vuitton."
Photo: Joe Schildhorn /BFA.com/Joe Schildhorn/BFA.com
Nobody wears hats anymore.
This notion became clear after spending about ten minutes in the Louis Vuitton exhibit "Volez, Vougez, Voyagez," which opens (for free) to the public October 27 in New York City. On display is a history of the brand's now-iconic luggage. It begins with enormous branded trunks with compartments specially-fitted for everything from dinner gloves to top hats, and ends with a Louis Vuitton x Supreme skateboard case. Visitors are also reminded that before Kindles, people used to travel with an entire library of books; before Roy Rogers, one had to make one's own pit stop picnic, complete with cutlery; and before Everlane (and WWI), women's dress included many extraneous parts, including headgear.
Since its founding in 1854, Louis Vuitton has adapted alongside changing modes of travel — and fashion. The advent of "overhead bins," for example, made it difficult to pack a top hat. And so, as a whole, "Volez, Vougez, Voyagez" tells the story not only of Louis Vuitton, but also the "art of travel," as the brand likes to put it, and the things we've carried along the way.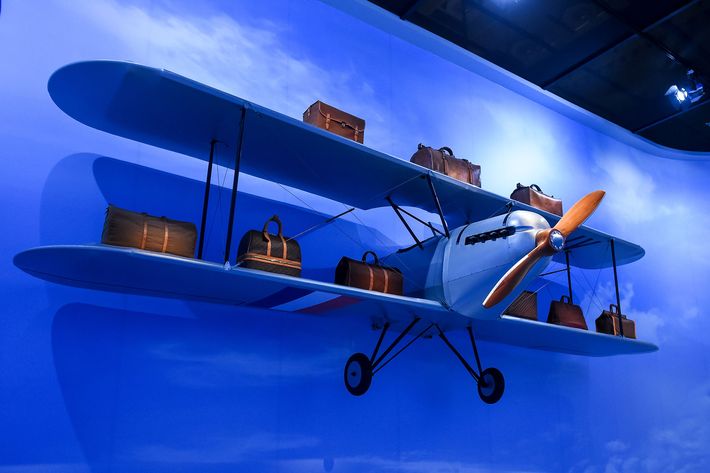 "I like to remind people that the story of Louis Vuitton was first to learn to pack, before inventing some trunks," said the exhibit's curator, historian Olivier Saillard, of the founder's desire for utility over fashion. (Mr. Vuitton traveled to Paris by foot at the age of 14 in order to apprentice as a trunk maker and packer.) But unlike now, where travel feels like a utility, how one got around in the 19th century was a reflection of how one lived. "There was a real art de vivre for travel, compared to today," Saillard added.
For the grand opening of the exhibit, which has fittingly also traveled to Paris and Seoul, Louis Vuitton invited the world's most seasoned voyagers to New York for a party at the South Street Seaport. Alicia Vikander, looking freshly-tanned from her Italian honeymoon with husband Michael Fassbender, was in attendance along with front-row regulars Michelle Williams, Jennifer Connelly, Léa Seydoux, Jaden Smith, Ruth Negga, Zendaya, and Alexander Skarsgård, who sported a jarring new haircut, presumably either for a film role or Halloween.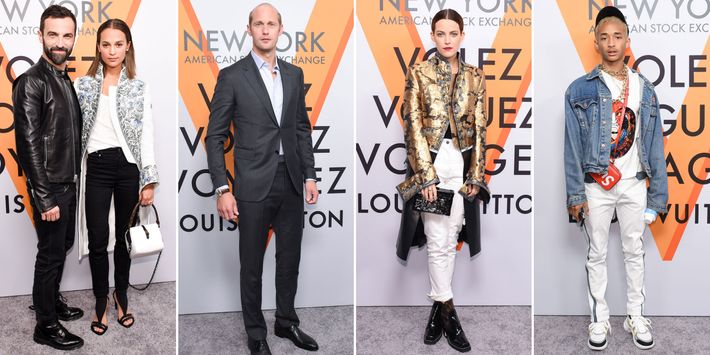 "I'm like a professional packer," said actress Riley Keough. "After doing it a lot, you figure out what you're actually going to wear. I'm down to a carry-on sometimes." When asked what her preferred mode of transportation was, Keough replied "on foot," an opinion she shares with Mr. Louis Vuitton himself.
Also in the crowd that night was the "traveling salesman" Virgil Abloh, who said he's on the road approximately 320 days a year, often posting photos of his carry-on bag (and his Jeff Koons x Louis Vuitton "Masters" bag) on Instagram. If there's anyone who would make a good successor to Louis Vuitton men's designer Kim Jones (who is rumored to be going to Versace), Abloh's lifestyle certainly fits the bill.
Before the party was over, Twitter and Reddit started lighting up with a photo of a Louis Vuitton x Supreme casket spotted nearby in the Financial District. Though it was unrelated to the exhibit (and it's unclear whether or not anyone was inside), it served as a perfect symbol for Louis Vuitton's hold on the art of travel, from first-class to dust.
"Volez, Voguez, Voyagez — Louis Vuitton" will be open at 86 Trinity Place, New York from October 27, 2017 through January 7, 2018.