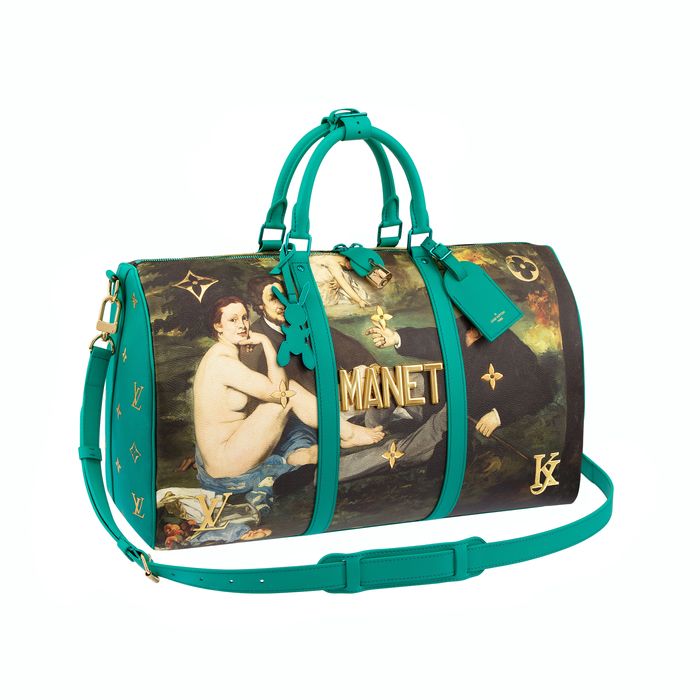 Louis Vuitton "Manet" bag.
Photo: Courtesy Louis Vuitton
In April, Louis Vuitton teamed up with Jeff Koons on a line of "Masters" accessories, allowing fashion and fine-art fans to flaunt famous works of art previously reserved for the walls of the Louvre on luxury leather handbags. The 51-piece collection included the likes of Mona Lisa, and was clearly well-received, as the brand just announced a new collection with reproductions by five more Old Masters: Gauguin, Manet, Turner, Monet, and Boucher.
"Manet's 'Luncheon on the Grass' is one of the most important paintings to me," says Koons of one of the pieces featured in the collection. "When this work was made and shown in the salon, to have this woman just nude, sitting there, was a very stark contrast from maybe more of a spiritual, ephemeral-type quality that you would maybe see a woman positioned in."
Fast-forward to 2017, and the same nude woman is given a new, "avant-garde" place to sit; this time, on a luxury handbag. Heads continue to turn.
The second wave of the Louis Vuitton "Masters" collection will be available starting October 27. Watch the full video with Jeff Koons, below.