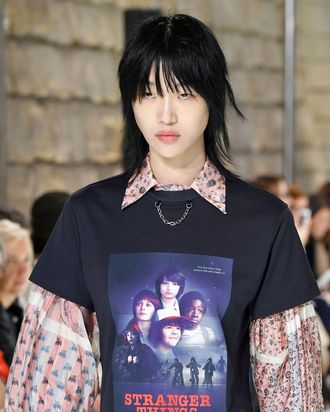 Louis Vuitton spring 2018.
Photo: Dominique Charriau/WireImage
Louis Vuitton designer Nicolas Ghesquière is fashion's No. 1 Stranger Things fan. (Raf Simons, who cast actress Millie Bobby Brown as one of the faces for Calvin Klein, is a close second.)
For the Louis Vuitton spring 2018 collection, which showed at Paris Fashion Week on Tuesday, Ghesquière chose to include Stranger Things merch in the form of a black movie poster T-shirt. He also showed sneakers and silk running shorts, as well as regal poet blouses and doublet jackets.
This is not the first time Ghesquière has shown his fandom for the show. (He's also a fan of video games, and was inspired by Final Fantasy for spring 2016.) Last September, he invited the cast to the Louis Vuitton headquarters in Paris, presumably to talk about this upcoming collection, as well as Stranger Things season two, which premieres on Halloween.
As with most merch, this Stranger Things T-shirt is no doubt going to fly off the shelves. As the designer told Vogue after the show: "I think it was one of the most-wanted clothes backstage by the girls."
For fall 2018, someone should tell Mr. Ghesquière about Neo Yokio.