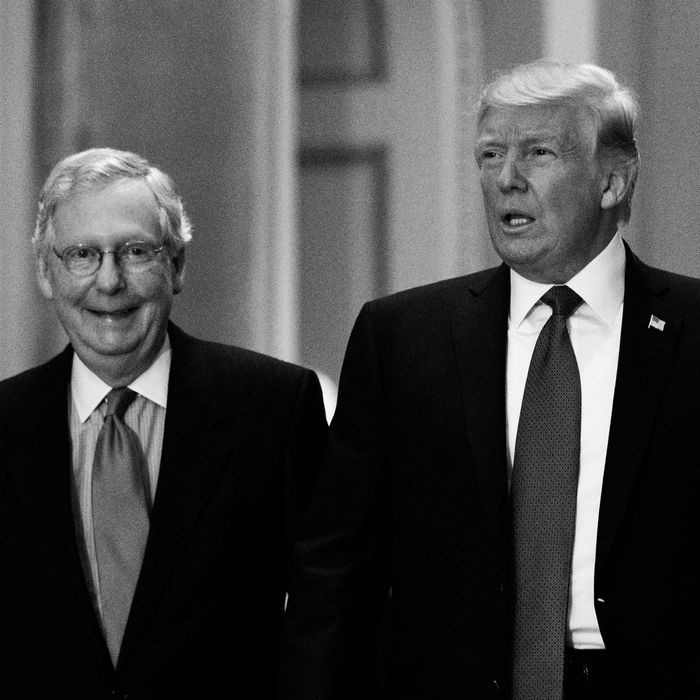 Senate Majority Leader Mitch McConnell (L) and President Trump (R) on October 24.
Photo: Drew Angerer/Getty Images
For years, the Republican Party has struggled to attract young voters, and it's hard to understand why. Just today, GOP senator John "Finger on the Pulse" Kennedy of Louisiana proved how plugged in the party is by referencing a 38-year-old SNL sketch in an interview with reporters. According to several journalists present — including Politico's Seung Min Kim — following Trump's lunch meeting with Senate Republicans on Tuesday, Kennedy said:
"It was a very positive meeting. Nobody called anyone an ignorant slut."
Given that the level of civil discourse has disintegrated to the point where the secretary of State was recently rumored to have called the president a "fucking moron," one would be excused for taking the senator's comments at face value. But Kennedy was referring to SNL's Weekend Update "Point-Counterpoint" sketch from 1979, in which cast members Dan Aykroyd and Jane Curtin would debate issues, and Aykroyd would begin his responses with the phrase, "Jane, you ignorant slut."
Prior to the closed-door lunch meeting, the president reignited his Twitter feud with Republican senator Bob Corker of Tennessee. Trump, who does not yet appear to have been granted an extended 280 character limit, wrote in a series of tweets on Tuesday morning: "Bob Corker, who helped President O give us the bad Iran Deal & couldn't get elected dog catcher in Tennessee, is now fighting Tax Cuts … Corker dropped out of the race in Tennesse when I refused to endorse him, and now is only negative on anything Trump. Look at his record!"
Later, Corker said on CNN, "I think the debasing of our nation … will be what he'll be remembered most for."
Senator Kennedy told reporters the exchange didn't come up during lunch, and then probably went on to ask if anyone had seen that hilarious Schweddy Balls sketch.