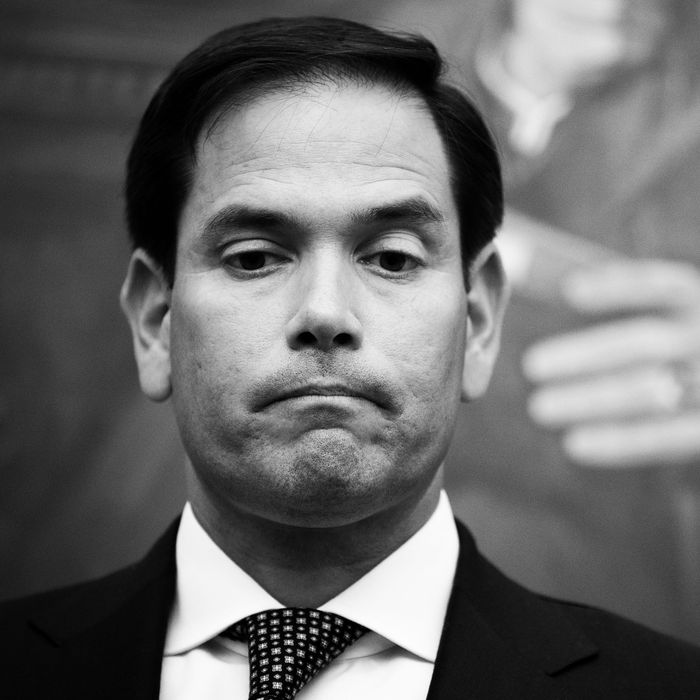 Marco Rubio, who has definitely watched
Game of Thrones
.
Photo: Drew Angerer/Getty Images
Over the past few years, one form of trenchant analysis has repeatedly surfaced in the take cycle: "What if … politics … is like Game of Thrones." Marco Rubio — Florida senator, high-heeled-bootie wearer, and former Republican presidential candidate — has apparently just arrived at this groundbreaking theory.
Haley Byrd, a Congressional reporter at the Independent Journal Review, tweeted that Rubio referenced the show while speaking at the Congressional Hispanic Leadership Institute's annual trade symposium.
"If I'd have watched [Game of Thrones] two years ago, I would've been president," he joked. "It's got a lot of good strategies."
Could it be possible that Rubio is catching up and binge-watching now? Well, just a few weeks ago he issued a hurricane safety warning to his state's residents in which he said "It's a great time to … catch up on Games of Throne, whatever it's called, I haven't watched it myself." (The Marco Rubio version of "Go see a Star War.")
Hey, at least he didn't call Trump "Voldemort."