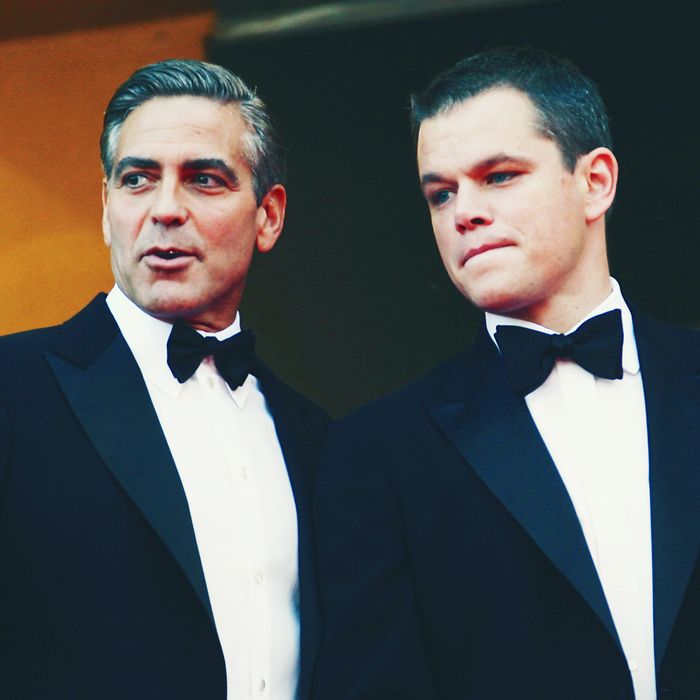 George Clooney and Matt Damon.
Photo: ANNE-CHRISTINE POUJOULAT/AFP/Getty Images
As more and more women come forward with stories about sexual harassment and abuse from Harvey Weinstein, it becomes harder to believe that Weinstein's friends and collaborators had no idea about his behavior. George Clooney and Matt Damon, who worked with Weinstein early in their careers, are now attempting to explain their experiences with him on the press tour for their new movie Suburbicon. They sat down with Michael Strahan on Good Morning America Monday to speak out against Weinstein and talk about what they knew.
Both Clooney and Damon said they were aware that Weinstein hit on actresses, but they did not know about his harassment, abuse, and predatory behavior. "I knew he was a womanizer," Damon admitted. "You know, I wouldn't want to be married to the guy. But I'm not, you know, that's not my business really. But this level of criminal sexual predation is not something that I ever thought was going on. Absolutely not."
Clooney said that Weinstein told him about "affairs" he had with actresses. "I didn't really think that they were going to have affairs with Harvey, quite honestly," he explained. "And clearly they didn't. But the idea that this predator, this assaulter … was out there silencing women like that … it's beyond infuriating."
Interestingly, Damon did cop to knowing about one instance of sexual harassment: He said that his buddy Ben Affleck told him that Weinstein harassed Gwyneth Paltrow. "I knew the story about Gwyneth from Ben, because he was with her after Brad," he admitted. Earlier this month, Paltrow told the New York Times that Weinstein harassed her in a hotel room when she was 22 years old, and that her boyfriend at the time, Brad Pitt, confronted him about it.
So … Damon and Affleck have known since the late '90s that Weinstein sexually harassed one of their friends. But, according to Damon, that incident turned out okay: "I never talked to Gwyneth about it. Ben told me. But I knew that [Weinstein and Paltrow] had come to whatever agreement or understanding they had come to. She had handled it. And she was, you know, the First Lady of Miramax, and he treated her incredibly respectfully. Always."
Affleck has not commented on whether he knew about Weinstein's predatory behavior. After he released a statement condemning Weinstein earlier this month, two women came forward to accuse Affleck of groping them. Affleck tweeted an apology to one of the accusers, but he has yet to address the other claim.