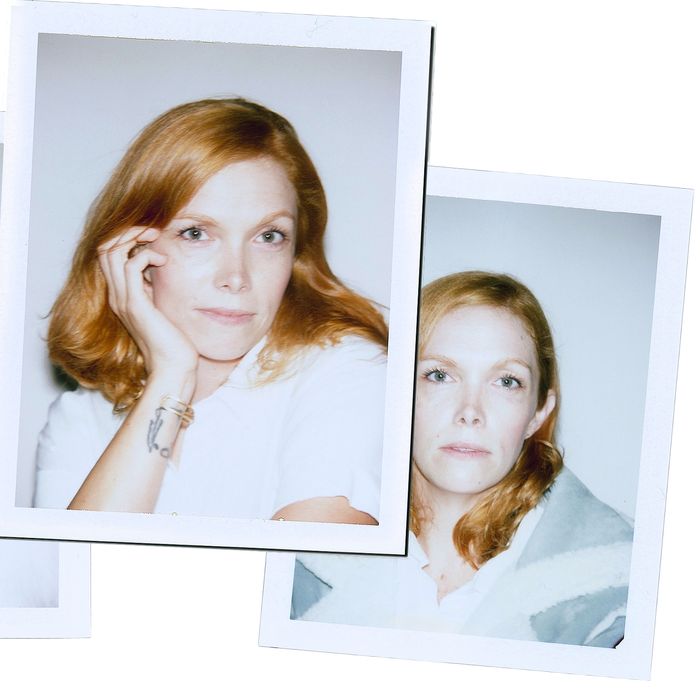 Left: Courtney Childress wears own top and jewelry; center: Childress wears own top and jewelry; right: Childress wears Ji Oh jacket.
Photo: Lucas Michael. Photo Editor: Biel Parklee.
Courtney Childress is an artist and the co-founder of the yours mine & ours gallery in Chinatown. She describes her sculptures and paintings as "[taking] things out of peripheral domestic space and bringing it into an art-with-a-capital-A space. So I use a lot of material that people would normally overlook or get rid of."
One of those materials is shag carpeting, which Childress tops with melted crayons. While working on them, she says, "I sat there and laughed so hard because I thought about my mother and in our house in Dallas with white carpet that we were not allowed to color in. It's irreverent behavior for me." Read on to learn about her 86 house plants, side hustle as a web designer, and love for burnt orange.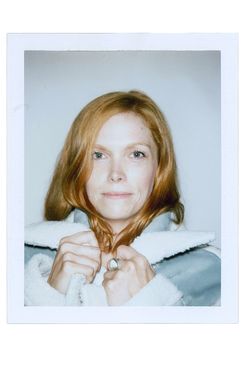 If you could be a magazine, what magazine would you be? I can't tell you the last time I picked up a physical magazine, but I religiously listen to New Yorker on Audible. It's the only reason I have an Audible subscription.
If you could speak to animals, which animals would you want to talk to? I speak to my cats a lot. If they could talk back, it would be great.
Sneakers or slippers?  Sneakers.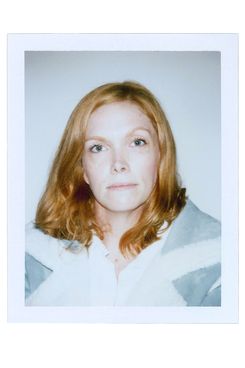 What's something your social-media followers don't know about you? Probably that I have so many plants. I counted the other day and I have 86 plants. They're in different regions of my house depending on light and air. My bathroom is full of ferns; they're hanging from the ceiling. I have monster cacti in the front room where there's lots of light. I maybe have too many.
What was the last website you looked at: I do web design. This morning I was finishing a website for a friend of mine who's an art adviser.
If you could be outfitted by one designer for the rest of your life, whom would it be? If Rachel Comey and Tom Ford could have a baby, and they could design for me, that would be perfect.
What time is your alarm set for in the morning?  Seven, but I'm usually up before my alarm. My cats wake me up in the morning. I barely need an alarm because they sit on me.
What do you eat for breakfast?  I have coffee with honey and coconut creamer. Then I drink bone broth. It's so good for your joints and it's got so much protein in it. It keeps me full for a long time.
If you had only three things you could eat for the rest of your life what would they be? Kimchi, cheeseburgers, and Haribo sour gummy bears. It's the perfect gummy by far.
Fuck/Marry/Kill? My friends and I used to play this game with real people and so I was thinking about my friends. But those are people that nobody else knows.
Person you wouldn't mind being trapped in an elevator with: My friend Karen Lee Williams because she's always holding snacks. If you're stuck in an elevator, don't you want someone who has snacks?
If you could tell Donald Trump one thing and make sure he would listen, what would it be? Shhhhh.
If you were a color, what color would you be?  A burnt orange. The color of my hair, I've started buying things unintentionally that are the color of my hair.
Courtney Childress wears Ji Oh reversible faux fur jacket, $885 at Ji Oh.