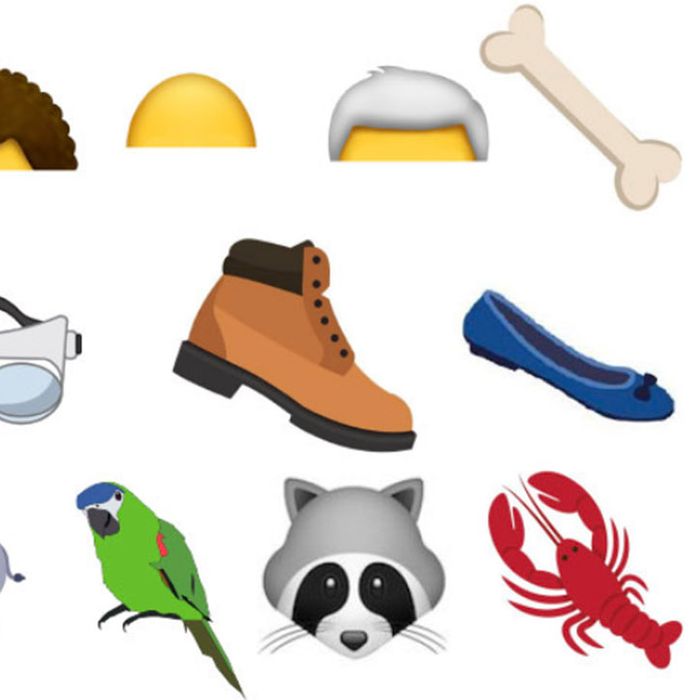 Several new emojis under consideration for Emoji 6.0.
In recent years, the Unicode Consortium, the governing body that green-lights new emojis, and its members have made a point to embrace gender and racial diversity. (There are now nontraditional families, salsa dancers of color, and scientists of all genders.)
But this variety is lacking when it comes to female footwear — three out of four emojis for shoes traditionally associated with women have a heel. Now, one intrepid woman is fighting for the sensible-shoe emoji. Florie Hutchinson, a Palo Alto public-relations specialist, is leading the charge for a royal-blue ballet flat, The Atlantic reports.
Hutchinson, a mother of three, says she was breast-feeding her daughter while texting a friend. When she typed the word shoe, Hutchinson was dismayed to see that the red stiletto popped up.
"I just stared deliriously at the auto-populated emoji on my phone," Hutchinson told The Atlantic.
"I just think it's one of those things that, at the time, to whoever designed it, it seemed like a sensible thing that women would immediately gravitate to. But with a bit of hindsight, you realize that this is systematic — and symptomatic of a greater problem," Hutchinson told The Atlantic.
Determined to remedy the situation, Hutchinson got in touch with Nebraska-based graphic designer Aphee Messer. Together they came up with a design for a navy ballet flat and eventually submitted the design to the Unicode Consortium. In August, they were named one of 67 finalists for inclusion into Emoji 6.0, alongside a cupcake, a kangaroo, a lab coat, a "leafy green," and, a frowning poop emoji.
Next week, the Unicode Consortium will vote on whether to include Hutchinson and Messer's ballet flat in Emoji 6.0. The group is expected to release their final decision in November. Read the full story and more about the design process here.