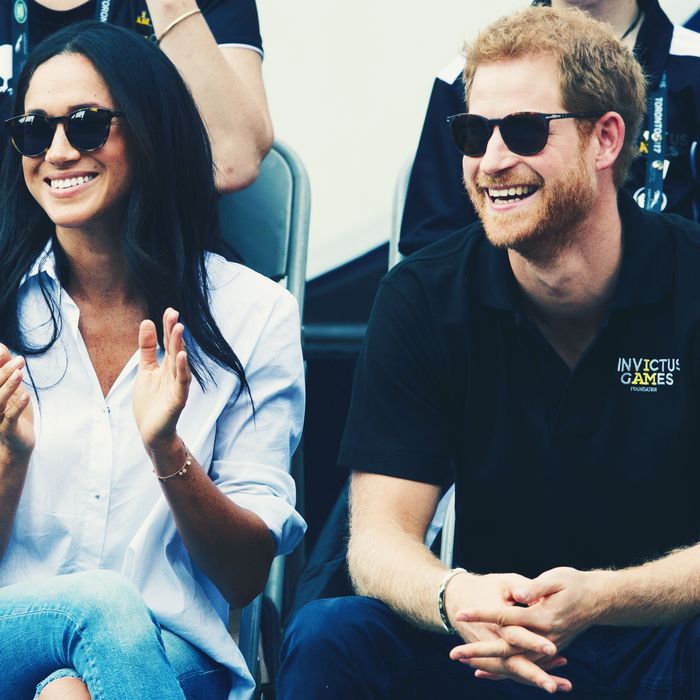 Meghan Markle and Prince Harry at the Invictus Games.
Photo: Samir Hussein/Samir Hussein/WireImage
Welcome to You Know What I Heard, the Cut's weekly celebrity gossip column about the peregrinations of the rich and famous. Have gossip? Email me at allie.jones@nymag.com, send me a message on Twitter, or contact me on Signal (ask for the number).
In a world that is so much darker than any of us could have ever imagined, it's nice to know that Prince Harry and Meghan Markle are basically engaged. That's the word from E! News, and E! News is Markle's favorite American gossip outlet. A "close source" told the site on Monday, "While Meghan may not be wearing a ring or a formal engagement announced, it's fair to say they're as good as engaged now. They've spoken about their marriage plans openly with each other and friends and family around them are pretty much thinking about wedding attire already!"
Wedding attire, hm? Perhaps the "close source" is Jessica Mulroney, Markle's close friend and unofficial stylist. Mulroney is married to Ben Mulroney, the son of former Canadian prime minister Brian Mulroney, and she famously styles Sophie Grégoire-Trudeau. Mulroney sat alongside Markle and Markle's mother Doria Radlan at the closing ceremonies of the Invictus Games on Saturday, and Harry was photographed spending time with all of them. According to E!'s "close source," this is because Harry loves Markle's friends and family, especially the Mulroneys. "This week wasn't the first time that Harry met Doria," the source said. "They actually met late last year so they're very close now. Doria sees Harry as one of the family and he sees her like family too. Harry is has become close with all of Meghan's closest friends — Markus [Anderson], the Mulroneys, these are people who have welcomed him with warm and open arms and he's really felt the love and protection."
The "close source" went on to reveal that Harry has a particularly warm relationship with the Mulroneys' 4-year-old daughter, Ivy.
Most royal-watchers now believe that an engagement announcement will happen in November, when Markle finishes filming Suits. (Can you believe how many months we've spent talking about Suits?) Congratulations to Meghan Markle, Prince Harry, and Jessica Mulroney.
Many more celebrities provided updates on their relationship statuses at the SNL after-party this weekend. Host Ryan Gosling arrived at the party at Tao Uptown hand-in-hand with Eva Mendes, which suggests they are still together, even though they rarely appear in public as a couple. (Mendes lets herself get photographed about twice a year to promote her fashion line with New York & Company.) According to "Page Six," they hung out with Emma Stone inside.
Beyoncé and Jay Z came together and sat with Alicia Keys and Swizz Beatz. And Don Lemon brought his newish boyfriend Tim Malone, who is apparently a sales director at Jukin Media, a company that buys and repackages viral YouTube videos.
Now for the sad part: "Page Six" reported on Sunday that Colin Jost and his almost-girlfriend Scarlett Johansson arrived together, but "she didn't join him inside the party." Us Weekly published photos of her sitting in the car and him walking in alone. It seems like she just … didn't get out of the car? This comes two weeks after Jost told a red-carpet reporter at the Emmys that Johansson would have totally joined him at the awards show, had she not been working. Oh dear.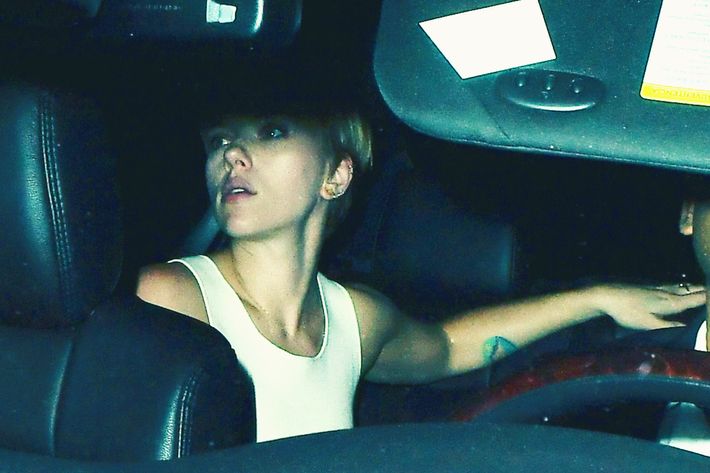 SNL producer Lindsay Shookus was photographed going into the party, but her boyfriend Ben Affleck was nowhere to be seen. (Jennifer Garner was busy getting ready for church with the Affleck kids.)
The next night, in a run-in that could only happen in Hollywood, baby, Vanderpump Rules star Stassi Schroeder insulted Larry David. David was out to dinner at Cecconi's before Sunday's season premiere of Curb Your Enthusiasm, and Schroeder apparently joined his table to reveal she did not know him. "Sooooo I didn't know Larry David had anything to do with Seinfeld," she wrote on Instagram. "That was fun when I word vomited that at the table."
It seems Schroeder met David through her friend Charissa Thompson, the 35-year-old Fox Sports anchor who was David's date to the Emmys. Also at the table: former ESPN reporter Sara Walsh and Real Housewives producer Jen Green.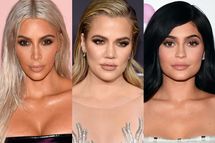 Kardashian baby watch is officially on. By now, you have probably heard all about the drama orchestrated by God herself: Three Kardashian women are expecting babies in early 2018. What's the latest?
Kim Kardashian confirmed that she is having her third baby via surrogate on Sunday night's Keeping Up With the Kardashians teaser. Khloé Kardashian has yet to confirm the news that she is pregnant with her first child with her boyfriend Tristan Thompson, but she is walking around carrying a purse in front of her stomach. And Kylie Jenner is reportedly doing what any pregnant 20-year-old would to prepare for her first baby: She's shopping for "high-end designer clothing and baby accessories" online. TMZ reported on Monday that she has spent $70,000 so far. Jenner is saving money on lip fillers, though: Her cosmetic dermatologist Dr. Simon Ourian told "Page Six" the same day that she can't get them while she's pregnant.
In upsetting, ancillary Kardashian news, Kourtney Kardashian's 34-year-old baby-daddy Scott Disick is still dating 19-year-old Sofia Richie. They spent the past weekend making out at the Girls Gone Wild mansion in Puerto Vallarta.
Small blessings from this week:
Amber Heard got a mystery man. Ex-servers called Jessica Biel's children's restaurant "7th Hell." Kirsten Dunst wore a fluffy pink bridesmaid's dress. "Fans Think Taylor Swift Teased a New Song in a UPS Commercial." Barron Hilton proposed to a socialite called Tessa Gräfin von Walderdorff. And Macaulay Culkin and Brenda Song went on a date at Knott's Scary Farm.
Finally, we ask an influential person, "Where did you last hear a good piece of gossip?"
"I heard some decent gossip in Toronto about a pair of famous comedians who publicly love each other but privately hate each other. Though I guess this is safe to assume about all comedians."
—Kelly Conaboy, Hairpin editor, friend of the Cut, secret ballerina
Thank you all for gossiping this week. Don't forget to email me at allie.jones@nymag.com, send me a message on Twitter, or contact me on Signal, if you'd like to chat.