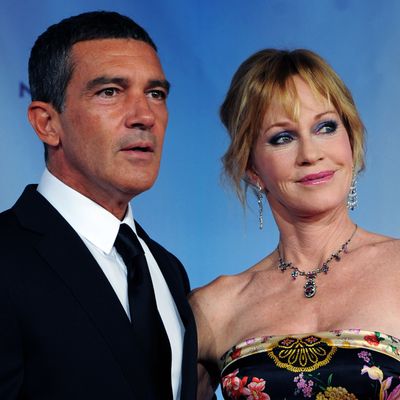 Antonio Banderas and Melanie Griffith in 2011.
Photo: Kevin Winter/Getty Images for NCLR
A breakup, besides all of the heartbreak and awkwardness, can be a truly liberating experience that allows you to reinvent yourself and reevaluate your life. And, if you're Melanie Griffith, it can also help with seizures. According to "Page Six," during a panel for the Women's Brain Health Initiative in Beverly Hills on Wednesday, Griffith shared with the audience that she had been diagnosed with epilepsy, and that she believes divorcing Zoro actor Antonio Banderas helped stop her seizures.
Griffith said she had been having seizures for years, and after two major episodes in Cannes ("I had this major grand mal seizure, they took me to the hospital in Cannes then brought me back to the boat and I had another seizure") she was diagnosed. She said she has not had any seizures since, which she attributed to new medication, lower stress, and less Banderas.
"I've been on a drug for four years … I haven't had a seizure which is amazing — but I also got divorced, which I think is the real healer for me." When the room began to laugh, Griffith insisted: "I mean it! I am not stressed anymore!"
Apparently Griffith's good fortune did not extend to the rest of the room, though. In an odd turn of events, a source also added that during the event "a somewhat dramatic and bizarre incident took place … the group happened to be discussing seizures when a guest fainted, was taken out, and lapsed into a seizure. Paramedics arrived and the woman was fine, but the occurrence was eery [sic] given the topic."