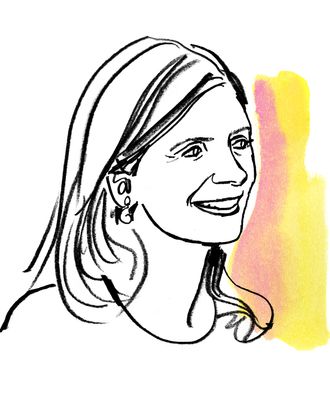 Illustration: Lauren Tamaki
Melissa Clark is a New York Times food columnist and the author of 40 cookbooks. She's collaborated with legendary chefs such as Daniel Boulud and Claudia Fleming, and once tested a recipe for banana blondies more than a dozen times. Clark also wrote the divisive column about green pea guacamole that set the internet on fire and prompted Barack Obama to weigh in (he wasn't a fan). Her new book, Dinner in an Instant, is out this week and features 75 Instant Pot recipes. Here's how she gets it done.
On her morning routine:
There's nothing healthy or inspiring about it. I get up at 6:30 a.m., but only because I have to get my 9-year-old daughter up by 7 a.m. Otherwise I would never wake up that early. The mornings are all about getting her out the door, frankly. I don't do yoga, I don't have a restorative turmeric beverage and I don't do any meditation. I make my daughter breakfast — a smoothie and toast — and pack her lunch. Lately she's been wanting freshly cooked chicken breast and I'm sucker enough to actually make it for her in the morning. I put chicken tenders in a pan with compound butter from the freezer, some water and fresh herbs from our deck. If my husband walks her to school at 8 a.m., I try to get a lot of stuff accomplished over email in the next hour. That's the quiet time. I drink about three cups of black tea in the morning but I don't eat breakfast until around 10 a.m. A few days a week my recipe tester shows up to my house at 9:30 a.m. and we try to test five dishes. The other days I'm writing at home or in the New York Times office for meetings.
On creating the perfect recipe:
When I come up with a recipe it starts off with an idea like, "Oh, wouldn't it be fun to add pancetta to gougères?" I always try to make something even more delicious. So what could you do to improve a cheese puff? Well, you add bacon. But do you stuff bacon in the middle, do you chop it up really finely, or do you use bacon fat instead of some of the butter? I'll go through all those ideas and then we'll test out all the concepts to figure out the best way. My recipe tester does most of the heavy lifting in terms of the cooking, but I'm doing a lot of the recipe editing and research. Sometimes we'll get it right on the first try, but usually not. I'm working on a Thai red curry and we're on our fourth go because it's just not quite right. I usually test something an average of four times. I come up with around 65 recipes a year for the New York Times. When I'm writing a cookbook, I can average 75 recipes in six weeks.
On good kitchen design:
We live in a Prospect Heights brownstone and the kitchen is on the parlor floor. It's a really beautiful, big room with lots of light, where we shoot my New York Times videos. My husband and I redid the kitchen when I was pregnant and the flow is really good. We have a nice Viking professional stove, and all the tools I need to cook are next to it. I keep olive oil and spices away from the oven because they will heat up and that shortens their shelf life. Nothing irks me more than to see the pull-out spice cabinet or wine unit next to the stove. I'm like "Yeah, you don't know how to cook." It's a dead giveaway. Our dinner parties always begin around our big island in the kitchen, where we put all the hors d'oeuvres and booze. A lot of people put sinks in their islands, but I specifically didn't do that because it's a place where people congregate. Marble countertops are really important to me. Even when people tell me marble is going to get stained, I don't care. Because when you go to a church in Italy made out of marble and it's stained, is it still beautiful? Yes, it is.
On keeping things simple:
I am an advocate for the home cook. I really think it's because I'm lazy. When I see a recipe that uses four different sauté pans for one dish I'm like "Are out of your mind, chef?" I'm constantly asking them, "How do we do this in one pan?" And if we can't, it needs to be a really damn delicious recipe to justify the extra effort. I don't have a sous-chef or a kitchen full of associate chefs cooking for me. I do my clean-up every night and mop my floors. So if I can get away with only mopping half the kitchen because I didn't make such a mess, that's better.
On writing her weekly New York Times column:
The day my column is due I try to be at home by myself. Those are my quiet days when I actually sit down and eat lunch. When I'm recipe testing, I'm usually just tasting from the pan. But on writing days I'll make myself a big bowl of fruit with homemade granola and yogurt for lunch, which feels so virtuous and healthy. I make my own yogurt because it's so easy and it's so much better. I have an office but I don't ever write at my desk. I have a big cozy chair that I curl up in or I lie on my back and write with my laptop on my stomach. But first I have to exhaust every avenue of procrastination. Did I order my kid vitamins? Oh look, I forgot to mop one part of the floor. I tweet a lot when I'm under deadline.
On what she orders at restaurants:
I always order the thing on the menu that sounds like the least likely pairing. If the chef pulls it off, it's brilliant. A Brooklyn restaurant called Faun has this dish on the menu with Maine crab, melon, and some kind of pepper. You're like "That doesn't sound good at all, how do those things come together?" But the waiter convinced us to order it and it was so delicious. I will never order the roast chicken or the steak. I probably won't learn that much. I order the thing I'm going to learn from.
On the most useful ingredient in her kitchen:
Anchovies, because you can always have dinner if you have anchovies. You can put them in everything. If you're just making that quick pasta with garlic and olive oil, anchovies will make it so much better. My house is just crammed full of ingredients. I have every condiment you could possibly think of. I have black tahini, because it exists. I have yet to use it but I'm going to think of some crazy hummus thing and it's going to be great.
On learning from the greats instead of going to cooking school:
For a while I was co-authoring cookbooks with chefs, which I loved so much. Imagine getting a private tutorial from some of the best cooks in the country. Daniel Boulud showed me how to make confit. Claudia Fleming taught me how to make shortcakes. I learned to make pizza from the people at Franny's in Brooklyn. That's priceless stuff. It was fun to sit there and ask "Daniel Boulud, why do you turn up the heat sometimes when you're sautéeing onions, but other times you turn it down?" I really had their ears and could get deep in technique. I never went to cooking school and I don't think you need to. Use those YouTube videos, go out to restaurants, and ask chefs for tutorials. A lot of times people come out of cooking school thinking that they've learned everything, but they haven't.
On the importance of working out:
I exercise a lot and stretch every single day because I have so many injuries. I have two ruptured discs in my back from years of sitting. I'm always recovering from something but no matter what, I run at least twice a week. Oh, and I'm doing my 100 push-ups program! Do you know about that? You have to go to 100pushups.com. Right now I can do five.
On her food indulgences:
I really do love Cheetos, like really badly. I can leave a Dorito but not a Cheeto. I try not to eat them too often but that is my junk food of choice. I also have a sweet tooth. When there's dulce de leche in the house it's never there for long. You know what's really delicious? I put cottage cheese on a cracker with these preserved chili flakes in oil that my friend brought me back from Italy. It's such a delicious thing. The other day I took pickles and put cream cheese on them. Now why hasn't somebody done that before? That was great.
On her evening ritual:
Here's an embarrassing thing: We don't eat dinner with our daughter. I hate to go public with this because it's so not what people do. But that's how it is. The babysitter usually makes supper for my daughter, who eats around 6 p.m. Often she'll have leftovers from stuff we've been cooking all day, but if I forget to leave something, there are always hot dogs in the freezer. I feel guilty about so many things in my life, but not about a hot dog. At around 6:30 p.m., I finish work. My husband opens wine or mixes a cocktail, puts on some really good music and I start to chop things. The days I recipe test we often eat leftovers or pull something out from the freezer — like chicken curry or lamb stew — and I'll just make a salad to go with it. I usually make a meal from scratch three to four times a week.
On the hardest recipe she's ever made:
Oh my God — the infamous banana blondies on the New York Times website. I think I made it a dozen, or maybe a dozen and a half times. They were chocolate-crusted banana brownies, so in my mind they had a chocolate fudgy crust — not cocoa shortbread, but like a deep, dark fudgy crust — and then a sticky butterscotch-y gooey blondie in the center that tasted absolutely like bananas. It just took a really long time to get the textures and flavors right.