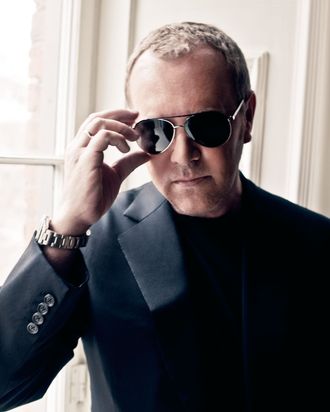 Megadesigner Michael Kors has a lot to say about fashion, but this month, he's far more interested in talking food. With World Food Day — an awareness initiative intended to help end global starvation — approaching on October 16, Kors is turning his undivided attention to the bigger picture. Ending hunger has been a pet cause for Kors since the early '90s, when he got involved with the NYC-based nonprofit God's Love We Deliver, an organization that delivers food to those too sick to shop and cook for themselves.
Inspired by the work, in 2012 Kors decided to use his platform to start an initiative of his own, Watch Hunger Stop, which benefits the World Food Programme. He creates special products every fall in support of the organization.
"We're always working to expand the reach of Watch Hunger Stop, so that people learn hunger is a solvable problem and anyone who wants to help can get involved," the designer says. "This year is an especially big deal because Kate Hudson went to Cambodia with the World Food Programme to see and share with our community just how Watch Hunger Stop helps children." (Cambodia is just one of nearly 70 countries to which the World Food Programme provides aid each year; Watch Hunger Stop alone has donated more than 15 million meals to children in need across the regions.)
Want to get involved? WFP has come out with a user-friendly app called ShareTheMeal, which allows users to make donations of as little as 50 cents that will actually feed a child for a day. Kors, meanwhile, has designed new special-edition items — sunglasses and a smartwatch — that help support the program.
It's hard to imagine a fashion universe without Kors organizing these kind of philanthropic initiatives in between New York Fashion Week shows, but as a kid, he dreamed of becoming an architect, or perhaps a Broadway star. But "I was horrible at math," he says, "and I couldn't sing or dance well. By the time I was 14 or so, there was really no question — I was going to be a fashion designer."
At the age of 22, he saw his first collection featured in the windows of Bergdorf Goodman on 5th Avenue — a sign that perhaps he'd chosen the right path. Still, the designer remains circumspect about his success. "I always say, once you think you've made it, you're done," he asserts.
Of his favorite part of the job, Kors says, "I love meeting my customers and seeing my designs on real people in my stores and on the street." His biggest challenge? "To stay authentic while continuing to surprise and delight my customers every season."
Below, Kors talks favorite trends, the one thing he'd never wear, and his affinity for Harry Styles. Read on for the full Q&A.
How do you thank people for a gift?
A handwritten thank-you note.
Mood lighting or natural light?
Natural.
What are five coffee-table books you'd be proud to display
Grace: The American Vogue Years, Studio 54, Helmut Newton SUMO, Slim Aarons: Once Upon a Time, and Let Me In! by Mario Testino.
What would you never wear?
A crop top.
What trend do you like right now?
Flat shoes with everything.
What's your favorite song on your playlist?
"Sign of the Times" by Harry Styles.
If you were a car, what kind of car would you be?
A Mercedes S63 convertible.
What's your fantasy vacation?
Around the world in 80 days.
What other decade would you like to live in?
Paris in the '50s. Creativity was exploding; everything was in renewal after the war.
What's the secret to throwing a good party?
Eclectic music; simple, delicious food; and a mix of people from different backgrounds.
What's one way your taste has changed since you were a teen and one way it's stayed the same?
I was up for anything when I was a teen. Today, I wear a uniform—a black T-shirt, jeans, and a tailored black jacket. One thing that hasn't changed is it's always neutral colors and void of prints.
What's your guilty pleasure?
Cheeseburgers and too much sun.
What are your favorite accounts to follow on Instagram?
Michelle Obama and Condé Nast Traveler.
Last show you binge-watched?
Transparent. 
What's the least chic thing in the world?
To talk about money.
What's your favorite pair of jeans?
'90s Vintage Helmut Lang
T-shirt?
A Michael Kors black crewneck
Pajamas?
Black Michael Kors boxer briefs
Flower?
White peonies
Chocolate-maker?
Ghirardelli
Fragrance
Carthusia Lemon Soap from Capri
Sheets?
White on White Pratesi
Lip balm?               
La Mer
For every pair sold, 100 meals will be donated to hungry children through the World Food Programme.
Same goes for every watch sold.
If you buy something through our links, New York may earn an affiliate commission.