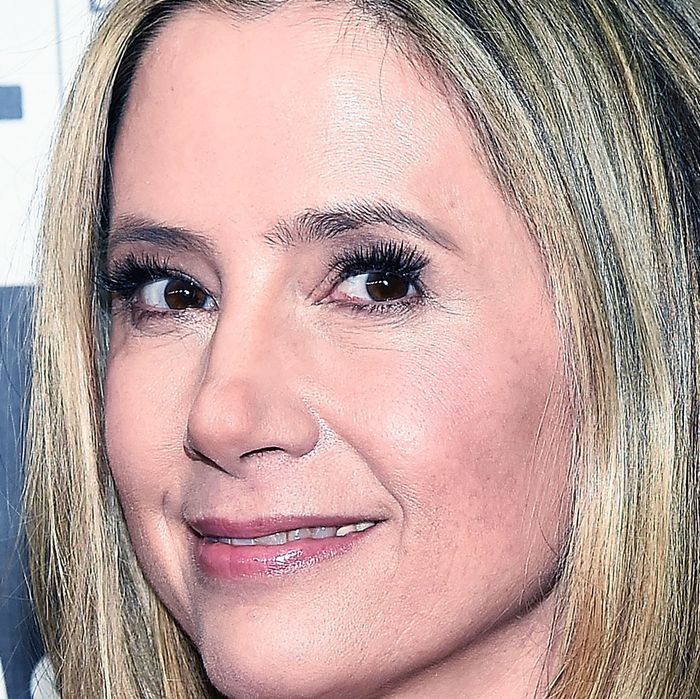 Mira Sorvino.
Photo: Matt Winkelmeyer/Getty Images
In a powerful essay published by Time on Wednesday, actress Mira Sorvino wrote about how difficult it was for her to come forward with her allegations of sexual assault against disgraced Hollywood producer Harvey Weinstein, and called for "a mass speaking-out" about assault and rape culture.
Sorvino is one of 30 women who have accused Weinstein of sexual misconduct. She told journalist Ronan Farrow, who wrote an explosive exposé on the producer for this week's New Yorker, that Weinstein had assaulted her in a hotel room during the 1995 Toronto Film Festival. "He started massaging my shoulders, which made me very uncomfortable, and then tried to get more physical, sort of chasing me around," she said. And though the incident took place over 20 years ago, Sorvino wrote in the essay, titled "Why I Spoke Out Against Harvey Weinstein," that the decision to come forward was still incredibly difficult.
"When Ronan first reached out and said, 'It's about Harvey Weinstein,' I started crying and shaking," she said. "After all those years, that is how much power Weinstein held over me. Many sleepless nights — literally waking at 2 a.m. and not being able to sleep the rest of the night until it was time to take my kids to school — followed."
Sorvino said she feared retaliation from Weinstein, and worried that her experience was "insignificant compared to others Ronan described." Still, she decided to move forward because she wanted to speak out against "the age-old tradition of the monied and powerful imposing themselves sexually on the vulnerable and the weak," and she called for others to do the same.
I am here to encourage a mass speaking-out. The atmosphere of impunity for predators who see it as their right to create climates of sexual intimidation, workplaces, campuses or even homes which are not meritocracies but transactional spaces where in order to keep one's job or wellbeing one must somehow endure or comply with these unlawful advances, must be shut down. Victim-shaming must be quelled, and the real evildoers called out and punished to the fullest extent of the law. We must, can and will work together to change that culture right now. 
Since a New York Times report on Weinstein's history of alleged sexual assault was published last week, dozens of women have spoken out against the producer. Weinstein has been fired by the company he founded, his wife left him, and he is reportedly on his way to sex rehab.