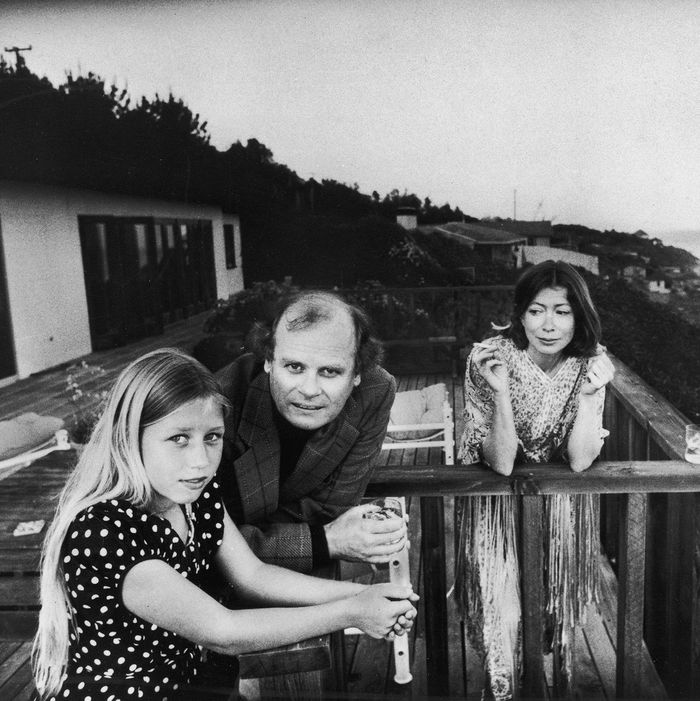 Quintana Roo, John Gregory Dunne, and Joan Didion.
Photo: John Bryson/Courtesy of Netflix
The new documentary Joan Didion: The Center Will Not Hold, shows the writer as many fans have always wanted to see her — at home in Manhattan, making sandwiches, surrounded by books and papers, and wearing two sweaters at once.
Directed by her nephew, actor Griffin Dunne, the film follows Didion from her childhood in Sacramento to her first job at Vogue, and back to California, where she and her husband, writer John Gregory Dunne, lived with their daughter, Quintana Roo. Didion gave her nephew full access, and she signed off on the film. (According to Dunne, she agreed to do the film because she "couldn't think of a compelling reason to say no.") The Center Will Not Hold features interviews with Anna Wintour as well as friends and family, including Calvin Trillin and Harrison Ford — who was once Didion's carpenter.
The Cut spoke with Dunne about his aunt's work and why he thinks it still resonates with readers, as well as her new dog, a soft wheaten terrier named Ellie who doesn't leave her side.
What kind of aunt was Joan, when you were growing up?
For whatever reason, from the time I was 11, they included me in many of their social events. They'd have dinner parties, and so I grew up knowing their friends. John and I were very, very close. He would call in the morning, and we would talk and talk about what was going on in the city and in the world, and Joan was often, more times than not, on the extension, chiming in.
What made you want to make a documentary about her?
I knew that there was a tremendous curiosity, hunger, for a film about her. People have been fascinated by her from Slouching to that picture. I think a lot of people started reading her just from the picture — in front of the Stingray in her sunglasses, with a cigarette.
Why do you think she has such a cult following?
I think it's as much from what she doesn't say as what she does.
She manages to write about things, about events in her life that are not particular to her. Something like "Goodbye to All That," about the excitement of arriving in New York, and then the disillusionment, and deciding to leave — so many of her personal pieces just strike a nerve in people that they can relate to.
What is it about how she writes that strikes a chord in people?
I think her gift has always been to not report or observe what other people are observing that's right in front of their eyes. She's looking at the message, the subtext, and what's beneath it. She does that with Slouching Towards Bethlehem. Everyone was under the impression that it was all peace and love and there are cute little Volkswagen ads with hippies in them and Haight-Ashbury in the Summer of Love and all that. But she doesn't look at the Summer of Love. She's looking at the children who have been abandoned, and she's looking at the families that have been split apart.
You suggest in the film that her character was shaped by her family's journey to the west. What did you mean by this?
Her ancestors that crossed the plains, homesteading in Sacramento — she's someone who doesn't take shortcuts. I think that kind of morality comes out in her writing.
What was it like when you were showing her cuts of the film?
She's seen every cut along the way. I think it's a very emotional experience for her, to see how all the people who worked on this picture put so much effort into showing her life.
What's she doing now? Is she working on a new book?
That's still something I'm incredibly shy about asking. I once tried to have a grownup conversation with her about her writing, when I was around 12 or 13. I said, "So Joan! What are you writing now?" And my uncle boomed from the other side of the room, "Never ask a writer what they're writing, while they're writing!" She said, "If I could tell you what I'm writing, there's no point in me writing."
How's her health right now?
She's in her 80s and age is taking a toll. She's not as mobile as she was, say last year. But she has a physical therapist and goes to the park. She goes for a walk in the park every day with a dog — she just got a dog. She entertains. She has people over to dinner, like, four nights a week.
What kind of dog did she get?
She has a soft-haired wheaten terrier named Ellie. She wanted one, because she saw one in the park.
My girlfriend and I went online to find a dog that was just like the one in the park. She was very specific about that. I even joined the soft-haired wheaten terrier society. When I told her that, I said, "Joan, I even joined the society. And if they find it, they have to have their annual dinner dance in your apartment." So anyway, we found one. We found it in Boston and brought her home and Ellie just never leaves her side.