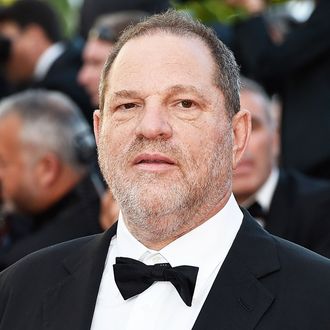 Photo: Loic Venance/AFP/Getty Images
The New York Times has reported a new series of sexual-assault allegations against Harvey Weinstein, who is under investigation by police departments in Los Angeles, New York City, and London. The piece reveals two new allegations that date back much earlier than those previously reported, and a 2004 allegation that was covered up with a settlement. Hope Exiner d'Amore, who worked for Weinstein's concert promotion company, Harvey and Corky Productions, told the Times that Weinstein raped her in a hotel room in the 1970s when they were in their 20s. After Exiner d'Amore's alleged rape, she said Weinstein offered her credit cards for shopping sprees, but she declined and was later fired. Also during this time, actress Cynthia Burr said she met Weinstein in a hotel for a meeting, where he tried to kiss her in an elevator, and then forced her to perform oral sex in a hallway.
The Times report also includes an allegation from actress Ashley Matthau. She met Weinstein while she was filming Dirty Dancing: Havana Nights in 2004. When he invited her back to his hotel for a meeting, Matthau told the Times, he fondled her and masturbated on top of her. Matthau entered into a confidential settlement with Weinstein for $100,000 after a lawyer intimidated her when she tried to report her alleged encounter with the mogul.
The fourth new accuser, Lacey Dorn, said she met Weinstein at a party for The Artist, and again at a Halloween party at Rose Bar in the Gramercy Park Hotel in 2011. There, he asked her for her email so they could discuss her career. When Dorn went to say good-bye to him, he allegedly grabbed her between her legs. "I was so naïve, I didn't say anything. And he didn't say anything either," she told the Times. "I just got out of the party as fast as possible."