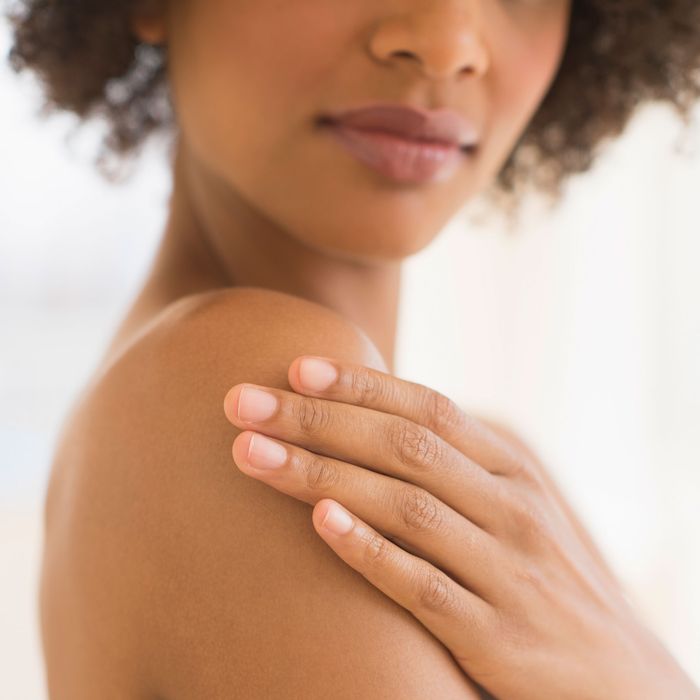 Photo: Tetra Images/Getty Images
Nivea is giving the people what they want: lighter skin. That's what the company explains on the Nigerian derivative of its website to promote "Natural Fairness" lotion, a moisturizer said to inhibit melanin enzymes and lighten skin.
The commercial for the lotion and supplemental body cream sings a similar tune. Former Miss Nigeria, Omowunmi Akinnifesi, smiles brightly in the 33-second ad. "Now I have visibly fairer skin, making me feel younger." Emails from the Cut to Nivea about the ad were not immediately returned.
It's not clear when Nivea introduced the lightening lotion, which appears to be sold in select western African nations, as well as Pakistan, but one tepid review for the lotion dates back to 2014. Akinnifesi joined as brand ambassador this year, and a series of billboards and commercials fronted by the former Miss Nigeria emerged in June. However it wasn't until a London-based watchmaker tweeted the lotion's commercial on Wednesday that the product conjured a rigorous sense of outrage on social media.
This is Nivea's most recent brush with questionable marketing. In April the company ran a "White is Purity" campaign to promote its deodorant, and in 2011 the brand asked consumers to "Re-civilize" themselves with a print ad featuring a black man tearing off an Afro.
Perhaps in an effort to avert criticism, Nivea's Nigerian site explains the rationale behind the product, writing:
We develop our products in view of helping consumers to maintain their skin's health and beauty. This development is of course geared towards consumer's wishes and needs which are not the same globally. Whereas, Europeans often wish to have a tanned skin, beauty in Asia and Africa is often connected to a lighter complexion. As a manufacturer of cosmetic products, we try to develop products which respond to these cultural preferences, however, of course always in line with current health and safety requirements. This is the reason why for example many of our products used outside in the sun (e.g. face care) contain sun protection filters. Our products may help consumers to reach their beauty ideal which is formed by their cultural background.
But maybe Nivea is changing its tune. Several webpages across Nivea's international sites promoting the product were recently removed, including one titled: "How to Get Fair Skin with Natural Fairness."