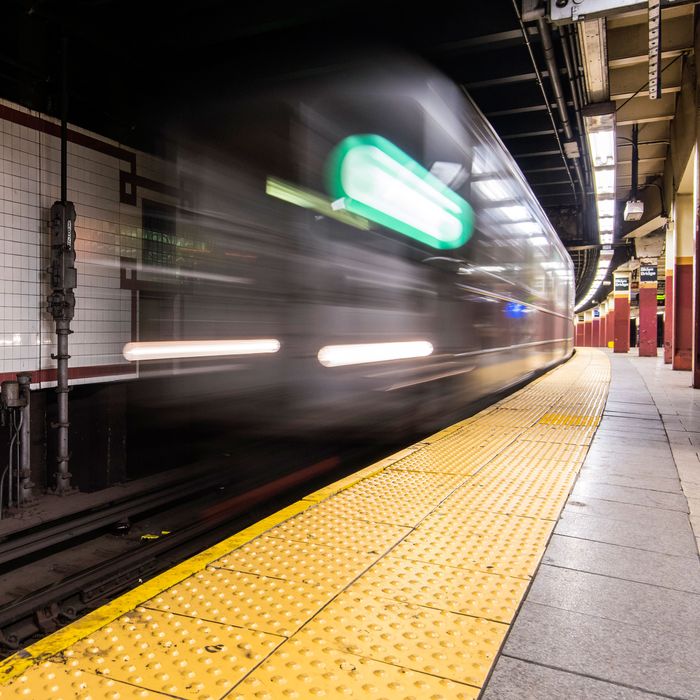 The Brooklyn Bridge subway platform.
Photo: SPM/Getty Images/AWL Images RM
In a time where it's next-to-impossible for pregnant women to get seats on the subway comes a piece of heartwarming New York public transportation news: A subway cleaner helped a woman give birth on a train platform.
As the New York Post reports, Madeline Ramos, an MTA cleaning worker, was nearly halfway through her overnight shift on Monday at the Brooklyn Bridge 4/5/6 station in Manhattan, when around 3:15 a.m., she heard a 33-year-old pregnant woman named Shuping Chen go into distress. Per the Post:
"There was this lady on the stairs and she started screaming and dropped on the floor," said Ramos. "She didn't speak English, but then I saw that the baby was coming. It happened so fast and I had to take action."
Ramos helped Chen lie on the floor — and "caught" the baby (a boy!) less than a minute later. "It was exciting. I had to hold the baby until the medics came. I made sure the woman was calm," she told the Post. Mother and baby were taken to a nearby hospital, and both are in good condition.
We can only be grateful Chen didn't go into labor on a stalled subway train.