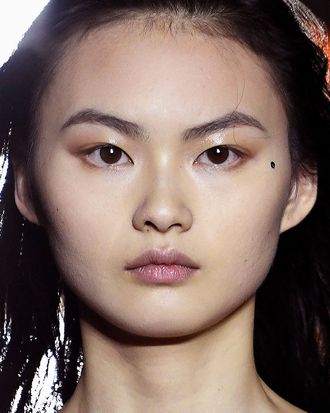 Photo: Pascal Le Segretain/Getty Images
Fashion Month may have ended, but the lessons you learn backstage in Paris can last forever. This season, expert hair and makeup artists created glowy skin, bedazzled hair, crystal lip liner, and a host of other memorable looks. Here are five of the best beauty lessons I gleaned backstage, at Dries van Noten, Givenchy, Thom Browne, Ann Demeulemeester, and Emanuel Ungaro.
1. The anti-Instagram highlight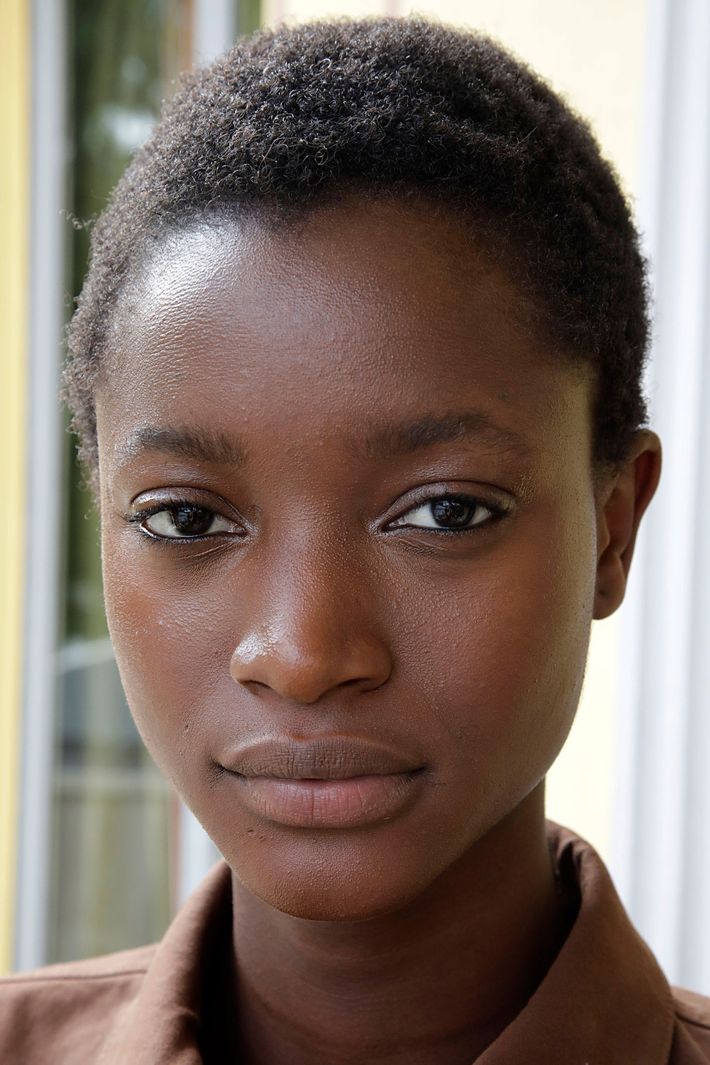 The highlighter you see on Instagram can look positively bionic — so shiny that it gives you instant C3PO-cheek. At Emanuel Ungaro, makeup artist Mark Carasquillo did the opposite, creating a natural look by layering tons of subtle product. "If you buy something chunky and frosty, it will look like tons of product or a million little glittery dots," he said.
Carasquillo started first by luxuriously moisturizing the skin with lots of creams. He used a synthetic brush, which he explained picks up cream better and makes it more malleable, mixing highlighter cream (try RMS Beauty's Living Luminizer or M.A.C Cosmetics Mineralize Skinfinish, a powder with a cream finish) with a little oil so it spreads thinner and then buffing it into the skin above the cheekbones (here's where to apply highlighter). Darker-skinned models got a mix of red blush plus highlighter, and for other skin tones, he suggests something about one or two shades lighter. This method makes it look like the glow is built into the skin, not sitting on top of it. Adding to the subtlety, he finished with kohl eyeliner (again using M.A.C Cosmetics eyeliner in Feline) on the lower lash only.
2. Make your own glitter eye shadow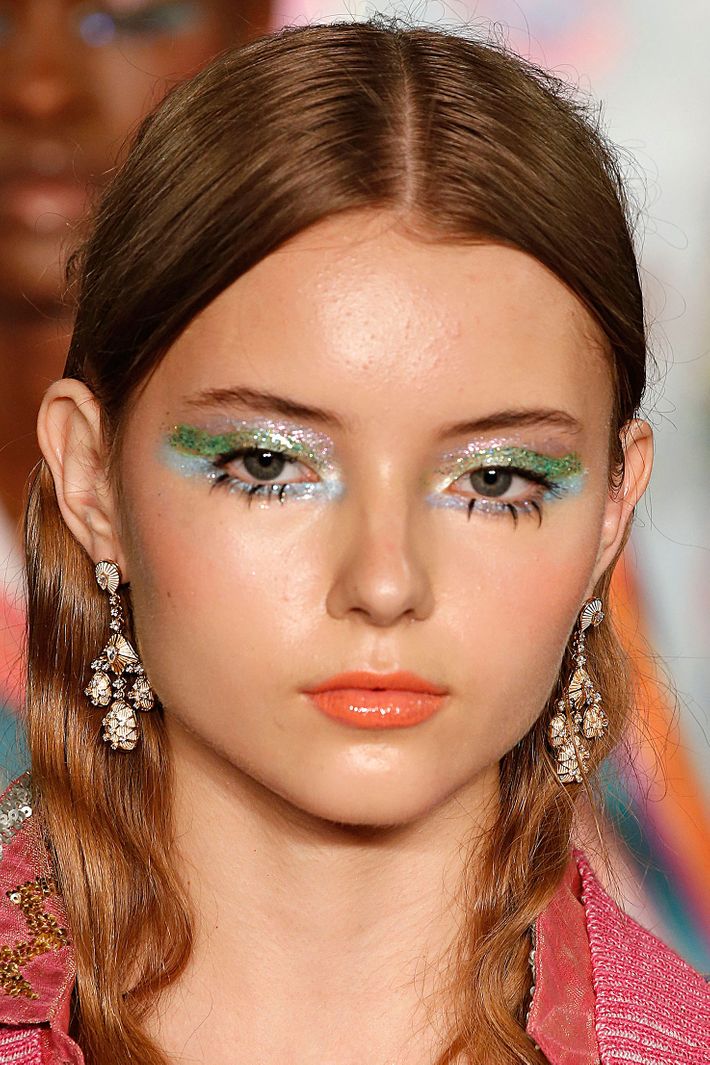 Even makeup artists need to DIY sometime. Backstage at Manish Arora, makeup artist Kabuki custom-created three different eyes hadows for the beauty look, which he described as "bourgeois party girl goes to Burning Man." To create it, he mixed loose M.A.C glitter pigment with a gluey gellike base called M.A.C Mixing Medium. This made the glitter stick onto the skin without any loose fallout, and a trick that makes any glitter — even craft-store glitter — into makeup.
3. Squinting creates the best eyeliner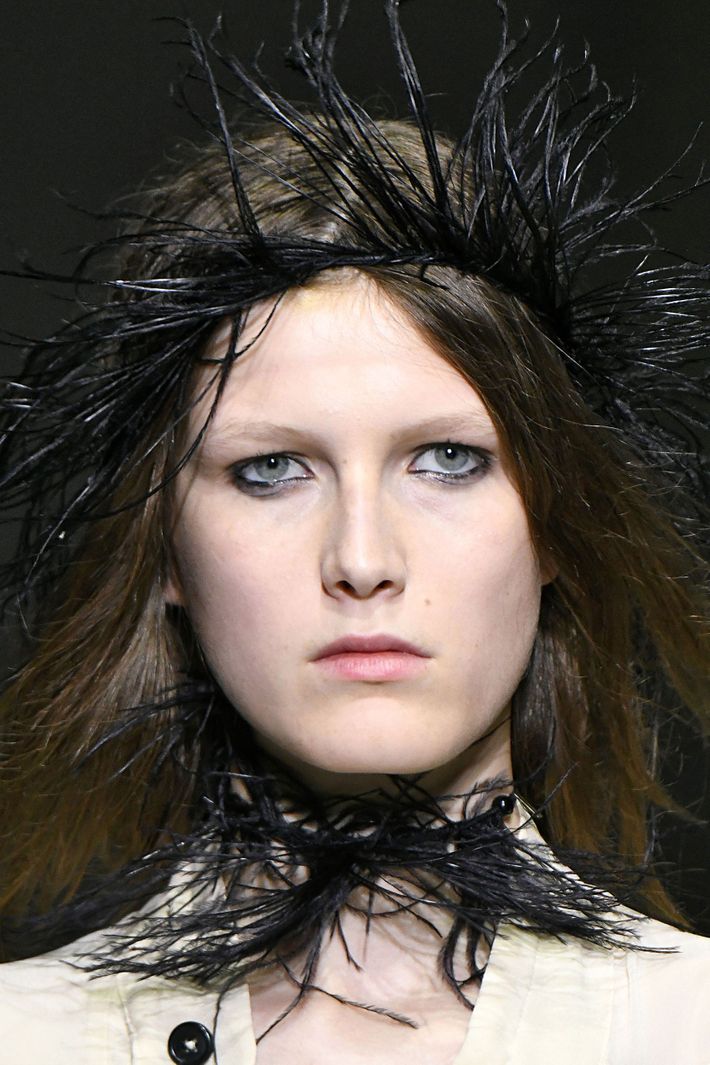 Belgian deconstructionist label Ann Demeulemeester is all about undone beauty, and this season, that extended to the eyeliner. Makeup artist Lynsey Alexander instructed makeup artists to apply M.A.C Cosmetics eyeliner in Feline ("it's really wet and very black," she said) on the water line of the eyes and then instructed models to "scrunch" their eyes very hard. It gave the effect of lived-in eyeliner, and you could use a Q-tip with makeup remover to clean up any fallout.
4. Line your eyes with crystal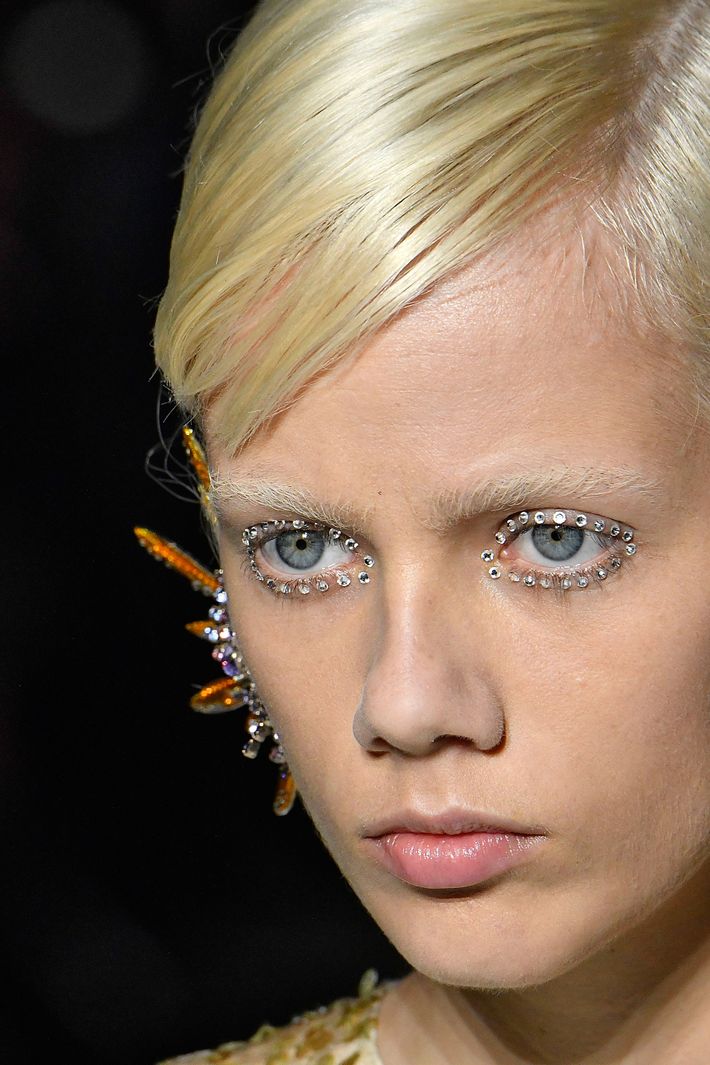 If you've got crystals in your bed and hanging out in your bra, why not add them to your face? Both Givenchy and Dries van Noten used crystal accents in place of eyeliner and lipstick. Although Pat McGrath is known for creating incredibly elaborate, full-face crystal masks for Givenchy, for new designer Claire Waight Keller's first show she took a relatively pared-back approach, gluing only one crystal onto the models' faces. At Dries van Noten, Peter Philips glued crystals around the entire eye like eyeliner, down the models' lips, and also in a straight line across. They may not be rose quartz (or even rose-quartz hair) but it's an energizing look that's way easier than doing a cat-eye with liquid liner.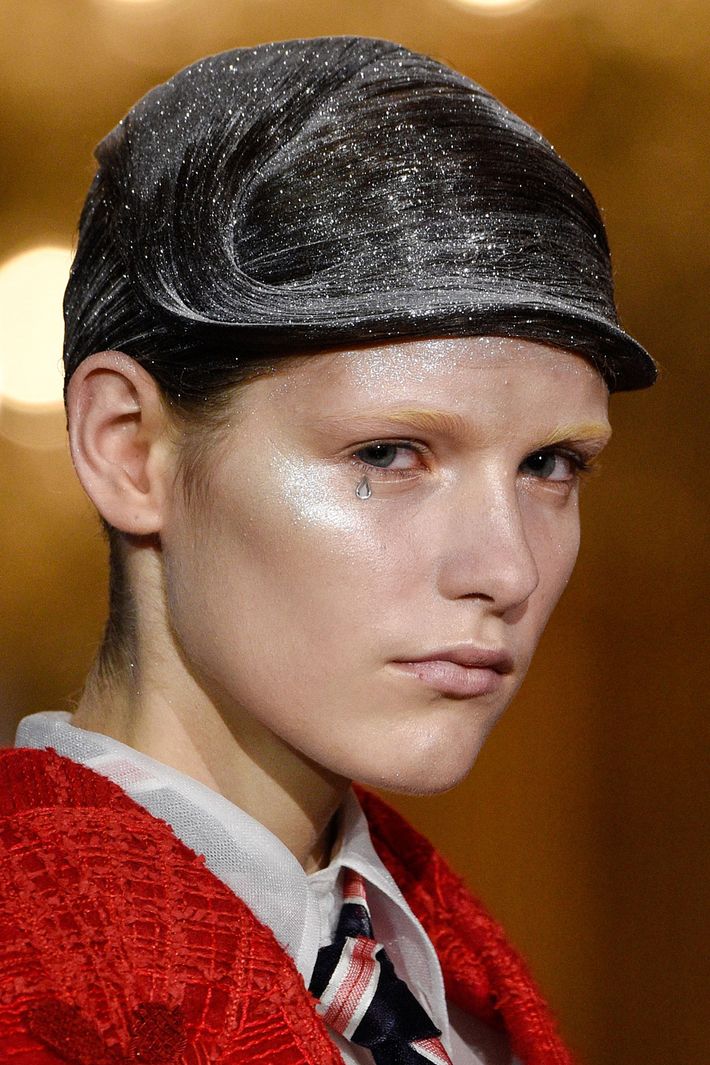 "So fucking beautiful," said hairstylist Eugene Souleiman backstage at Thom Browne. Inspired by the mannequin art by British artist Allen Jones, Souleiman created a hairstyle that looked like lush, flowing glittery satin. Souleiman doused the entire head in glitter and then used a brush to tap glitter all over it. It's not quite an everyday look, but keep it in mind for Halloween.