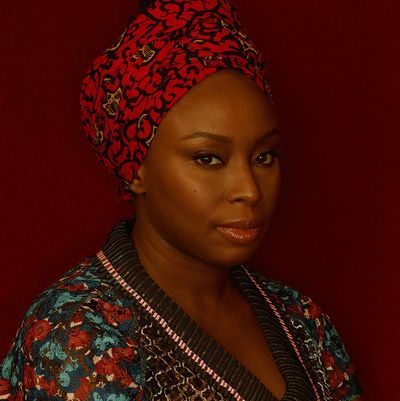 Chimamanda Ngozi Adichie.
Photo: Annie Leibovitz
Before touring with the Rolling Stones, photographing Venus and Serena Williams, and shooting Queen Elizabeth II's official portraits, Annie Leibovitz studied to become a painter. Her ambitions quickly shifted in the 1970s when she started photographing Vietnam War protests. One of those photographs, taken at Kent State, was the cover of the June 1970 issue of Rolling Stone. She later became Vanity Fair's chief photographer. Among other achievements, in 2000, the Library of Congress named her a "Living Legend."
Today she has released a third book of 150 iconic portraits, Annie Leibovitz: Portraits 2005–2016, published by Phaidon. Picking up where her last volume left off in 2005, this tome features more high-profile celebrities and controversial subject matter, from Caitlyn Jenner to Donald and Melania Trump. Others include Chimamanda Ngozi Adichie, Lin-Manuel Miranda, and Meryl Streep.
Her Times Talk tonight at 7 p.m. is sold out, but you can watch it live online. Tomorrow at 7 p.m. she'll discuss the book and sign copies at Barnes and Noble in Union Square. The collection is available on Amazon; signed copies are available at Neiman Marcus.
If you buy something through our links, New York may earn an affiliate commission.