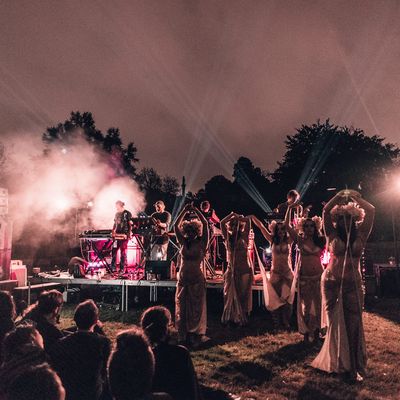 S U R V I V E performs at Atlas Obscura's "Into the Veil" event at Green-Wood Cemetery last weekend.
Photo: Steve Acres and Atlas Obscura
Guests dressed in Victorian-period cocktail attire for Atlas Obscura's "Into the Veil" event at Green-Wood Cemetery last weekend, passing under the graveyard's imposing gothic arches for a night of storytelling, fashion, performance art, and singing by artists including S U R V I V E, the electronic band that scored the Emmy-winning theme music for Stranger Things.
Upon entering the 478-acre plot, guests took a trolley ride to tour the crimson-lit cemetery — where celebrated New Yorkers like Jean-Michel Basquiat and Susan Smith McKinney-Steward, the first black female doctor in New York, are buried. The expansive catacombs were filled with performers playing with candles or standing silently in the dark, waiting for unsuspecting guests to venture in.
The trolley's next stop: a weeping birch where two women wearing white lace gowns stood on an altar accepting offerings and prayers, daring people to kneel before them. Other artists showed their wares, like couture designer Ashley Rose, who displayed her enchanting, old-world designs at the mausoleum.
Deep in the cemetery, surrounded by bonfires and glowing torches, several musicians performed throughout the evening — one attracted a big crowd with Prince's "1999" and the 4 Non Blondes's "What's Up." The night culminated at a sunken bowl-shaped basin in the cemetery known as "the circle," where S U R V I V E performed as the night's headliner. Tombstones surrounded the stage and actors and performers belly-danced around the stage for the final performance. It was a creepy, fantastic October night — the third annual fall event co-hosted by Atlas Obscura and Green-Wood Cemetery. Click ahead to see photos from the weekend.