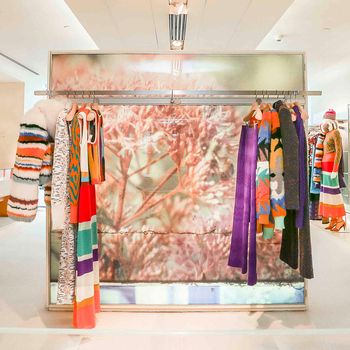 Missoni's New York boutique is hosting an art installation by avant-garde filmmaker Jonas Mekas.
Photo: Stephanie Hedges/Stephanie Hedges
In 1949, filmmaker Jonas Mekas moved from Lithuania to New York City, where he lived in a ramshackle house in Williamsburg. Two months later, the 27-year-old borrowed money to buy his first Bolex camera and started seeing movies every day. A little over a decade after that, his avant-garde film The Brig won the Grand Prize at the Venice Film Festival, and he went on to work with the likes of Andy Warhol, Salvador Dalí, and Yoko Ono. Film-lovers know Mekas as an icon of experimental film, most distinctly for the way he blends written poetry with his movies, blurring the lines between dreams and reality.
Now Missoni is spotlighting the artist's work in an exhibit open to the public at the brand's Upper East Side store. Titled "Blue, Yellow, Red, Purple," the show opened last night and features Mekas's films and photography throughout the boutique. Two video panels in the store windows are a highlight — as the sun sets, people passing on the street will see scenes of New York slowly brighten as nighttime descends. The light-boxes play a series of film shot by Mekas from the 1960s to the 2000s, all portraying the city's four seasons from autumn in Soho to ice skating at Rockefeller Center.
Mekas, now 94, decorated the store's interior with stills from his movies —illuminated photos of sunflowers and pastel-pink lilies splashed on the walls, behind clothing racks. On the second floor, his autobiographical film Walden plays on a screen, offering a hazy portrait of the artist's life.
The show's title is inspired by a diary entry, Mekas explained in the press release. On October 9, 1997, he wrote: "Last night I had an ecstatic dream. Suddenly before my eyes appeared fields and fields of wild flowers. They were passing by my eyes. Field after field, the meadows full of flowers, in the most exquisite colors: blue, yellow, red, purple and they were all so real."
"Blue, Yellow, Red, Purple" will be on view at the Missoni boutique at 1009 Madison Ave. until January 31. The exhibit is part of Missoni's Surface Conversion series, celebrating artists with performances, screenings, guest lectures, and other events to honor Angela Missoni's 20th anniversary as creative director of the brand.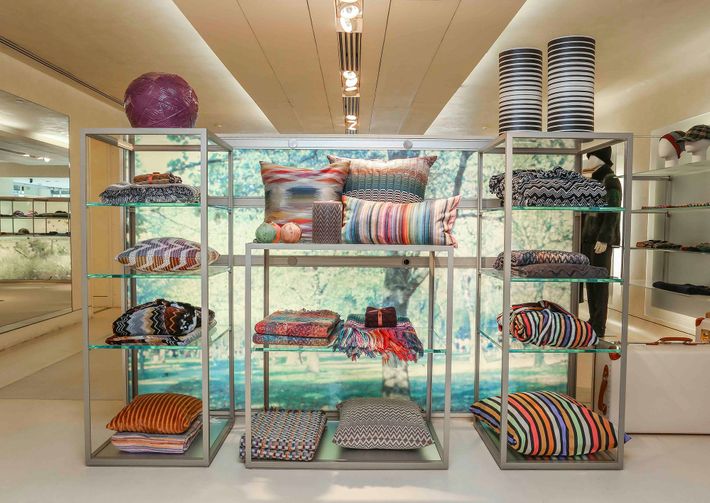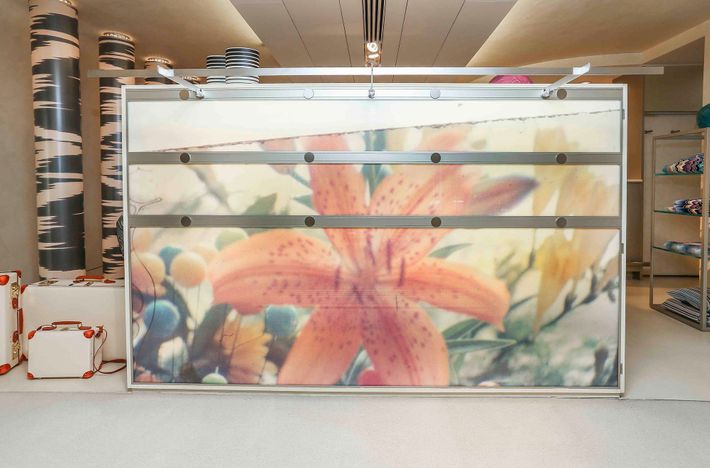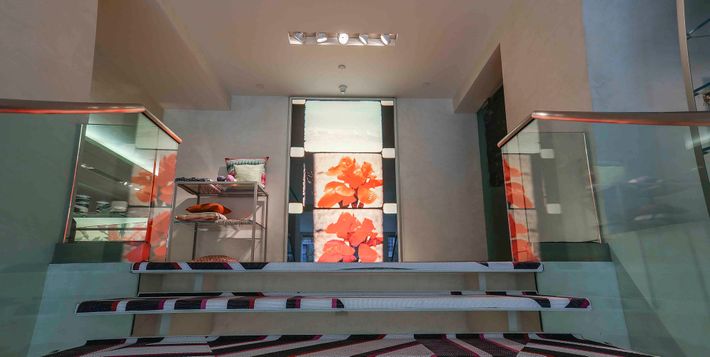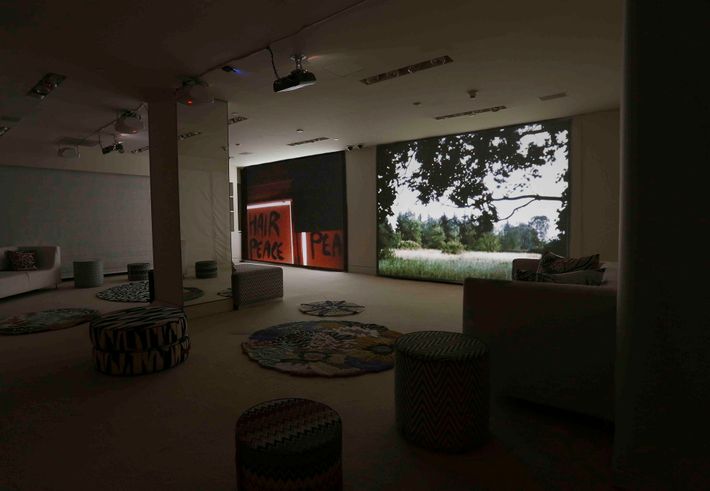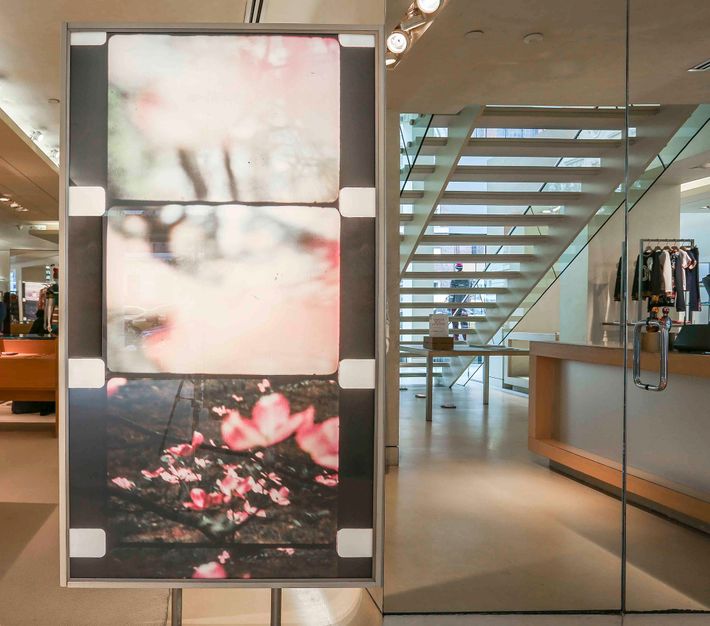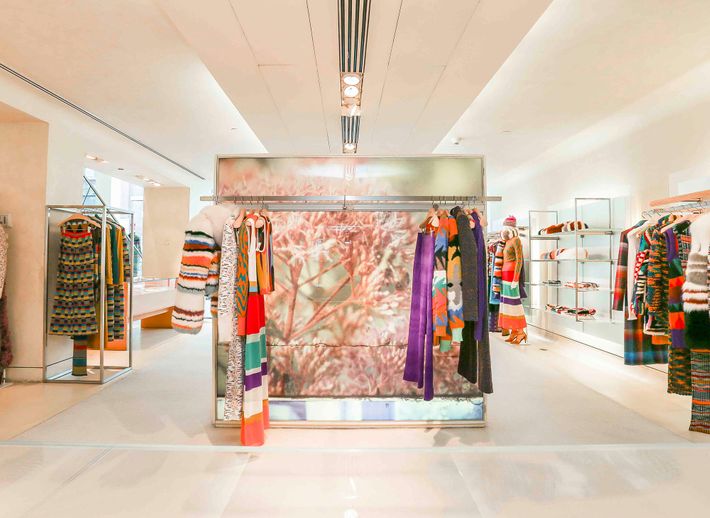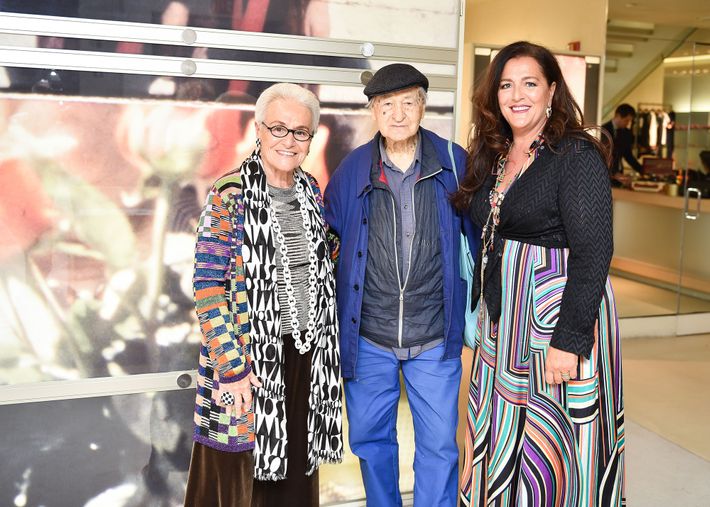 Rosita Missoni, Jonas Mekas, Angela Missoni