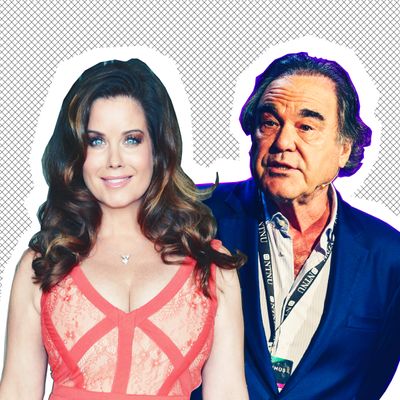 Carrie Stevens, Oliver Stone.
Photo: Getty Images
Former Playboy model Carrie Stevens has accused director Oliver Stone of groping her breast at a party when she was 22. Stevens tweeted the claims on social media after Stone made comments in which he appeared to be defending Harvey Weinstein.
During a press conference at the Busan International Film Festival this week, Stone was asked about the sexual-harassment allegations against Weinstein. Stone told the media, "I'm a believer that you wait until this thing goes to trial. I believe a man shouldn't be condemned by a vigilante system. It's not easy what he's going through, either."
Stone later backtracked on his Weinstein comments, clarifying that he had been "traveling" and wasn't aware of all the women who had came forward to accuse Weinstein of harassment and assault. "After looking at what has been reported in many publications over the last couple of days, I'm appalled and commend the courage of the women who've stepped forward to report sexual abuse or rape," he said.
In response to a tweet from The Hollywood Reporter linking to an article with Stone's initial comments, Stevens wrote on Facebook, "Two of a kind! When I heard about Harvey, the first person I though of was Oliver Stone, and it figures … here he is …"
The model, whom People notes served as Playboy's Miss June 1997, said that Stone allegedly grabbed her boob at a party as he walked out the front door. "I still remember the cocky grin on his face like he got away with something," she added. "These douche bags are not above the law, and they should be held to the same standard as every other man."