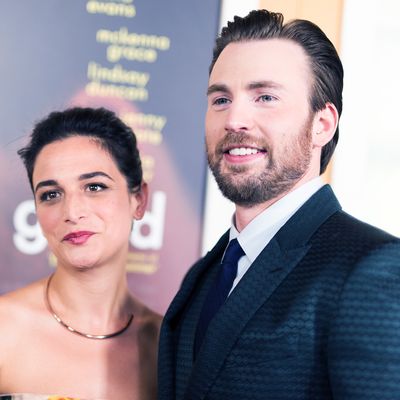 Please, Mom and Dad. Get back together.
Photo: Emma McIntyre/Getty Images
It's not Christmas yet (unless you're Mariah Carey), but fear not, for behold, I bring you tidings of great joy: Jenny Slate and Chris Evans are (maybe) back together. According to Us Weekly, Slate and Evans were spotted on back-to-back dinner dates in Atlanta last weekend, which is basically definitive proof they're kissing and we can all go back to believing in love again.
Slate, the comedian and star of Obvious Child, and Evans, one of the Hollywood Chrises, began dating in the spring of 2016 while they were working on the film Gifted together. Then, in February, they tore out our collective heart by announcing their breakup, and proceeded to stomp on it continuously by regularly saying extremely kind things about one another.
Now it seems Slate and her trophy boyfriend may have reconciled. According to one eyewitness, during dinner last Friday, "They seemed like a couple. [They were] laughing. He reached across and touched her arm a couple of times. They seemed like normal people on a date." And on Saturday, they reportedly went on a double date with Robert Downey Jr. and his wife, where, according to a second witness, they "looked very much together."
Whether Slate and Evans are in fact back together or not, I hope they'll at least pretend to be for the sake of the children (us). Please, Jenny and Chris, we really need a win right now.