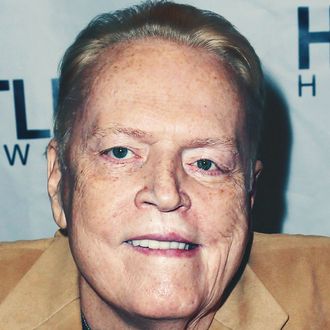 Larry Flynt.
Photo: David Livingston/Getty Images
Many unlikely Trump critics from Rex Tillerson to Bob Corker have emerged in recent weeks to suggest that the president is a "moron" and the White House "an adult day care center."
But one of the more surprising voices in the chorus comes from Hustler publisher Larry Flynt. The porn kingpin took out a full-page advertisement in the Washington Post this weekend, offering $10 million to anyone who had really damning information on Trump — in an effort to impeach the president.
Flynt outlines the reasons he believes Trump should be impeached in the Washington Post ad. (He offered a similar reward of $1 million in 2012 for the tax returns of then–presidential candidate Mitt Romney.)
Flynt cites: "compromising domestic and foreign policy with his massive conflicts-of-interest global business empire"; "telling hundreds of bald-faced lies"; and "gross nepotism and appointment of unqualified persons to high office."
The pornographer adds that it's his "patriotic duty" and the "duty of all Americans, to dump Trump before it's too late."
Flynt asks anyone with impeachable information to email or call the toll-free number listed on the ad. Operators will be standing by.