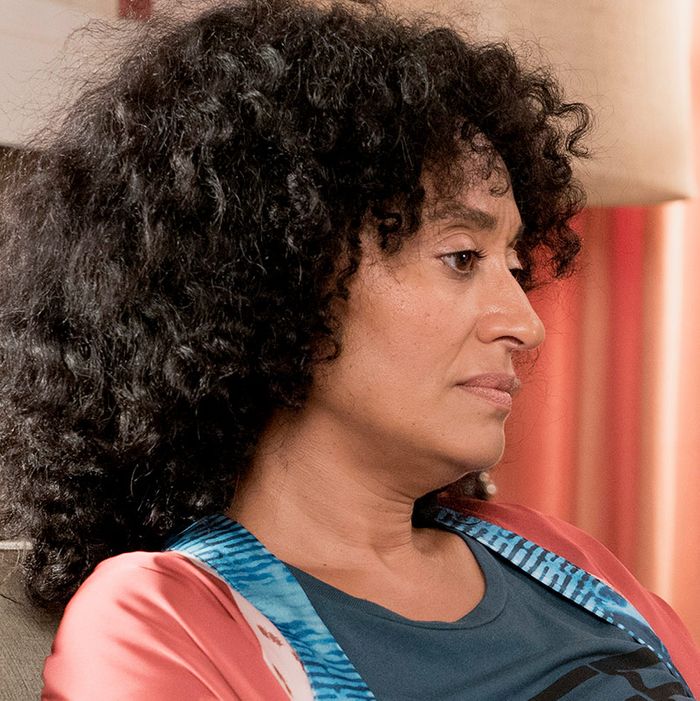 Tracee Ellis Ross in
Black-ish
.
Photo: Eric McCandless/ABC
The second episode of Black-ish's fourth season begins with the show's matriarch, Rainbow (Tracee Ellis Ross), in a state that — for her, a successful, together doctor — is unusual. In a stark contrast from her typically bubbly demeanor, she's sobbing on couches in sweatpants. Perhaps this is normal, considering a recent life change: The usually buttoned-up mother of five is just months out from giving birth to her fifth child, DeVante.
But Rainbow's husband isn't so sure his wife's behavior is normal. Concerned, Dre (Anthony Anderson) approaches his buddies at the office — a cutting-edge advertising firm — who say their wives and partners acted similarly with their own children. Following their well-meaning advice, Dre turns to women's magazines in search of answers. After leafing through a pile of them, he starts to think that his wife might have postpartum depression.
He brings over the stack over to Rainbow, suggesting they take a "fun" quiz together to screen for postpartum depression. He cozies up to his wife, who initially scoffs and swears she's fine, and begins rattling off questions, volunteering to go first. Do you feel sad, hopeless, or empty? For Dre, the answer is no — for Rainbow, it's "half-yes." After Rainbow answers yes to 49 out of the 50 questions, they decide to visit her OBGYN, who diagnoses her with postpartum depression and suggests medication — but indicates doing so is a personal choice.
Initially, Rainbow is reluctant to take medication, insisting that she can get through this. She changes her mind after her doctor explains that many women cannot power through postpartum depression — and that it's perfectly safe to breastfeed while taking an antidepressant. While Rainbow is the one to ultimately make the decision to use medication, her husband reinforces his support.
Not all of Rainbow's family is so supportive: Her mother-in-law calls her "crazy" and deems her breast milk "poisonous" while taking it upon herself to feed her grandson formula against Rainbow's wishes. The two are often at odds, but this time Rainbow defends herself and Dre sides with his wife by asking his mother to leave. This kind of overt loyalty isn't typical for Dre; usually, he prefers to avoid conflict. In another unusual move, Dre's mother, Ruby, apologizes to Rainbow and commends her bravery in seeking help for postpartum depression.
Watching the episode, I couldn't help but compare it to my own experience, as a young black woman with postpartum depression. If only mine had been as easily diagnosed and resolved.
When my daughter was 3 months old, I went to my OBGYN and explained that I was feeling completely sad and overwhelmed by parenting. She wrote it off as the baby blues and said if I didn't feel better after returning to work, she'd prescribe me something. I was happy to hear that the crying spells, out-of-control feelings, and moments of rage over who was spending more time away from their career — me or my partner — were totally normal. And since they were normal, and should disappear over time, I thought I'd never use medication. What would that mean to my nursing infant? What would that mean to my family and extended family, who don't understand that mental illness — even if temporary — needs to be treated like any other illness? I told myself I was fine, though I didn't feel that way at all. "This is normal," I told myself. I walked out and never came back.
After an extreme episode of lashing out, one that made even me wince at myself, I ended up in the office of a different psychologist. After a brief questionnaire and preliminary session, this psychologist diagnosed me with depressive episodes, then provided helpful literature to work with me on my mental-health plan. Notably, she never uttered the word medication. It was important to me that this psychologist was also a black woman — I wanted someone who looked like me, someone who would treat my disorder without suggesting medicine as the only form of treatment.
Shortly after my daughter's first birthday, my relationship's problems reached a boiling point, and we ended up in another office altogether — one belonging to a couple's therapist. She wasn't like my personal therapist at all. According to this therapist's theory, I'd had postpartum depression — not depressive episodes, and she thought this could be a major catalyst for the then-state of our relationship. Put this way, it felt like the responsibility fell on me, for the way my postpartum depression affected our relationship. Watching this week's episode of Black-ish, I couldn't help but compare Dre's reaction to postpartum depression to my partner's.
I wished that he would have been more like Dre: doting, attentive, persistent, but not annoyingly so, and supportive. We had our own family blow up when a relative lashed out at me, just like Rainbow's mother-in-law did to her. Only I felt that he didn't have my back in that situation, not fully at least, not the way Dre did.
But that's the thing about addressing postpartum depression in a 22-minute episode — we see these characters breeze through problems and solve them with a perfect little ending where happy-again, medicated Rainbow is sitting on a bed with her five children and husband who love her through hard times. It's a luxury that this un-medicated mother could have only dreamed of when it was all happening.
Still, the show deserves applause for tackling a subject that many black mothers don't talk about enough. A 2014 study on African-American women and postpartum depression found that, for many in black communities, mental illness and depression are perceived as signs of weakness. From the older women in my family, I learned that it's okay to be overwhelmed and not feel capable of doing it all — and they certainly stepped up when it came time for me to reach out for help. But I could also tell that they thought our various appointments with therapists were cumbersome and ineffective, that they believed our generation was thin-skinned, not tough enough to deal with the realities of adulthood.
I love that Black-ish portrayed a black father as attentive, caring and patient, and loyal to his wife. I love that medication was addressed so head-on, with the doctor noting that medication is safe for breastfeeding babies. I love that we saw a woman with five kids succumb to postpartum depression, sending a message to women with multiple children that each childbirth experience is different.
My only wish is that my partner and I could have seen an episode like this several years ago, with our 1-month-old and sleep-deprived eyes. I wish it had inspired me to go back for that medicine. But maybe because of this episode, and the social-media conversation it's generating, other moms will be encouraged and inspired to seek help for postpartum depression, or someone who loves them might recognize the warning signs and intervene. Postpartum depression isn't something that can be resolved in 22 minutes, but using those minutes to talk about it is a definite start.