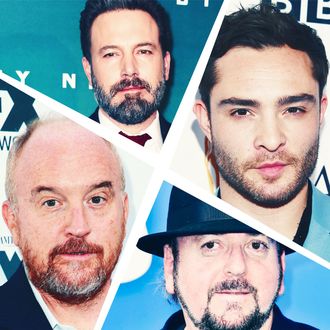 Following the New York Times' and The New Yorker's bombshell reports about years of sexual harassment and assault allegations against Harvey Weinstein, it seems that every public-facing industry has found skeletons in their own closets — accusations have arisen concerning men from former President George H.W. Bush to celebrity chef John Besh. The Cut has compiled a list of all the allegations against high-profile men who have been accused of sexual harassment or assault in recent weeks, and we will update as new accusations surface. To read the stories of all the women who have spoken out against Weinstein, click here.
Rohit Varma, doctor
Number of accusers: 1
The dean of USC's medical school resigned the day after Harvey Weinstein scandal broke, as the L.A. Times was gearing up to publish a story on a 2003 incident between Varma and a young researcher, which was settled by the university for $135,000.
Andy Signore, senior vice-president of content for Defy Media
Number of accusers: 3
Andy Signore, senior vice-president of content for Defy Media, was suspended after multiple women accused him of sexual harassment over Twitter. April Dawn wrote that he tried to sexually assault her repeatedly, and a former intern said he offered to masturbate in front of her. A fan of his also wrote on Twitter that he tried to arrange multiple meetings and made sexual overtures.
Ben Affleck, actor
Number of accusers: 2
When a fan tweeted about Affleck groping actress Hilarie Burton on TRL, Burton responded "I didn't forget." The incident, captured on the show, involved Affleck grabbing Burton's breast. Affleck has since apologized to Burton. Makeup artist Annamarie Tendler also accused Affleck of groping her at an awards show, which Affleck has not commented on.
Oliver Stone, writer and director
Number of accusers: 1
After the writer-director said it was "not easy" what Weinstein was going through (he issued a statement condemning him the next day), model and actress Carrie Stevens recalled him "grabbing [her] boob" as he left a party. Patricia Arquette then said on Twitter that Stone had once sent her roses and gave her a hard time for bringing her boyfriend to a screening. Arquette called it a "weird" encounter.
Roy Price, former president of Amazon Studios
Number of accusers: 1
The former president of Amazon Studios resigned after he was accused of sexual harassment by Isa Hackett on October 12. Hackett, an executive producer for The Man in the High Castle, went public with allegations that Price had made inappropriate and vulgar remarks to her and pressured her for sex. He was suspended the same day, then resigned on October 17.
Bob Weinstein, film producer and head of the Weinstein Company
Number of accusers: 1
Amanda Segel, a showrunner who worked with the Weinstein Co., accused Harvey's brother Bob Weinstein of sexual harassment while shooting The Mist. Segel told Variety that he repeatedly asked her to private dinners after she told him no. She reportedly said she would leave the show if he did not stop contacting her. A representative and a lawyer for Weinstein both denied Segel's claims.
Chris Savino, animator and writer
Number of accusers: up to 12
The creator of the Nickelodeon show Loud House has been accused by up to a dozen women of making sexual advances over the past decade, according to Cartoon Brew. Savino has been fired from Nickelodeon, and he wrote in a Facebook post, "I am deeply sorry and I am ashamed."
Robert Scoble, writer
Number of accusers: 3
Three women in Silicon Valley accused writer and tech figure Robert Scoble of groping and verbal harassment. Scoble responded with a 2,400 word blog post entitled "No, Of That I'm Innocent" where he admitted he was going against legal advice, and said he could not have harassed one of the women because she didn't report to him.
Lockhart Steele, former editorial director of Vox media
Number of accusers: 1
Steele, Vox media's editorial director, was fired after admitting to engaging in inappropriate conduct. Developer Eden Rohatensky wrote on Medium about sexual harassment by multiple Vox employees, including one VP (Steele) who allegedly kissed Rohatensky in a taxi.
Roman Polanski, director
Number of accusers: 2 (since Weinstein)
Polanski has been a known child predator since 2003. He could not accept his Best Director Oscar because he was living in exile in Europe after pleading guilty to "unlawful sexual intercourse with a minor." Since Harvey Weinstein, two more actresses came forward. Marianne Barnard said Polanski raped her when she was 10 years old at a photo shoot. Reneate Langer told the Times that he raped her at her home in Switzerland when she was 15.
James Toback, director
Number of accusers: Over 200
An exposé by the The L.A. Times revealed that the writer-director had allegedly sexually harassed at least 30 women over his career. Later, 200 more reached out to the paper to share their encounters with Toback.
Elie Weisel, author and Nobel Prize winner
Number of accusers: 1
The Holocaust survivor and Nobel Prize winner allegedly groped a 19-year-old girl at a charity event. Jenny Listman wrote in a Medium post that he "grabbed [her] ass" while they were posing for a photo. "He mistook me for an ultra-religious underage girl who was unlikely to tell anyone about it," she said. "In other words, he purposefully chose to molest someone who he assumed was a minor and who would be compelled into silence."
Ethan Kath, musician
Number of accusers: 1
Alice Glass, Crystal Castles co-founder, alleged that her former bandmate Ethan Kath raped, manipulated, and abused her beginning when she was 15 years old. She detailed the abuse on her website. Kath (whose real name is Claudio Palmieri) issued a statement to Pitchfork calling her story "pure fiction."
"Fortunately, there are many witnesses who can and will confirm that I was never abusive to Alice," he said.
Leon Wieseltier, publisher
Number of accusers: unknown
Former female employees of the New Republic had been exchanging emails about Wieseltier's inappropriate behavior, when the instances were made known to the Emerson Collective (which was backing Wieseltier's proposed new magazine). The Emerson Collected ended its relationship with Wieseltier. The claims in the emails said Wieseltier kissed several employees, and discussed his sex life in detail. He also made note of what staffers wore to the office and thanked one for wearing a mini skirt. He apologized in a statement to the New York Times on Tuesday. "I am ashamed to know that I made any of them feel demeaned and disrespected. I assure them I will not waste this reckoning."
John Besh, chef
Number of accusers: 25
Chef John Besh stepped down as the head of his restaurant group after 25 women said in a report that said he had sexually harassed them and fostered a culture of sexual misconduct.
George H.W. Bush, former president
Number of accusers: 2
Actress Heather Lind accused the former president of groping her four years ago while posing for a photo. A spokesperson for the president apologized to Lind for the incident. However, a second actress, Jordana Grolnick, came forward saying Bush groped her in a similar way and said his favorite magician was "David Cop-a-Feel" while doing it.
Mark Halperin, journalist, political analyst, and author
Number of accusers: 7
Well-known political analyst and Morning Joe frequenter Mark Halperin was accused by five women of harassing them while Halperin was political director at NBC News. He denied the claims, but admitted that he did "pursue relationships" with women he worked with. After CNN published a story with the women's claims, another former junior ABC News staffer, Emily Miller, came forward saying Halperin also harassed her. The seventh accuser, another journalist, told the Daily Beast anonymously that he had harassed her as well.
Knight Landesman, publisher
Number of accusers: 9
Art world bigwig and publisher of ArtForum Knight Landesman has been named in a lawsuit alleging he sexually harassed nine women when they were young and just starting their careers. Landesman repeatedly harassed them over text messages and groped them.
Kevin Spacey, actor
Number of accusers: 36
In an interview with BuzzFeed, actor Anthony Rapp said Spacey tried to seduce him when he was 14. Spacey invited Rapp to his home, where Rapp was "aware that he was trying to get with me sexually." Spacey has apologized for his behavior, and in the same post came out as a gay man. Since then, seven more men have come forward accusing Spacey of groping or otherwise harassing them, eight House of Cards cast or crew members said they either witnessed Spacey's behavior or were victims themselves, and and The Old Vic theater in London found 20 "personal testimonies" of inappropriate behavior by Spacey between 1995 to 2013.
Hamilton Fish, publisher
Number of accusers: unknown
The publisher of The New Republic has taken a leave from the publication pending an investigation into "interactions between Ham Fish and a number of women employees." An email to staff members said that there would be an "immediate, independent investigation."
Andy Dick, actor
Number of accusers: unknown
Dick was fired from the indie film Raising Buchanan after being accused of groping, kissing, licking, and sexually propositioning at least four people on set. Dick denies that he groped anyone, but admits that he kissed, licked, and propositioned people. He told The Hollywood Reporter, "I didn't grope anybody. I might have kissed somebody on the cheek to say goodbye and then licked them. That's my thing — I licked Carrie Fisher at a roast. It's me being funny. I'm not trying to sexually harass people."
Michael Oreskes, journalist
Number of accusers: 2
Oreskes, the head of NPR's news department, has been accused by two women of sexually harassing them when Oreskes was working for the New York Times, according to the Washington Post. NPR is investigating the women's claims that Oreskes kissed them unexpectedly. One of the women told the Post that, "he utterly destroyed my ambition."
Brett Ratner, director
Number of accusers, 6
Six women, including actress Olivia Munn, shared stories of Brett Ratner's sexual harassment to the Los Angeles Times. Munn said he masturbated in front of her while holding a shrimp cocktail, a story she had included in her book without Ratner's name. Model and actress Natasha Henstridge said he forced her to perform oral sex on him. Ratner's attorney, Marty Singer, denied all claims to the Times.
Dustin Hoffman, actor
Number of accusers: 2
In a first-person essay for The Hollywood Reporter, a former PA said that Hoffman groped her when she was 17. Anna Graham Hunter, then an intern on the set of Death of a Salesman, reported one incident to her supervisor after Hoffman groped her breasts. Hoffman then yelled at her in front of the studio, "Anna! So you think I'm a sexist pig, huh? Anna!" In a response statement to The Hollywood Reporter, Hoffman apologized. Later, television writer Wendy Riss Gatsiounis said she was harassed by Hoffman in 1991 while in talks to adapt her play A Darker Purpose. He allegedly asked her if she had been with a man older than 40, and said she had a "whole new body to explore."
Jeremy Piven, actor
Number of accusers: 3
After an actress who worked with Piven on Entourage accused him of groping her, two other women came forward with tales of harassment. Piven has offered to take a polygraph test to prove his innocence and wrote in a statement, "I hope we can give people the benefit of the doubt before we rush to judgment."
Jeffrey Tambor, actor
Number of accusers: 1
Amazon is investigating claims that Jeffrey Tambor, star of Transparent, harassed his former assistant. Van Barnes, the former assistant, alleged that Tambor has harassed her in a private Facebook post. Tambor responded to the claims, "I adamantly and vehemently reject and deny any and all implication and allegation that I have ever engaged in any improper behavior toward this person or any other person I have ever worked with."
Ed Westwick, actor
Number of accusers: 3
Two actresses, Kristina Cohen and Aurelie Wynn, have accused Gossip Girl actor Ed Westwick of raping them. Cohen filed a report with the LAPD, who are investigating the claims which took place three years ago. Westwick denied both claims on Instagram in separate posts. Creative producer Rachel Eck told BuzzFeed that Westwick assaulted her in 2014, "Ed then pulled me onto the bed and aggressively groped me."
Steven Seagal, actor
Number of accusers: 5
Actresses Portia de Rossi, Julianna Margulies, Lisa Guerrero, and Jenny McCarthy have accused actor Steven Seagal of harassing them. De Rossi, Margulies, and Guerrero described casting-couch situations with the actor in which he either was naked, pulled out a gun, or wore nothing but a silky robe. In 1998, Jenny McCarthy accused him of repeatedly telling her to take off her clothes while working on a movie together. A former assistant also sued him for sexual harassment, but dropped the charges.
Roy Moore, politician
Number of accusers: 8
The Washington Post reported Leigh Corfman's story that Moore, the Republican nominee for an Alabama Senate race, initiated a sexual encounter with her when she was 14 years old and he was 32. Three other women said that Moore pursued them when they were "between the ages of 16 and 18 and he was in his early 30s." The Post says the three women they interviewed said that Moore never forced a relationship or sexual contact. Moore denied the allegations in a statement to the Post and called them a "desperate political attack." Following the first Post story, four more women have come forward. The new accusers, all women between 15 and 28 at the time of the incidents, have said that Moore harassed them. One, Tina Johnson, said that Moore groped her when she visited the then-attorney's office.
André Balazs, hotelier
Number of accusers: multiple
Balazs, the celebrity hotelier responsible for the Standard, the Mercer, and Chateau Marmont, has been accused by multiple women of groping them, according to a report in the New York Times. Balazs reported grabbed Amanda Anka, wife of actor Jason Bateman, by the crotch at an event. A rep for Anka and Bateman confirmed the story to the Times. He also reportedly pinned a former employee to the wall and digitally penetrated her in 1991.
Matthew Weiner, producer
Number of accusers: 1
Former writer Kater Gordon accused the Mad Men creator of telling her that she "owed it to him to let him see [her] naked." Several people Weiner told at the time confirmed her story to the Information. A representative for Weiner said, "[Weiner] does not remember saying this comment nor does it reflect a comment he would say to any colleague."
Louis C.K., comedian
Number of accusers: 5
The New York Times published a bombshell report in which five women said that C.K. had been sexually inappropriate with them. Several said that C.K. masturbated in front of them. As a result, HBO has cut all ties with the comedian.
Al Franken, politician
Number of accusers: 6
Leeann Tweeden, a female radio host, wrote in a post on her station's website that senator Al Franken groped her while she was sleeping and had someone take a picture of the incident. It occurred in 2006, two years before Franken was elected to Senate and while Tweeden was overseas on a USO tour. Franken's first statement said, "As to the photo, it was clearly intended to be funny but wasn't. I shouldn't have done it." After that received criticism, Franken issued a second apology, saying, "The first thing I want to do is apologize: to Leeann, to everyone else who was part of that tour, to everyone who has worked for me, to everyone I represent, and to everyone who counts on me to be an ally and supporter and champion of women. There's more I want to say, but the first and most important thing — and if it's the only thing you care to hear, that's fine — is: I'm sorry." The Senate is officially investigating Franken and five other women have come forward.
Sylvester Stallone, actor
Number of accusers: 1
A police report obtained by the Daily Mail accuses Sylvester Stallone of forcing a 16-year-old girl into a threesome with himself and his bodyguard at a hotel in Las Vegas in 1986. Stallone was 40 when the alleged assault occurred. The former head of the Vegas metro police department's sexual-assault unit verified the report to the Daily Mail. Stallone's spokesperson said to TMZ, "This is a ridiculous, categorically false story. No one was ever aware of this story until it was published today, including Mr. Stallone. At no time was Mr. Stallone ever contacted by authorities or anyone else regarding this matter. It never happened."
Murray Miller, producer
Number of accusers: 1
Actress Aurora Perrineau filed a police report accusing Girls writer and executive producer Murray Miller of sexual assault in 2012. Miller has denied the claims, and Girls creator Lena Dunham and showrunner Jenni Konner issued a statement saying that Perrineau's claim is "one of the 3 percent of assault cases that are misreported every year."
Russell Simmons, producer
Number of accusers: 1
In a report by the Los Angeles Times, former fashion model Keri Claussen Khalighi said that Simmons coerced and assaulted her while director Brett Ratner watched. Simmons denied the claims, but the Times reported that he had apologized her when they met by chance last year.
Charlie Rose, journalist
Number of accusers: 11
CBS journalist and host Charlie Rose was fired after eight women accused him of sexual harassment. The Washington Post reported that the alleged offenses occurred between 1990 and 2011 and ranged from groping women to walking around naked in front of them. All of the women either worked or wanted to work for the Charlie Rose show. Since Rose was fired, CBS This Morning reported that an independent investigation had discovered three more women's allegations against Rose.
Nick Carter, musician
Number of accusers: 1
A member of the 2000s girl group Dream, Melissa Schuman, accused former Backstreet Boy Nick Carter of raping her in 2002. She described the alleged attack at length on her blog. Carter has yet to respond to the allegations.
Richard Branson, businessman
Number of accusers, 1
In an interview with The Sun, Antonia Jenae said that Branson assaulted her by motor-boating her breasts while on Branson's island. Branson's representatives denied the claims saying, "Richard has no recollection of this matter. Neither do his family and friends who were with him at the time."
Matt Lauer, journalist
Number of accusers: 1
The Today show reported on November 29 that NBC had learned that Lauer had allegedly sexually harassed at least one person during his time at NBC. The New York Times and Variety had already been investigating Lauer for sexual harassment.
Garrison Keillor, radio personality
Number of accusers: unknown
Keillor was fired from Minnesota Public Radio after being notified of alleged sexual misconduct that occurred while Keillor was producing A Prairie Home Companion. In an interview with the Star Tribune, Keillor said, "If I had a dollar for every woman who asked to take a selfie with me and who slipped an arm around me and let it drift down below the beltline, I'd have at least a hundred dollars. So this is poetic irony of a high order."
Bruce Weber, fashion photographer
Number of accusers: 1
Photographer Bruce Weber is being sued by a male model, Jason Boyce, for inappropriately touching him during a photo shoot. The alleged incident occurred in 2014 when Boyce was 28 and Weber was 68. Weber has not yet publicly responded to the suit.
James Levine, conductor
Number of accusers: 3
The Metropolitan Opera has severed ties with conductor James Levine after three men have come forward saying that they were sexually abused by Levine when they were underage. Levine has retired and was music director emeritus of the Met.
John Hockenberry, radio personality
Number of accusers: 4
Author Suki Kim wrote for the Cut that she was harassed by Hockenberry. When Hockenberry retired, Kim investigated whether he had harassed anyone else. Three women who had worked on his show, The Takeaway, said that he had harassed or assaulted them. He allegedly forcibly kissed a culture producer when she scored an interview with Marion Cotillard.
Mario Batali, chef
Number of accusers: 4
Four women accused celebrity chef Mario Batali of inappropriately touching them over the span of two decades, as reported by Eater. Batali subsequently stepped away from the day-to-day operations of his businesses. Later, in a New York Times report, former staffers at the Spotted Pig restaurant in New York also accused him of harassment.
Ken Friedman, restauranteur
Number of accusers: 10
Ken Friedman, the co-owner of the Spotted Pig and other restaurants in New York, has been accused of sexual harassment and misconduct, as well as creating a toxic work environment. The allegations, reported by the New York Times, are detailed and extensive, and include instances of "unwelcome sexual overtures, verbal and physical."
Last update: December 13, 12:40 p.m.