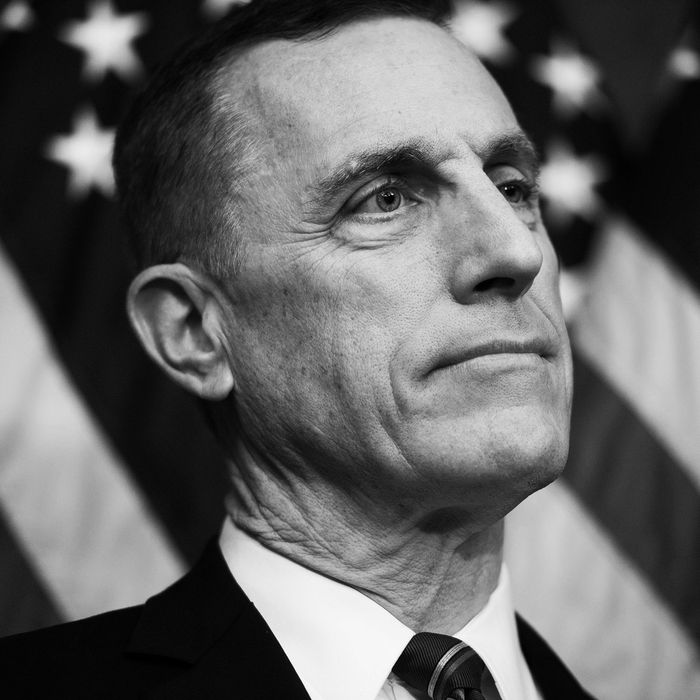 Representative Tim Murphy.
Photo: Tom Williams/CQ-Roll Call,Inc.
Congressman Tim Murphy may identify publicly as pro-life, but that reportedly didn't stop him from asking his mistress to get an abortion during a pregnancy scare, according to the Pittsburgh Post-Gazette.
The 64-year-old representative from Pennsylvania admitted earlier in the month that he had an extramarital affair with Shannon Edwards, a 32-year-old forensic psychologist. Details about Murphy's relationship with Edwards have been made public as part of her divorce proceedings — and documents obtained by the Post-Gazette demonstrate the extent of the Republican politician's hypocrisy in regards to reproductive rights.
In a text exchange between the couple, Edwards called Murphy out for posting anti-abortion statements on Facebook. "And you have zero issue posting your pro-life stance all over the place when you had no issue asking me to abort our unborn child just last week when we thought that was one of the options," she wrote. Per the Post-Gazette:
A text from Mr. Murphy's cell phone number that same day in response says, "I get what you say about my March for life messages. I've never written them. Staff does them. I read them and winced. I told staff don't write any more. I will."
The Facebook post Edwards referenced in her text read: "The United States is one of just seven countries worldwide that permits elective abortion more than halfway through pregnancy (beyond 20 weeks). It is a tragic shame that America is leading the world in discarding and disregarding the most vulnerable."
Murphy, it should be noted, is generally pretty popular in the anti-abortion realm. According to the Post-Gazette, he's been endorsed by anti-abortion group LifePAC, is a member of the House Pro-Life Caucus, and has received praise by the Family Research Council. He's also one of 181 other legislators who co-sponsored the 20-week abortion ban being voted on by the House on Tuesday evening.
In addition to the text exchange, the documents also reportedly include a six-page memo to Murphy written by his chief-of-staff, Susan Mosychuk. Entitled "Office Conduct and Behavior: Harassment/Legal Compliance," the June 8 memo details a hostile workplace in which Murphy displayed "ongoing and ever more pronounced pattern of sustained inappropriate behavior" towards his staff, including reportedly denigrating them and threatening them.