It's a risky move, but Gabrielle Union has taken the liberty of ordering for the both of us. She doesn't know Chicago very well — she's only here for brief stretches when she and her husband, NBA player Dwyane Wade, aren't home in Miami — but she does know her way around this Old Town sports bar's fattiest menu options. She rattles off about 6,000 calories worth of items she likes: ham and cheese croissant pretzels, lobster deviled eggs, pork spare ribs, and two spicy margaritas.
"You like 'the swine,' right? I got you," she says as if we're co-conspirators, making a pact to say screw you to the Whole 30 for just this afternoon.
I do like "the swine," obviously. If there's some sort Universal Likability Index we all subscribe to, swine — the edible sort — takes high marks. And in offering up an unsolicited bounty of swine, grease, and carbs, Union reinforces why she's right up there alongside bacon on the list of things that make people happily want more.
What's not to like about Union? Most recently the star of BET drama Being Mary Jane, she's associated with nostalgia for both the best era of teen movies (10 Things I Hate About You and Bring It On) and a particular era of black movies (i.e Two Can Play That Game). When she shows up, on time, for our interview, she's dressed down in an Outkast T-shirt and a black baseball cap pulled low over her natural hair, with no makeup to mask the constellation of freckles on her nose. She looks ageless, yes, but also quickly explains that she's trying to stanch a flow of forehead sweat from walking in the Chicago humidity. She orders tequila even though she knows her face will bloat, and at one point advises me that I need to "protect the dick bag." And, while our conversation was scheduled to last one hour, she winds up plying me with girl talk and junk food for three.
She's raunchy, wise, unpretentious, thoughtful, and it's all those facets of "likable" that have gotten Union from point A (girl-crush actress) to point B (reliably candid social-media darling) to the inevitable point Z when you've got fire tweets and plenty of charm: a book deal — one so big even Union was surprised at the amount, which she won't disclose.
There's a long list of tropes that show up in most celebrity memoirs, especially those written by women. First, an air of self-deprecation, best demonstrated in a series of "gosh I was ugly and nobody wanted to date me" anecdotes. Next, a decent amount of industry gossip — even if it's thinly veiled. Ultimately, though, the celebrity memoir primarily serves to take what we like about an entertainer and ratchet it up to 11. The risk is that they dial up that one likable quality to the point where all of a sudden Anna Kendrick's Anna Kendrick-ness seems too Anna Kendrick-y, for example, or the bit that made everyone love Amy Schumer starts to ring false when pumped up to this volume.
Union, a longtime speaker and advocate for sexual-assault victims, finally felt ready to write a book of her own after publishing an op-ed in the Los Angeles Times last year, after rape accusations against Birth of a Nation director Nate Parker came to light. (Union had a small role in the movie.) In We're Going to Need More Wine, out October 17, Union offers up some of the usual celebrity-memoir fodder. She does a little bit of the ugly-duckling routine, writing that she was at one point "so thin she looked like a black daddy longlegs spider." She tells tales of going to parties at Prince's house, and reveals that Heath Ledger routinely played the didgeridoo on the set of 10 Things I Hate About You. But, she says, "they're not getting a celebrity tell-all where I knock all my co-stars. This isn't like a self-indulgent money grab. I wanna be regarded as a real writer, not a celebrity writer."
Union starts her book with a W.E.B. Dubois quote from The Souls of Black Folk: "One ever feels his two-ness–an American, a Negro; two souls … two warring ideals in one dark body." It was part of her required reading as a student at UCLA, she explains, and it stuck with her. "There's never not a moment where I'm not thinking as both sides of the fence, because it's like a knee-jerk reaction. I do it subconsciously."
And that's where she chooses to start her stories, with her life growing up as one of few black families in very white Pleasanton, California. The insecurity of being a minority in majority-white spaces is one of the through-lines among the 20 tales she's chosen to tell: Her account of being a black woman in Hollywood for example, includes a frankly traumatic-sounding experience getting her hair done on set. ("They never want to hire anyone black in hair and make-up on a white film," she writes. "This white woman was literally trying to round brush my hair and then use just a curling iron to get the edges straight.") But she also writes about using her first tampon (somebody else had to insert it), losing her virginity, and the horror of buying Monistat when you're famous. (That chapter is called "Warning: Famous Vaginas Get Itchy, Too.") Throughout, she shows the same unflinching honesty she displayed when speaking out at the 2013 Essence Black Women in Hollywood luncheon, about the "bullshit" that comes with being a black actress, or calling out Lena Dunham for her white-girl privilege. (They have since become friends.)
Despite the often heavy subject matter, Union, who didn't use a ghostwriter, tried to keep the tone of "group chat." She zigs and zags from lighthearted to somber, like all these stories just sort of popped into her head. "I want it to feel like we're talking shit and we're going to need some more cocktails," she says. I'd go one further and say it sometimes edges into "Girl. Maybe you should you have a glass of water? You sure you want to share all that?"
Yup! She does, crediting therapy and a life coach for getting her to the point where she can be open about so much. The only things she didn't include are the ones she's still working through in therapy, she explains. One of the few limits to her candor is discussing Nate Parker and her role in Birth of a Nation, the subject that first brought her attention as a writer — she says she's still processing her emotions.
But what she does write about — and she writes about a lot — is raw. "I will give blow jobs in a leper colony before I take a dime from a man I am no longer in love with," she writes of negotiating her prenuptial agreement with Dwyane Wade. She describes her father's affair in a way that makes you think she's certain he'll never read the book. (He hadn't at the time we talked, and neither had Wade.) In an essay called "Code 261," she writes at length, in detail, about being raped when she was 19 years old. "That was the hardest chapter for me to write," she says. In the chapter called "Get Out of My Pussy," Union reveals that she's been struggling with the IVF process for three years and had multiple miscarriages.
"I'm in the rooms with the women and there is such a shroud of secrecy and shame," she says of why she decided to write about fertility struggles so extensively. "I mean, there's back entrances, there are people who will come get you from your car with an umbrella. The idea of being found out, like going to a fertility doctor? Oh my god, the jig is up. People are thinking, she married this young guy and her shit doesn't work. Awww. Awww, and he had that baby with somebody else. Awww. Bet it really hurts. That kind of shit." She sees sharing her experiences — candidly, extensively — as a sort of public service. "I'd rather be the guinea pig and speak about the process to demystify it," she tells me. "If you're going to stick a microphone in my face, I might as well save at least a few of us, if I can."
She says she feels an obligation to make sure Wade uses his platform for good, too. "I have to make sure my spouse is up front and stays up front and is well versed in everything and stays vocal and stays in a place of leadership on everything," she says. "Sports-related, not-sports-related, father-related, black-people-related, black-father-related, men-over-30-check-your-prostate-related." His team will often go through her when they need to get his attention on an issue. "There's a huge amount of pressure to influence, shape, force, control."
The waitress returns to pick up the mostly empty appetizer trays, and Union immediately orders a sipping tequila — the good stuff. We've switched to talking about inclusivity in Hollywood and she feels a specific need to drink something harder, she jokes.
She's explaining how she had to fight to show a black woman on the toilet on Being Mary Jane, the BET show she stars in and executive produces, which was recently cancelled after a four-season run. "I know I get most of my work done on the toilet. She needs to shit. 'Cause I've been waiting for Olivia Pope to shit for many seasons now. I need to see her playing Words With Friends, Candy Crush, something on the toilet. Reading Baller Alert, I dunno. But something. To show, like, the 360 degrees of real people. Shitting is so normal and so relatable. Everybody shits."
It's about vulnerability, letting black women be seen as imperfect and human, Union goes on to argue — something she's trying to accomplish with this book.
I suggest, based at least on a recent spate of Instagrams documenting an anniversary trip to Greece with Wade, that her life looks pretty perfect.
"Does it really? Does it?" She challenges me. The trip to Greece, she explains, was actually an experiment in DIY couples-counseling, undertaken with a group of friends who had all gotten married around the same time. "We specifically chose a range of couples with different ideas, but who were all painfully honest and open and want to get better and actually want to stay married and actually like and fuck their own spouses. So we spent a lot of time on that trip talking about strategies for success in marriage. But it was really couples  of color who are committed to figuring it out and exploring our vulnerabilities and exploring our blind spots and figuring that out."
If Union is worried about how any of the book's material will be perceived, she doesn't let on. "I'm brutally honest with the stuff that I'm willing to talk about. That I can kind of just lay it out there. Let's not really go into my porn browser history because then the jig is up," she jokes. It sounds a little like she wants me to ask, but I don't.
But now, we're three hours into our talk. I've just missed the last available flight back to New York. I'm full, tipsy, a little sleepy, and we've just split a dessert so sugary, I'm about to go into diabetic coma. But she still has more to share with me.
"Gabby, I have no more questions," I say, pulling the standard escape line.
"Are you sure? There's nothing else you want to ask? Nothing else?"
I say no and she shrugs, and lets me go.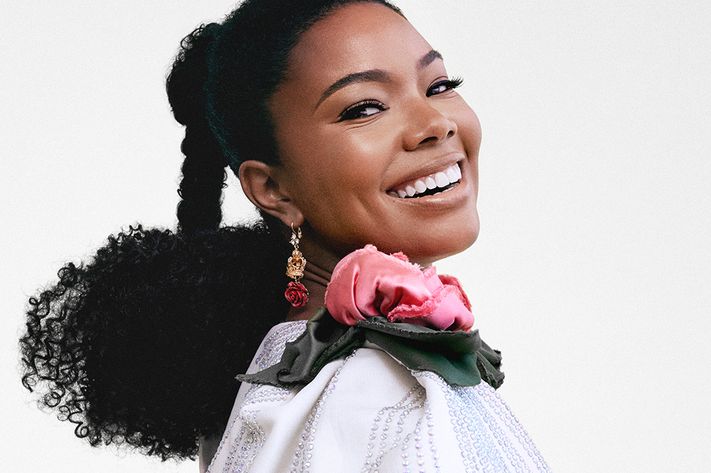 In the days after the interview, I get a text from Union asking if she could send me something. What follows is an email of thoughts, sort of an essay, mostly revealing that she's more nervous — about how honest she's been, about going on a book tour, about having an audience — than she'd let on when we met. Is it possible, she muses, that she doesn't want this? The book tour, the eyes on her, the lines of people "in sensible slacks" possibly judging her? I think back to something she said during our interview, when I asked what would happen if people didn't like the book.
"There is a part of me that just needs to be connected to other people who've been through some shit," she told me. That's the reaction she sees from audiences when she speaks, and it's what reassures her that she's doing something helpful. "I'm like, 'I'm having a meltdown — anybody? Anybody? Anybody out there? No? Just me? Okay.' Just feeling connected with other people who've been through some shit and knowing I'm not alone."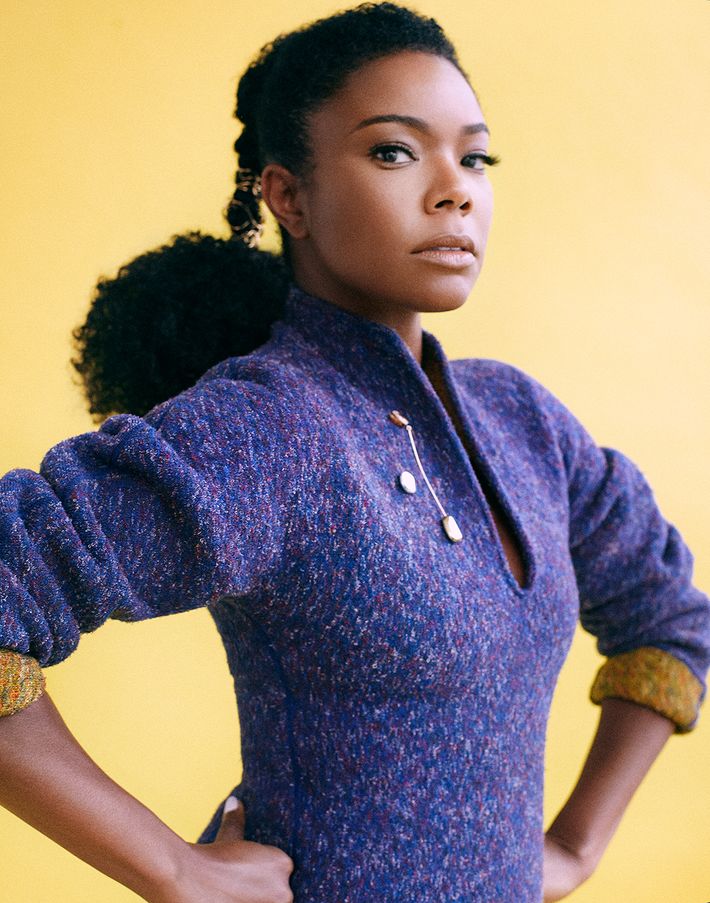 Lead image credits: Gucci dress, $13,000 at Gucci. Dolce & Gabbana earrings, $875 at 717 5th Avenue.
Production Credits:
Photos by Tim Zaragoza
Styled by Thomas Christos Kikis
Produced by Biel Parklee
Hair by Larry Sims for Smooth 'n Shine at Forward Artists
Makeup by Renny Vasquez at IMPAQ Beauty
Photography Assistant: Nigel Ho Sang, Ivory Serra. Fashion Assistant: Alexandria Rudolph