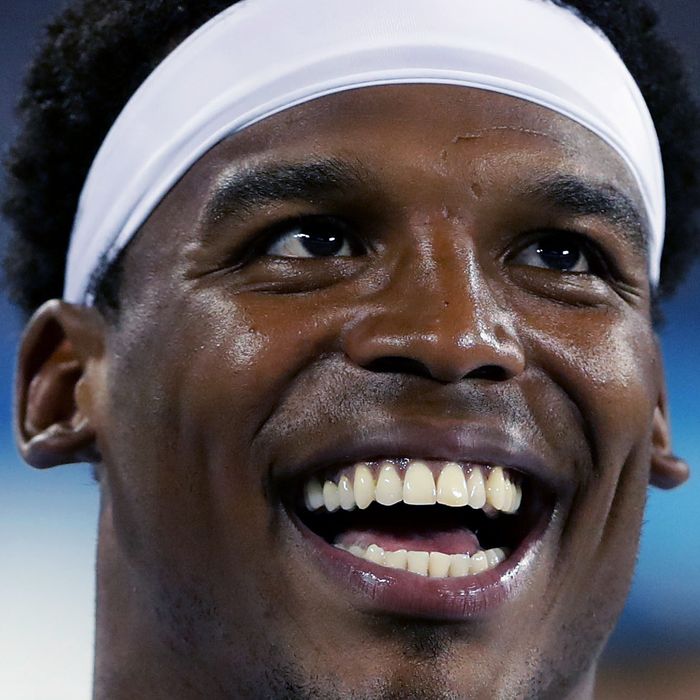 Cam Newton.
Photo: Streeter Lecka/Getty Images
During a press conference on Wednesday, Carolina Panthers quarterback Cam Newton laughed dismissively at a female sports reporter who asked a question about wide receiver Devin Funchess's routes, saying, "It's funny to hear a female talk about routes like — it's funny."
The reporter, Jourdan Rodrigue, 25, has been covering the Carolina Panthers for the Charlotte Observer for a year now. She said in a statement, "This afternoon, I did my job as an NFL beat writer and asked Cam Newton a question about one of his receivers. I was dismayed by his response, which not only belittled me but countless other women before me and beside me who work in similar jobs. I sought Mr. Newton out as he left the locker room a few minutes later. He did not apologize for his comments."
Shortly after the incident, the Panthers director of communications Steven Drummond said in a statement that he had spoken with Newton and Rodrigue "and I know they had a conversation where he expressed regret for using those words. We strive as a department to make the environment for media comfortable for everyone covering the team."
The NFL also condemned Newton's remarks in a statement that is not worth sharing, because no organization that so readily accepts men accused of domestic violence into their midst can honestly be believed to care at all about women.
Watch the entire unfortunate interaction below.